These two men couldn't get enough of cartoons, they decided to ivest in animation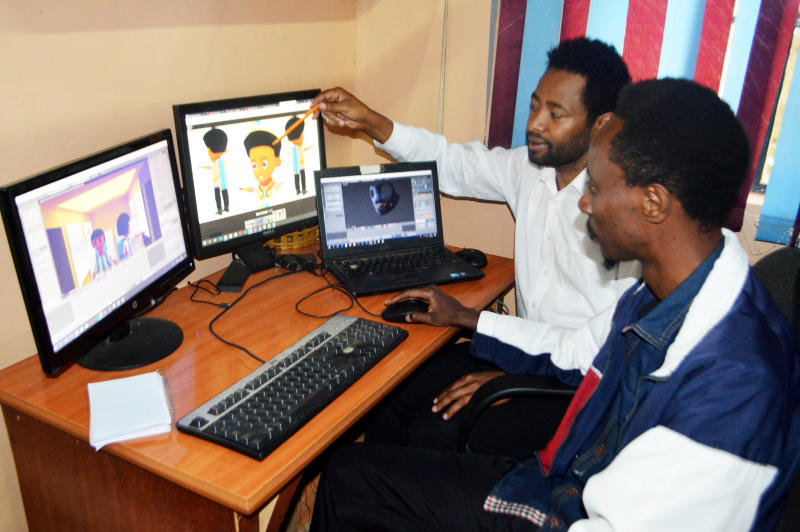 As kids all over the world gather around their TV screens to get their daily dose of toon fun, Eric Njue and Antony Wanjohi also gather around their computer screen located at their small office in Rongai town. The only difference is that while kids watch their cartoons for fun, Njue and Wanjohi meet to create the cartoons for cash.
The two have collaborated their animation skills to create Afrokid Computing; a programme which they say seeks to empower the African child through computing. It involves design and production of digital animated cartoons for children's education and entertainment.
Njue has professional qualifications in Animation and Digital Media Design, which he acquired from the Nairobi Institute of Technology (NIT), while Wanjohi is a guru in information technology and software engineering, skills gained from the Boston Institute of Technology.
The two techies came up with the business venture as a means of survival, but with time, it has become a fun part of their daily routine.
"We knew that getting employment in the formal job market was a tall order, which is why I decided to come up with an idea that could help me survive" Njue told CityBiz.
After brainstorming with his colleague, they identified a gap in 3D animations and found that there was a need to create educational animated cartoons for children locally. That is how they came up with Afrokids; a name, which they say, represents their concept.
"We acknowledge that today's children spend a lot of time watching or playing games on smart devices, besides televisions. However, the sad reality is that there is minimal interaction between parents and their children. This means that many children are not taught the basic life skills and behavior," says Wanjohi.
To bridge this gap, Afrokids presents an option of cartoons living out life-like situations and covering a wide range of topics that are beneficial to the growth of the African child. The two main characters of Afrokids are Ali and Lulu, who live out their daily lives on screen but with a moral catch. According to Njue, some of the animated topics include personal hygiene, money and saving, safe internet use and etiquette and manners among others.
"Our concept is promoting life skills and teaching specific thematic areas to the kids," Njue says.
So far, the two visionaries have managed to attract a number of clients both in local TV stations as well as in individual users downloading their Afrokids App to their devices. The two also upload animated content on their YouTube channel, which earns them passive income generated from views and subscriptions.
Alongside these is a 'freemium model concept', which Njue says generates money through in-game adverts. This concept is specific to mobile phones and product endorsements for the cartoons.
Through aggressive marketing both online and offline, the Afrokids venture now boasts a stable revenue stream and an expanding client base.
"In a good month, we make approximately Sh100,000 from both active and passive income streams," Njue tells CityBiz, adding, "the good thing about this business is that we are our own bosses. Besides, we are also financially independent with the capability to determine how much we can make in a month."
Njue and Wanjohi have already copyrighted and patented AfroKids. As their viewership grows, their main agenda now is to take the animations to a regional level, if possible in different languages.