Sadly, new generation kids will miss prayerful mothers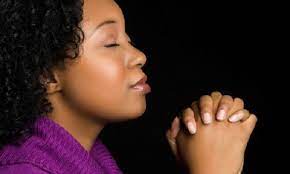 In 2016, Deputy President William Ruto thanked his wife Rachel, who he said has always fervently fasted and prayed for him.
"On many occasions, I didn't find her in the middle of the night in our bed, because she had sneaked out to pray," he said.
Many people expressed their approval online. It was impressive, but not surprising. In Kenya, it is almost expected of women of that generation to be that prayerful. It is very hard to find someone of the younger generation in Kenya who was raised by a woman who was not like that. Even the previous generation had its fair share of such women.
That day, Ruto also thanked his mother, Sarah, for praying for him. "She took me to Sunday school, she made sure I went to youth camps, she did what every mother would do for their child," he said.
That phrase was not far from the truth, as it seems to have been almost everyone's experience across the board. Nowadays, however, if you type "prayerful mothers" on Twitter, you will find a sentiment often repeated, which is that the coming generation will miss prayerful mothers.
It seems that the phenomenon is not unique to Kenya either. Blaqbones, a Nigerian rapper, wondered in a tweet who would pray for his kids since young women nowadays are more about having fun. All this implies that the current crop of women is not as prayerful as the previous ones were. Is it true?
Dr Damaris Parsitau, a social scientist and senior lecturer at Egerton University who works with young people, says that she has indeed observed a lot of irreligiousness and secularism setting in among young people.
"As an academician, I have observed that the children of our generation don't want to go to church because they feel that church is no longer a space for them, they feel left out and they also feel like the church is conning people, that much of the church is a business," she says.
"So there is an interrogation of religion in the first place by the younger generation. They feel that their parents are just really hostages to church business. They are in a sustained critique of the church all the time."
Research also supports that. A 2004 study conducted by evangelical church groups found that there was a rise of the "godless generation" among youth aged 24 and below.
The study found that while Protestantism nominally accounted for 65 per cent of Kenyan Christians at that time, only seven per cent of the population attended a Protestant or evangelical church on a typical Sunday.
The 2019 census found that there was an increase in the number of atheists, with 1.6 percent of the population saying they had no religion at all.
As expressed on Twitter, however, Dr Parsitau says that prayerful mothers might however be missed in future because we feel that we live on the wings of the prayers of our parents.
"I remember about five or six years ago, a very special friend of mine lost his mum. When I called him to console him, the only thing he asked me was, 'Who will pray for me now that I don't have a mother?' It really struck me. It showed me the centrality of prayer for that young man and that for him, his mother really occupied that space," she says.
An increasing number of people from the younger generation appear not to care about that. Parsitau says that from a purely psychological point of view, the reason people pray is that it helps them to manage their socio-economic, political and relational anxieties.
"And that's why people in developed countries really don't have that because they have everything that they need. They don't need to fast for 40 days to have tap water in their homes," she says. "So it's a management of anxieties but there are also those that really truly believe in the efficacy and place of prayer."
Conversely, this generation feels like they have the tools to sort out their problems. The tools are social media, their own companions, and so on. "There is a tribe of women supporting each other - young women coming together and supporting each other in very practical ways. They can do that alongside prayer or not, but they do not solely rely on prayer like my generation," she says.
It is not unique among women, but not many seem to be lamenting the current and future lack of prayerful fathers. Why does the burden to pray fall on women?
Dr Parsitau, who is also the former director of the Institute of Women, Gender and Development Studies (IWGDS), and a lecturer in the Department of Philosophy and Religious Studies at Egerton University, believes that it is for the same reason that every other burden falls on women.
"Society is structured in such a way that the woman carries an incredible burden for her family, be it economically, socially or in the rearing of children," she says.
"But there is also another practical reason: If you went to any church in this country or outside of this country, the majority of the churchgoers are women. The pews are filled with women. We can debate the reason women go to church, but the church is a space of release for many women."
Dr Parsitau says that it is a very complex issue, but in addition to that being the way society has been structured, another issue is that in the majority of Kenyan homes, households are female-led.
"So the woman is the spiritual head, she is also the provider, she is the fixer, she is the prayer warrior, she is the teacher, she is the person who does homework with the children – so you can already see from that picture that the burden of everything falls on the woman. In the eyes of the children, the mother is everything."
If the trend continues, however, the coming generation might indeed not benefit from prayerful mothers or fathers. Unless men are willing to lead in prayer, not just on the pulpit, which despite more women in the church, is populated mostly by men. They too can become the prayerful parent they would like their children to have.