How to divorce amicably without sharing ugly family secrets
CAPITAL FEATURE
By Nancy Nzau | January 7th 2022 | 5 min read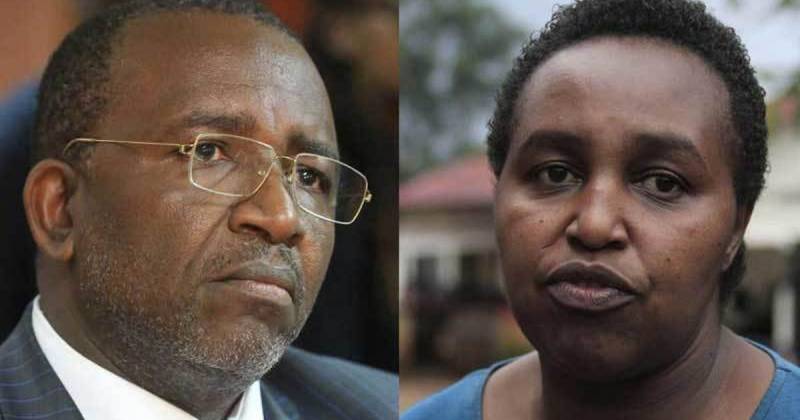 Love is a beautiful thing. But when love goes sour, the results can be a nasty, and disgusting mess, especially when the lovers-turned-foes decide to air their dirty undies, quite literally, in public. We clearly remember the heated divorce case of Meru Senator Mithika Linturi and his estranged partner Marianne Kitany. The couple turned bitter enemies when their love could no longer hold.
Kitany, a former Chief of Staff in the Office of Deputy President William Ruto, wanted their union dissolved, citing cruelty, neglect, infidelity and desertion. She accused Linturi of, among other things, failing to provide her with any emotional support, love, affection, and care.
But few divorce cases in Kenya equal that of 1987 between the late ambassador Peter Echaria and his wife Priscilla Njeri Echaria. The Echarias married in Moscow, Russia, in 1964, but divorced in Kenya where a precedent-setting ruling allowed women to get a share of matrimonial property, including their 118-acre Twiga Hill Farm in Tigoni.
After parting ways with Njeri, Echaria married Dorothy Kanyiva, with whom he lived on one part of the farm after the High Court awarded Njeri 25 acres, down from the 58 acres she had demanded. Echaria and Kanyiva later sued Njeri for taking over their matrimonial home with goods worth Sh7 million, including alcoholic drinks, a will, books, a Kanu certificate, gold jewellery, clothing, and dogs.
The couple claimed they spent Sh250,000 to buy personal effects and clothes after Njeri kicked them out. In total, Echaria and Kanyiva wanted Sh8 million from Njeri. They said they were playing golf when they were informed Njeri had used over 20 armed men to take over the house. Echaria and Kanyiva were housed by friends for 10 years before finding an alternative home. Njeri denied the allegations, noting that the case was only meant to settle scores.
Another case filled with drama was that of controversial Nigerian businessman, Anthony Chinedu. When he decided to divorce his estranged Kenyan wife, Joyce Akinyi, all hell broke loose.
The two met in 1998, cohabited and sired two children before formalising their marriage in 2004. Chinedu claimed he found his estranged wife with nothing and moved her to a rented house in Nairobi's Tena estate where he paid her rent. Her role was to take care of their children, he claimed, saying he paid Sh50,000 as bride price.
But Akinyi stated that her former husband was in Kenya as a visitor and thus, could not own anything. He had no income or business and relied on her for upkeep, she argued. The couple told the court that among their properties they had were parcels of land in Nairobi valued at Sh36 million, all registered under Akinyi's name.
Chinedu asked that the properties be sold and proceeds shared. They also acquired high-end cars, including a BMW 3 series, convertible Mercedes Benz, Toyota Rav 4, Toyota Harrier and Hummer H3.
Akinyi claimed she bought the properties by herself before they got married and that they were not registered in her name or Chinedu's, but in the names of third parties and did not therefore qualify as matrimonial properties.
After seven years of fighting and mudslinging, High Court judge Aggrey Muchelule granted Chinedu 70 per cent of the matrimonial property and 30 per cent to Akinyi, even though he agreed that the bulk of the property was in Akinyi's name.
Craziest cases
Barry Otieno, a family lawyer at a top family law court in Kenya, shared what he calls the craziest cases he has ever worked on. Over a decade ago, Otieno handled a divorce case involving a prominent businessman and lots of money. He represented the husband. There were two little children and an ongoing custody conflict.
He was on vacation in Nyali when he got a call from the DCI, and he had to fly back to Nairobi. They had his client come into the DCI office on a Sunday morning. There were guys strapped with ammunition to their ankles, which visibly shook his client. They explained that his wife had hired a private detective to orchestrate his killing.
The wife, in this case, wouldn't actually pay the hitman. Instead, she'd pay the private detective to hire someone else to execute the killing.
She figured she could talk to the police or stand in court and say, "I do not know who this is. I've never met this person before in my life." and she would be right. It would have been utterly separated through the actual hitman.
So the DCI needed the husband to fake his death and completely disappear, so they could get the wife to pay the private detective for what she thought was a finished job.
They announced that they had found his car somewhere in Narok County, with bloodstains on the seat, but nobody remained. Otieno's client spent a few days at his Nyali home and had police watching the house. It worked. The wife was convinced her husband had been killed and wired the payment. She spent 10 years in prison for attempted murder.
"Imagine the scar this woman left on her children, for not only plotting to murder their father, but also missing a motherly touch for 10 years," says Otieno.
"Equally grim is the destruction of her own life; for a woman to spend what may have been her best years behind bars. People out here need to understand there is life after separation. It is not easy, but they can make it tenfold as painful and destructive if they wield the temptation of revenge," says Otieno.
The Kenya National Bureau of Statistics (KNBS) shows a considerable increase in divorce rates, rising from 10.5 per cent in 2015 to 17.7 per cent in 2020.
"Unwinding and settling the financial, emotional, social ties and other belongings that a couple amassed while planning to stay hitched forever can be a lengthy, draining, and complicated process," says lawyer Walter Kuloba.
"However, I have witnessed people destroy their lives as well as their children's just to settle scores. Divorce on its own has negative consequences, but most of these can be remedied through mutual understanding and positively pursuing a wholesome life after divorce."