Male intern sexually harassed by female boss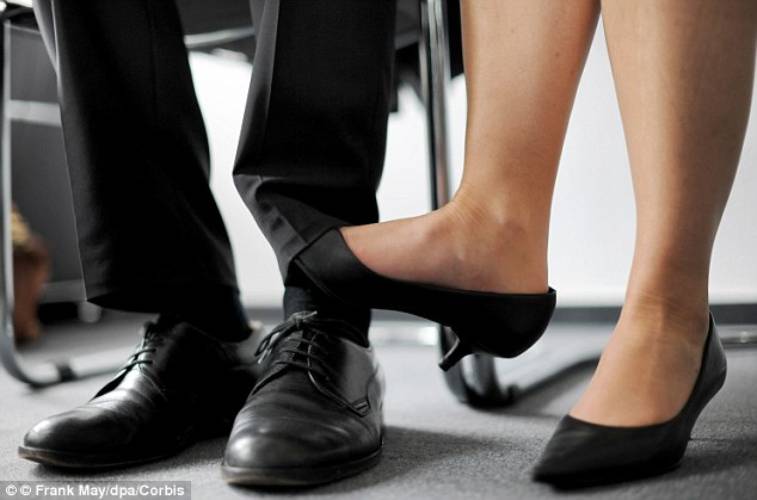 When matters sexual harassment are discussed, most of the time the victims are women. Even when statistics are recorded, women and children are the most affected. However, the elephant in the room, and which many people fear to discuss, is where the men appear in these statistics. Are they just the perpetrators?
Turns out, men are just as vulnerable as women when it comes to sexual and gender-based violence. Not only that, most men report going through assault at the workplace. Sadly though, it has been established that most men do not even know when they are being sexually harassed especially by women. And for most men, even after being assaulted, find it hard to report fearing being labelled 'weak'.
James (not his real name), an accountant, says that the first time he experienced sexual harassment, he was an intern.
"I was 21, doing my first internship at this company then the supervisor started making passes at me. At first, I thought she was just being nice because I was still green in the field. She started making sexual comments about my body," James says.
"There's a time I was standing at the printer and she grabbed my manhood. I went and told some of my friends and they laughed, telling me that a woman cannot sexually harass a man," James says, adding that the advances continued until he had to quit his internship.
"One time on a Friday evening, she told me not to leave early because she had some work for me. I went to her office and she removed her blouse and bra. I tried to run but she said that if I did she would scream and would ruin me and my career," James continues.
"I was so scared so I did what she wanted me to do. I felt so dirty, I didn't come back on Monday, I just ended my internship," he says.
Another man who shares his story is Peter (not his real name) who was sexually harassed by a fellow man.
"I had been at the organisation for two years. Me and 'the boys', including our boss, used to hang out every Friday after work. One time at this club, I went to the urinals and my boss was there. When I was doing my business, he made a comment about my manhood," Peter says, adding that he was horrified.
"I mean, rule number one, while at the urinals, you are not supposed to look at the man next to you. You should always stare at the wall," he narrates.
After a few days, the boss approached Peter and made his intentions clear.
"He came and told me he meant what he said at the urinals and he wanted to pursue me. He tried to kiss me but I pushed him away," Peter says.
"This man had a wife and three kids. When I pushed him away, he said that nobody says no to him and he would frustrate me until I quit. Sure enough, he really frustrated me and after three months, I left the company," Peter narrates.
He adds he could not report to the Human Resource (HR) department because he believed men do not report sexual harassment cases.
However, not all perpetrators are seniors, there are cases where bosses have been harassed by their juniors. Michael (not his real name,) a group accountant, recalls how a junior staff member made passes at him to the extent of undressing in his office.
"She was friendly and bubbly, and when she started making the passes I thought I was misreading the advances," he says.
"She started texting me very late and when I told her to stop, she came to my office and told me that I was weak for ignoring her, while other men were queuing to have her. I panicked when she undressed, but my secretary saved the whole situation when she walked in after hearing our exchange," he adds.
The girl was fired.
However, not all men take offense when they have been assaulted. Two men who chose just to go with their first names Pete and Samson say that they don't mind when a woman touches them 'inappropriately.'
"It's a favour when a woman touches me," Pete says laughing.
"Where are these women who touch people inappropriately, I want to be inappropriately touched," adds Samson.
According to some men who have been harassed, the reason why they choose silence is ridicule by fellow men. In the media industry, even men experience harassment. A reporter from a leading media house says that he has been harassed severally by female members of parliament.
"You go to cover a story, and the woman wants to meet you after for pleasure. One told me that she can take me out of town where no one will recognize us. When I said no, she labelled me weak," he adds.
A recent survey done by City, the University of London in three countries: Kenya, Nigeria, and South Africa shows the extent of the rot. In the survey, where 202 news professionals were asked about sexual harassment at the workplace, the rate was high in Kenya at 77.5 per cent, Nigeria 38.1 per cent while South Africa 57.5 per cent.
Among them, 8.1 percent of men have experienced harassment at least five times at work in the media. Another report showed that only 30 per cent of sexual harassment cases in the media industry are reported to the authorities as victims fear losing their jobs, being ignored and being stigmatised.
The report is based on a survey conducted by the World Association of News Publishers (WAN-IFRA)'s Women in News (WIN) programme across eight African countries including Botswana, Kenya, Malawi, Rwanda, Uganda, Tanzania, Zambia and Zimbabwe.
Data from the office of the Director of Public Prosecutions shows 98 cases of sexual harassment were registered in the year 2019/2020.
The threshold of evidence for sexual harassment is hard to prove because there are very few sexual harassment cases that have been decided in the criminal court due to lack of enough evidence.
Section 23 of the Sexual Offences Act reads, "Any person in a position of authority or holding a public office and persistently makes any sexual advances or a request which he knows or has reasonable grounds to know are unwelcome is guilty of the offence of sexual harassment. If found guilty, one is liable to imprisonment for a term of not less than three years or a fine of not less than Sh100,000."
Media Council Survey: Why most cases of male sexual violation are not reported
· Normalisation of sexual harassment
· Sometimes the supervisor is the culprit
· Being victimised and being fired from employment
· Discrimination, intimidation or job loss
· Embarrassment/ shame
· Fear of being subjected to any form of victimisation
· Fear of security if the culprits may want to revenge
· Fear of victimisation if the culprit is well connected with the management
· Giving a complaint may end up having me ostracized
· Lack of confidentiality
· Lack of trust in how the case will be handled
· One could get ridiculed