Too posh to push? Mothers opting for C-Section deliveries amid fear of labour pain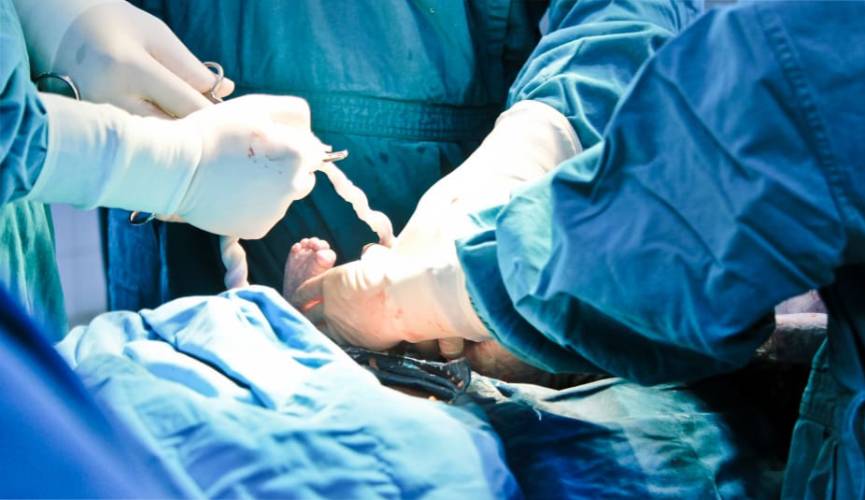 Socialite Vera Sidika set the internet ablaze recently when she opted to give birth via Caesarian Section (CS) and Netizens wondered why she didn't wait for labour and 'just push' like other women.
Besides booking a private wing for her Elective CS, Vera also chose to deliver with full makeup before facing the scalpel.
She said she had freshly-manicured nails, with only one index finger left for monitoring her pulse in the theatre, arguing that, "it is not a must for one to look homeless while delivering."
Vera also chose a date and time she wanted to deliver her baby whom she named 'Asia Brown' and explained in a social media post: "Since elective CS allows one to select a date within a particular timeframe, I chose the date 20th October 2021, so she can be celebrating her birthdays from home with family since it's a public holiday."
Mashujaa Day is celebrated on 20th October in Kenya. Nevertheless, her maternity choices angered many women who questioned why she had options for time and date.
Still, she continued posting updates: "It has been 21 hours after surgery. Still no pain at all. And I can get up, walk around on my own. I felt so good during surgery. Some kinda high. I was awake, saw, heard everything."
Vera said she would have other similar surgeries over and over again, as "it has made me want 10 kids now. It's also good to book your private doctor. He understands you and your body better than just walking into a hospital and using the hospital's in-house doctors (on-duty) just coz it's cheaper. It's more expensive with your private doctor and his team but extremely worth it."
Vera is not the only woman opting for an elective CS, especially among the financially capable.
Consider Silver Kirui, a mother of five from Chesoin village in Rongai. Kirui, a teacher by profession, says her joy was to deliver naturally as she did with her three elder children.
She says the thought of watching doctors open up her tummy during a CS, followed by profuse bleeding, heightened her anxieties.
Tears rolled freely down her cheeks as a nurse prepared to wheel her to the theatre for her C-Section, which she had been prepared for during antenatal clinics owing to her multiple pregnancies.
"I panicked and remained restless after an examination revealed I was to give birth through C-Section," recalls Kirui. She adds that she was terrified, experienced shortness of breath, but tried putting up a brave face as her sister-in-law, who accompanied her to deliver, monitored her closely.
Before being admitted at the Nakuru Nursing Home, where she delivered her twins two years ago, Kirui had been examined at Nairobi Women's Hospital, where a CT scan revealed one of the babies had blocked her birth canal.
However, due to fear of undergoing a CS, she hid medical records to have a fresh examination, but CS remained her preferred birth method.
"I feared to incur the high cost of delivery and anaesthesia sounded like death sentence following myths that comes with it," she revealed, adding that it cost Sh30, 000 which was fair as she had a medical cover.
And though the surgery was successful, her body was swollen and had acute pain on the wound during recovery.
Worse still, she developed flu, accompanied by a continuous cough that intensified the pain. Besides that, she had to go for several wound dressings after the wound opened up due to infection. It took about a month to heal, although she still experiences acute backache whenever she bends to wash clothes.
John Kirui, her husband, who is also a clinical officer, supported her through her recovery journey.
He, however, admits that at one point during the surgery, he panicked, but put on a brave face since, "I did not want to share negative thoughts with my wife, as she prepared for her operation. I patted her back and reassured her all would be well."
Silver says that "although C-Section is an emergency procedure, I would still advise any woman to 'push' because healing is fast and comes with fewer complications."
Sella Pirra from Soilo also gave birth to her three children aged 10, three, and one through C-Section.
She wanted to try normal birth, but her cervix could not open up and had to undergo the procedure. Pirra says C-sections are expensive, adding that for her first-born child, the procedure cost Sh130,000 in a private facility in Nakuru. She, however, opted for the Rift Valley Provincial General Hospital, private wing, where she paid Sh70, 000, with the National Health Insurance Fund (NHIF) partly footing the bill.
"The cost of giving birth through C-Section is too expensive, and with a slow healing it is a painful journey to endure," she said revealing that it took about six weeks to heal after her first delivery, while the second and third deliveries took about two months.
Pirra recounts: "My friends stood by me during the healing process as I was mostly tired. The wound was too painful as it would open up and bleed. This left me so tired dressing and taking care of the babies."
Even though some women prefer C-Section for fear of labour pains, Pirra advises women without health complications to opt for normal delivery as "healing is faster and a woman gains strength faster, unlike C-Section where healing is a painful and slow process."
Janet Wambua from Milimani Estate in Nakuru also says C-Section deliveries are too costly. One CS at the War Memorial Hospital in Nakuru cost her Sh140,000 three years ago and Sh200,000 for another in Nairobi eight years ago.
Natural birth was not ideal for her because of her narrow birth canal, and her babies weighed five kilograms each.
"I paid cash for my first delivery, and for my second delivery, I looked for a hospital with fair charges," she said.
"I believe there is that awesome feeling for a woman who gives birth normally. That is what I wanted to undergo, but it remained a nightmare," said the mother.
Joyce Kirui from Sachangwan also underwent her first CS operation in 2013 after an examination revealed the baby was in distress and her breathing was affected.
Unfortunately, during the pregnancy of her fourth born, she contracted brucellosis and had high blood pressure.
Her case was an emergency and was taken to Nakuru Nursing Home where she safely delivered her one-year-old baby girl.
"I was tensed after I was informed I was to deliver through C-Section. However I did not have an option, as I wanted my baby safe, and myself too, to look after her," she recalls.
For her, it took about four weeks for the wound to heal, and she no longer experienced pain.
Josephine Chemutai drops a tear as she recounts the birth of her fourth-born child at Molo Sub-County Hospital.
Although she attended all antenatal clinics, she began labour while at home and started bleeding profusely for about two hours.
Her relatives rushed her to the hospital and she was quickly wheeled into theatre for an emergency operation. By then, she had a swollen body, acute head, and backache.
Even though the wound healed three months after the surgery, performing normal roles as she used to do was difficult due to the recurrent backache.
"Farming is my main economic activity, but I am limited because it leaves me in deep pain," said Chemutai.
She regrets that neither use of painkillers nor regular medical checkups have relieved the pain.
"Though C-Section was an option for my safety and that of my baby, life has changed. I am not sure if I will ever operate normally, due to complications," said the mother, fighting back tears.