Let's talk about mind-blowing sex: Nairobians tell it all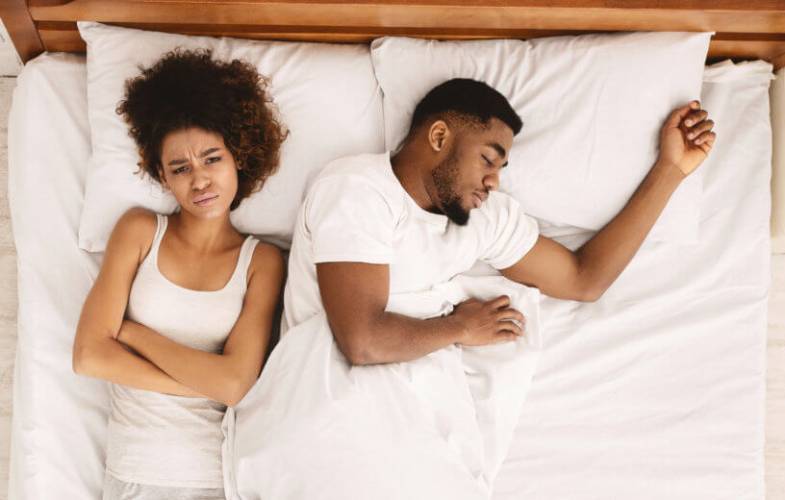 When is a sexual encounter considered 'good' or 'bad'? Or when is it just average?
Does the rating system start during the talking stage? After foreplay? Is the judgment rendered after events have concluded?
Two-minute man
Take the case of Julie Wambua, a student at a local university and an avid Tinder user.
After years of interacting with scammers and jokers, Wambua finally matched with a good-looking stranger who was a catch by all accounts. The conversation was great. He was smart and witty.
They actually had things in common. When the two finally met for coffee, he turned out to be even more charming than she had anticipated. With no red flags in sight, the relationship naturally progressed to the bedroom, which is where the other shoe dropped.
"The only thing I can say about it is that it was brief," Wambua recalls with a sad shake of the head.
"One minute we were all over each other, then before I was even settled in, he was collapsing on top of me. But the most frustrating part was him not being able to rise to the occasion again. We tried for some time, eventually, we gave up and I took an Uber home."
"It was just so disappointing. Everything else had been so perfect. We texted back and forth for a few days, but we drifted and stopped speaking after a while."
The day I will never forget
And then there is Cynthia Odera, a single mother for whom a casual arrangement changed her entire outlook on intimacy.
"It was one of those friends of a friend situation. Running in the same circles. One night after a few drinks, I found myself at his house, and it was a night I will never forget. That man knew what he was doing. His whole approach, from setting the mood to the actual intimacy… it didn't feel like sex, it felt deeper, more personal."
So, when is sex good or bad?
Wambua believes there is always a common denominator with bad or average sex.
"Selfishness and lack of interest in the other person. All the bad encounters I've had have been because those guys were not really interested in what I wanted. I was just the means for them to achieve their orgasm, and afterwards, they were done with me."
Good sex, however, is a bit harder to pin down.
"A lot of people think it's about size, but it's not," Odera shares.
"Men definitely worry about it, but there is so much more to good sex than that. Experience is always best, as I've found, along with a genuine desire to please your partner."
In some instances, good simply means new, or out-of-the-ordinary. That could mean anything, from messing about in a semi-empty parking lot or restaurant bathroom to introducing whips and chains to foreplay.
He loved to role-plays
"I had one partner who was a storyteller," says Valentine Onditi, a businessman and self-proclaimed 'player'.
"Every encounter was just wild because I never knew which scenario we would end up enacting. One time, she was a professor and I was a student who submitted an assignment late. Another time I was a dictator and she was a rebel leading the cause against me. It was never as simple as foreplay and penetration with her. She needed a story, so she created one and demanded a total commitment to it. Honestly, those were definitely some of my best experiences."
Crucially, the parties involved might come out of the experience with vastly different assessments.
Apparently, I was not aggressive enough
Albert Mutara came out of one such encounter filled with a quiet confidence that he had delivered beyond a shadow of a doubt. But when he reached out to the lady for a follow-up, he was given an exit interview instead.
"I felt pretty good about it, to be honest. I brought a lady home from a night out with some friends, and we went for it. I was sure I over-delivered on foreplay. I lasted a respectable duration, too. I even cuddled the lady afterwards until I lost feeling in my arm."
But Albert's "We should do that again" text the next morning was met with silence, and then, when he called her a few days later, she politely declined the invitation.
"She was trying to be nice about it, but I insisted. Finally, she admitted that the sex had been just okay for her. Apparently, I was not aggressive enough. She liked men who dominated her in bed, and I was too much of a nice guy. I was definitely crushed, but that's how it is out here."
No single sexual standard
There is no single sexual standard, explains Hamida Ahmed, a psychologist with Tulivu Psychological Counselling.
"We have been brought up and socialized differently," Ahmed says.
"For most of us, growing up, our parents didn't teach us much about sex, so we learned what we did from culture, from peers."
"We must remember that we are dealing with people who have different perspectives from us. How we see sex is not the same way someone else does. Things that may be acceptable to us may not be to another person. Maybe the thing you want is not something your partner is comfortable with, or which may be unacceptable to them, maybe for religious reasons."
Many women left hanging as men suffer in silence
Cathy Holden, a Psychologist and Sex Therapist with The Almond Tree Wellness Center believes sex is only bad when boundaries are crossed.
"Sex is bad when you don't want to have it – this goes for intercourse (penetrative) or outercourse (kissing, touching, oral sex and play); in this case, enthusiastic consent from all parties is so important. It can also be an unpleasant experience if you don't understand what you like/dislike and your partner doesn't know either. The way to bridge this gap is to first understand yourself and what brings you pleasure, then talk about it with your partner/partners – communicating your sexual needs and how you perceive pleasure goes a long way in ensuring that sexual experiences are mutually satisfied amongst partners."
Within a relationship, there is often one party left dissatisfied for whatever reason, and this party tends to hesitate to bring up their concerns. A lot of the time, the woman is the one left hanging. But men suffer in silence too, according to Cathy.
"Women speak about it more; however, men too are often dissatisfied, and if both men and women don't stop to talk things through and identify what gives them pleasure, it continues as a cycle of dissatisfaction that can lead to avoidance or making sexual connections outside of your relationship/relationships."
Changing landscape
Hamida adds: "With men and their ego, sex is a big deal. So, if he has a problem, society doesn't allow him to acknowledge it out loud or bring it to his partner. They are uncomfortable admitting weakness or something that makes them feel inadequate. But this is slowly going away. The current generation is a bit more open with their sexuality."
The changing landscape of sex also means that more people are opening up to the possibilities sex can offer. The challenge remains to bring such interests to their partners.
"A lot of the time, we have interests that are considered out of the norm," says Hamida.
"I know, for example, the issue of anal sex, which is increasingly popular especially with young guys. For many other people, it is uncomfortable, and there are long-term effects that people are not willing to risk."
"At the end of the day, it's a discussion between the partners. If somebody says no, then that should be respected. It is their body, and you are asking them to try something new. Respect it even if they say no."
Sex toys
Adding things to the bedroom is a sign of a healthy sex life, according to Cathy. The use of sex toys, for instance, is about adding excitement, not a sign of inadequacy.
"The use of toys benefits all partners and can be an exciting addition to your sexual practice – if this is your cup of tea. The belief of inadequacy stems from insecurities and previous messaging on sex and gets in the way of having an optimal sexual experience or engaging in amazing sex. The use of lubricant also doesn't mean that your body has failed you, in fact, it allows you to feel more comfortable during penetration, as your body adjusts to having sex or experiencing pleasure."
The key, at the end of the day, is to take charge of your own bliss.
"Understand how your body works, how your partner's body works, ask relevant questions pertaining to this, provide feedback and most importantly, be responsible for your own orgasm and sexual pleasure. It is never a partner's responsibility to "give you good sex" it is yours."