Sensual massage: Why men blow Sh15,000 on basic haircut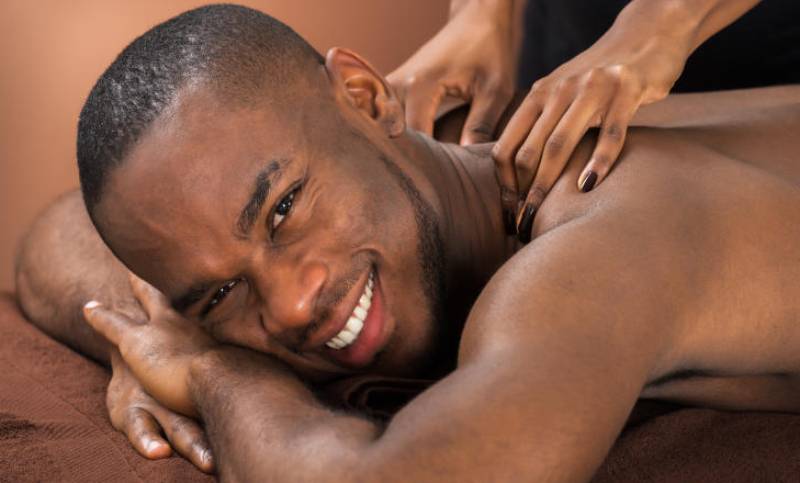 Shaving hair is no longer a simple matter of walking into a barber shop, then an old man, ironically with unkempt hair, drapes a dirty old shawl with cigarette burns over your shoulders and trims follicles off your head. Nowadays, it's an event. It is like the first stage you pass to get your body into a state of mild arousal before engaging in a wild 19th century Roman empire sex orgy.
A preamble to a deeply sensual massage that leaves your head and beards smooth, your neck relaxed and your shoulders limp -- but your nether regions hard and on fire.
Shaving your hair in 2021 is a sacrosanct ceremony that is not rushed. It's not a 10-minute quickie, but a time consuming, long, gruntling affair and when it comes to an end, it leaves you deflated with a stupid grin on your face.
In some barber shops within the city, you can't just stroll in like someone walking into a church and get served. Dafunda's Barbershop is an example.
It is a place of worship for women who book days in advance, and walk in 30 minutes before their appointed time lest they miss their slots with the high priest of shaving. He is the man the gods of hair appointed to be their representative on earth, the Congolese Dafunda. The man charges them as low at Sh2,000 or as high as Sh15,000. Sue Mochorwa recently paid Sh5,000 to have her hair shaven.
"It's worth every penny. He is really good at what he does. I had very long hair so I was changing my style," she says.
For years, it has been women spending hours in the salon, but the tables have turned. Nowadays, a man shaving at a barbershop along Kimathi Street in Nairobi's CBD is an important engagement, and a slot is booked in advance.
That one hour during which a comely hostess with thunder thighs and a billowing behind tends to your head will be the closest to a slice of heaven here on earth.
Upon arrival, a client is welcomed with freshly squeezed juice of any type, even if the fruit is out of season, they will get its juice for you. If juice is not your thing, three fingers of whiskey from a bottle of your choosing will be served.
If you are a staunch believer in Christ, tea will suffice, but the things the hostess will do to your head, neck and shoulders, Brother John, will firmly set you on the slippery path to hell.
At the establishment, a shave will slip Sh4,000 off your wallet, and you will gladly pay, especially when you are seated and your female barber is standing, her bosom right in front of your face and her nipples taut, piercing through her dress, staring right at your face defiantly, when she hands you the bill. A minimum Sh1,000 tip is also highly recommended and expected.
George Otieno, a weekly regular at the establishment, says he can never shave anywhere else.
"When Corona started, I called them to my house and two hostesses came. One to shave, the other to massage and exfoliate my face. I paid Sh 15,000 for the home service but they deserve it. It's the one hour I look forward to every week."
He, however, strongly denies that there is any improper relationship between him and the hostesses; the only string attached, is by hair. Cate, a hostess at the establishment, who is wearing a figure hugging dress that can stir an itch in a eunuch or make a bishop's blood pressure rise a notch, says they get all types of clients coming in, but rarely do they get a client from Central Kenya.
"Some men bring their sons. I guess it's to introduce them to fine things in life at an early age. Weekends are packed from 7 in the morning to 9 in the night," the fine thing coos before rushing to attend to another client, her jiggly parts trembling like a leaf on a windy day.
This relationship between masseuse and client is so precious that nothing can come between them, not hell, high water or the unassailable Nairobi traffic. Daniel Asava lives and works in Utawala. Up until a few years back, he also got his haircuts there. But he has since sampled from the waters of executive barbershop treatment, and his life has never been the same.
"I was introduced by a friend to this small salon-cum-barbershop in Roysambu when I visited them one time. There is a particular lady who gave me a massage after trimming my hair, and it was the most sensual experience of my life," he says.
Daniel has returned to Roysambu religiously every other weekend since then just for a dose of those magic fingers, sometimes spending over an hour on the road.
"She knows her stuff," is all he will say about the mystery lady. But the twinkle in his eye hints at there being more to the story.
"I don't think I ever want to get my shoulders squeezed by anyone else."
Katani Road is in Machakos, far away from the Nairobi madness but the hair fever has caught on, and it's all the rage.
In one barber shop, Burundi women rule the roost. Their fractured Swahili is spoken sensually with French overtones. Their tall lithe bodies rub against the back of your head as they shave or massage you. And they tell stories of how much they love Kenya. When the bill comes, she will give you a staggering figure in francs before quickly correcting the figure in Kenyan shillings. Men queue to be shaved, some daring ones even ask for phone numbers but the wise ladies know how to handle such.
"I say I don't have a phone, and we use the shop phone. Several people have bought me expensive phones because they want to communicate. But this is work. We can't do anything else. But it's good to let them imagine, and they will keep on coming back," Francine says, and when asked if she can be called later for any clarification on her story, she wisely refuses to give us her phone number.
Around Yaya Centre, two billionaires have gone for a shave, facials, a full body massage and to also get their nails done. It's a 90-minute procedure that will set them back Sh30,000 each. One is a former member of parliament and the other is a publicity-averse businessman. Their bodyguards and drivers are milling around the reception, reading old editions of True Love and Home Beautiful magazines.
I ask mheshimiwa why he spends that kind of money for a shave.
"Come in. I want you to experience it. That will answer all your questions," he drags me in and hands me over to an exquisitely made up lithe lady, with such perfect body proportions that she looks unreal.
She opens her mouth, a glistening set of perfect pearly whites catch my attention and I barely listen to what she says. She has to repeat, "This way sir, let's start with a shave, then we do your nails, facials and finish with a massage," she says in impeccable English.
The next 90 minutes will never be forgotten.
Hide your knickers
Hanging your underwear on a public clothesline makes them public property