Toxic mums: When your own mother hates you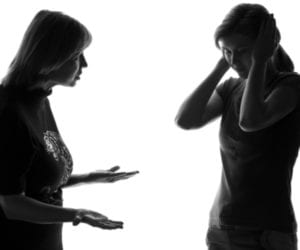 There is no shortage of deadbeat dads in our society today. Seemingly every other week, we name and shame men who are failing at their role as primary caregivers. We post them, blast them online and demand accountability from them. No child should grow up with a neglectful father, we say. But what about similarly irresponsible mothers?
Mothers can be just as toxic and damaging to their children as neglectful fathers. In fact, with them being the most involved parent in most cases, they are in a position to do more harm to a child with their behaviour. And yet, stories about toxic mothers rarely get the same prevalence, nor do they inspire the same demands for accountability as deadbeat dad conversations do.
The stories certainly exist, and most of them are harrowing.
And as millions all over the world celebrate this year's Mother's Day lavishing their dear mothers with gifts, poems and other sweet nothings, there is another group of people who had rather not speak about mom.
Abigail Omanga recalls constant abuse and criticism from her mother; it got so bad she cut her off for long periods of her life.
"My mother never complimented her children, especially her daughters," she says. "I don't remember any time she said anything positive to me or my sister. It was always insults and criticism. Whatever we did, we could not have done right, so she corrected us, and it was always harsh. I learned to put up a defensive wall growing up. It was the only way of coping in that environment. As soon as I moved out, I stopped taking her calls and speaking to her. It's what I do now; whenever I feel she is too much, I ghost her for some time until I feel I have the mental strength to deal with her negativity," she says.
"I grew up around threats and ridicule," says Sandra Ndungu, a businesswoman and mother herself.
"I didn't even know what was happening until much later, when I was older. My mother was insecure, and she directed all her issues on me. She would issue subtle threats, she was openly critical, and she was very sarcastic and harsh in the way she spoke to me. I fully appreciated how toxic it is to speak to a child that way when I got my own daughter. It's unacceptable."
Sylvia Otieno remembers little about her childhood beyond the beatings that fell from the sky like manna.
"I was a naughty child," she says. "My mum would beat me so badly I actually ran away once when I was in primary school. I know there is punishment, but that wasn't what she was doing. Hers was more like attempted murder. I used to get so afraid to come back home that one time, I decided to just wander around town, and I refused to go home."
But where were the fathers, one might ask? Why couldn't they intervene?
Often, when a mother is that toxic, even her husband is a victim of it, and he lives in as much fear of his wife as his children do. In some cases, even bonding with his daughter can lead to more problems for her.
"I used to be very close with my dad," narrates Esther Muthoni. "Because of it, my mum accused me of seducing him and even sleeping with him. She said a lot of hurtful things to me, but that one was the most painful. I was only around 10 years old, but I'll never forget it."
And then there are those mothers who purposefully poison their children's relationship with their fathers. Catherine Bett, an interior designer based in Nairobi, was as involved in her parents' divorce as the lawyers they used:
"Our mum used us kids as weapons against dad during their divorce battles. She used to sit us down and tell us all these horrible things about him. We had to sit there and listen to her accusations about adultery and all kinds of things a child should not have to hear."
"She did everything she could to make that divorce ours as much as it was hers. I think she wanted us to pick sides, but none of us really understood what was going on, we just grew up hearing these stories about them."
The truth is that toxic mothers are a dime a dozen, just like toxic fathers, and their impact is felt just as strongly.
It is important, in understanding why the relationship between mother and daughter seems fraught with complications, to consider them both as individuals with their own lives and problems. Crucially, according to Susan Catherine Keter, a Transformational Coach with The Empowered Woman, we need to realize that toxic mothers simply reflect toxic families.
"These families are not healthy," she says. "That's not the way things should be. These families are dysfunctional. That's where the generalizations about toxic mothers or toxic mothers-in-law come from.
"A lot of those mothers are not healthy. They have their own baggage they have not healed from. Many people will give very negative experiences of what they have been through because those mothers are going through their own issues. Already, women are disadvantaged in the family set-up. Our society is patriarchal, so women have a lot of frustrations stemming from other parties; from their husbands, their society, their in-laws."
"What happens is that a frustrated person is likely to relay those frustrations to someone who is weaker, and this is often the children. It may be the househelp. If she has authority at work, it will be her coworkers. So when a woman is frustrated, it is the children who are likely to suffer."
Keter also argues that mothers are in the line of fire a lot more than fathers, so they are more likely to encounter and have to deal with the stress of it.
"When it comes to parenting, in most instances it is the mother who associates with the child more. From the time the baby is in the womb, to the time they are breastfeeding and as they grow up, it is the mother who plays a major role.
"The impact mothers have on the children is therefore bigger. There are exceptions, where the father spends more time than the kids, but mostly it's the mother. They handle the parenting."
We should be trying to help these mothers, not shunning them
"Nobody is 100% percent healthy. Some people are healthier than others, and some are extremely unhealthy. They have never processed any of their issues, never dealt with any of their baggage. Imagine if you had a glass full of water, and you add more water to it. It's going to overflow. There are people who have emptied a lot of their baggage, so they can take in more issues realistically. But others have their glasses already overflowing. So something as small as a child dropping a plate becomes a trigger and they can explode."
Keter adds that: "People need to heal. These mums people talk of as toxic are in fact not well and in need of help. Poor psychological health can also put them at a risk of eventually developing conditions such as diabetes, hypertension, stroke, cancer if they don't get help. A healthy mind is a healthy body."
For mothers and daughters who are at loggerheads, Keter's advice is to get some professional help.
"As long as people are still alive, there is no relationship that cannot be healed. Personally, I don't call people toxic, because nobody is all bad or all good. Situations can be toxic, not people. Seek professional help. Invest in this help instead of waiting for the damage to grow."
As a country, though, we need to do more for mental health.
"We need to broaden our health services to include mental health. Awareness is important too. The common misconception is that people with behavioural struggles are bad people, or it's a choice. That people struggle with alcohol by choice, or are violent by choice. We don't understand that these are symptoms of deeper issues, in the same way a headache is a symptom of a bigger issues. We need to accept that there are deeper issues that should be addressed in those broken homes."