Its not over: Worst celebrity breakups that turned into messy social media wars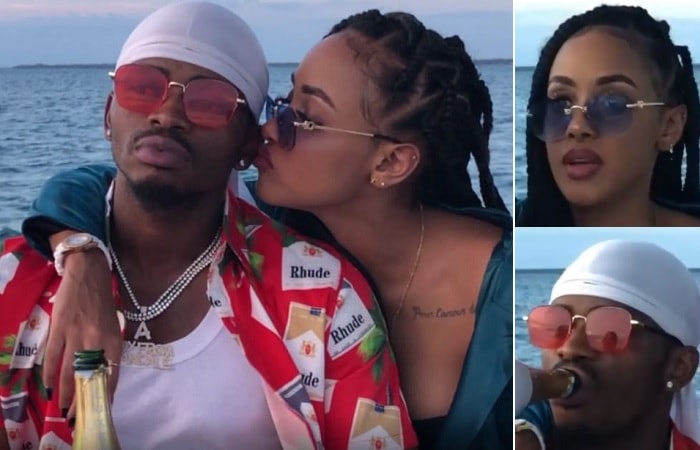 All is fair in love and war, they say. It's a continuation of the theme that love is a battlefield, and lovers are actually in a vicious brawl until one party surrenders.
But some people seem to take the definition a little too seriously, especially when the love turns sour.
A few weeks ago, a prominent lawyer was involved in a war of words with his 'former' business partner, who it is alleged they shared more. It was a nasty exchange of words and as usual, KOT, had a field day.
This is not the first time we have been treated to such shenanigans. Couples take to social media to embarrass each other after a break-up. And the pillow talks that they used to have is now in the open.
Take the highly-publicized break-ups of Diamond Platinumz, one of the continent's biggest artistes and personalities.
First, back in 2018, with Zari Hassan, after multiple allegations of infidelity. The fallout was immense.
Through Instagram and radio interviews, the former power couple took swings at each other. Zari accused Diamond of being an absentee father. He accused her of blocking his access to his children. It was a while before the dust settled, and they agreed to co-parent.
But only a year later, lightning struck the 'Jeje' hitmaker, in exactly the same place. Barely nine months into his relationship with Tanasha Donna, the musician and model was calling it quits. Interestingly, Diamond's former partner Zari was one of the first people to share a message of condolence on Instagram, mockingly commenting that 'a leopard doesn't change it's spots'.
Closer home, we know a little more about crooner Otile Brown and his bedroom prowess than we need to, thanks to the revelations of his then-girlfriend, Vera Sidika.
Natalie Tewa and her former boyfriend Moses Rnaze Mukiibi also lit up social media back in 2019 with their break-up, following a very public relationship.
The common thread is the apparent inability of one or both of the parties to go away quietly. It gets twice as complicated when there's a child involved. As in the case of Nicholas Kimeu, a 28-year-old website developer we spoke to.
"I've been stuck in this loop with my ex-girlfriend for almost two years. We dated for almost six months, and we happened to get a daughter. However, things didn't work out between us, and we mutually agreed to part ways back in 2019. Since then, she has been popping in and out of my life when she feels like it. I have told her I'm not interested in a relationship, but she always reminds me that we have a daughter together, and they will always be in my life."
Kimeu has tried to get back into the dating world, but his baby mama always intervenes.
"She gets very territorial," he says. "Somehow, she always scares off the women in my life, using the fact that we have a baby together as leverage. I never interfere in her private life, but she feels like she should have some input in who is in my life."
It's a slightly different story for Sandra Imali.
"I got so tired of my ex coming back into my life and begging for us to reconcile that I was forced to block him," the 25-year-old Instagram model explains. "He would wait until I posted someone else, or when I shared something on my social media implying I was seeing someone new, and then he would slide back in telling me he loved me and he wanted me back."
"I was hesitant to just cut him off," she goes on. "He had a history of depression, and I was afraid he would do something to harm himself. But after some time, I decided the best thing I could do for both of us was to cut ties completely."
Dr Anthony Odek, a sociologist and lecturer with St. Paul's university, attributes this kind of behaviour to a selfish need to taint the other person in the eyes of the world.
"Attacking a former partner can be a way for you to malign them so that other people don't see their value, or their good qualities," he explains.
"A relationship involves significant investments on both sides, ranging from emotional, psychological and even material. So, when people terminate the relationship, the impact is significant. For some people, it may be difficult to move on. The brain has some difficulty rationalizing the loss, or the fact that the other person has moved on. It can lead to depression or even more serious conditions like bipolar disorder."
This feeling, according to Dr Odek, can be dangerous. "It can lead to harmful behaviour. This may be mild, with the person responding with anger, or it can even be more violent. In their mind, they invested their time and themselves into that relationship, and they cannot reconcile with the fact that it's over."

In this case, the bad behaviour is always selfish, as a person is trying to make themselves feel better by bringing down their former partner. But it never works.

"The best thing to do is always to seek professional help if you're struggling to detach from someone."
On whether there is a way to end things that can ensure both parties are happy, Dr. Odek insists on emotional maturity.
"It depends on the emotional maturity of the person you're with. For some, a simple conversation is enough, and they both accept the situation and carry on amicably. For others, it might be helpful to start detaching before the eventual breakup. People have a way of upping their investment as the relationship goes on. Prepare your partner by lessening the attachment over time. Create some distance, separate mentally, and gradually, let them know you want to move on. Encourage them to broaden their interests and social life outside of the couple."
"Ultimately, though, the best approach is always to sever ties completely."
In the event a spiteful ex decides to spill your personal information online, one of the more productive ways to deal with it might be to seek legal recourse.
This is according to Michael Amalemba, a lawyer with K & K Associates.
"The law has several provisions through which you can handle some of these issues. Sharing personal information, for example, is illegal. If you're being threatened or stalked, you can seek a restraining order from the court. All you have to do is show the facts of the errant behaviour."