No regrets: Graduate sells iPhone to start interior design business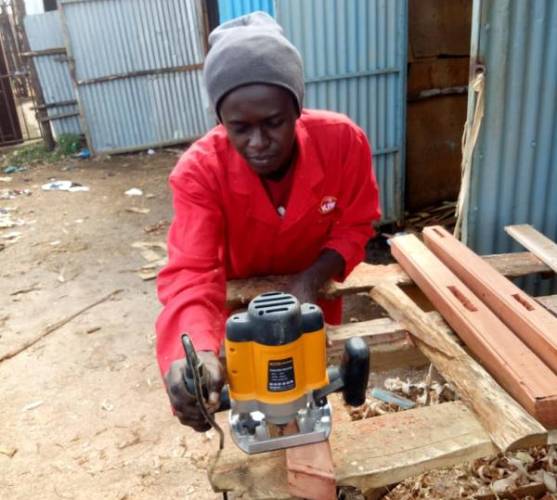 If you had to choose between keeping your iPhone and selling it to start a business, what would you choose? For many campus students, it's as easy as ABC; they would most probably settle for keeping the iPhone. After all, owning such a device early in life earns you major 'bonga points'.
But not for these three students who decided to sacrifice the much-treasured device for something less popular. It started with Nathan Kiprob, a graduate from Jomo Kenyatta University of Agriculture and Technology (JKUAT) main campus.
The Bachelor's degree in Information Technology graduate sold his iPhone 5S to get startup capital for his business.
"My passion for interior design and making houses look beautiful got me thinking how I could practice it. I sold my phone for Sh17,000," he told Campus Vibe.
He channelled the money towards buying a drilling machine and two boards, which cost a total of Sh12,000. He spent the remaining cash on miscellaneous items.
Kiprob says his passion for interior design started in 2018, when he would spend hours on YouTube watching 'do it yourself' videos, which psyched him to actualise what he saw.
He started by trying it at home and when he saw that he was doing the best, he decided to go commercial by designing interiors for new houses that were being built at Iten.
"I tried to find internships after my graduation in 2019 to no avail. So, I found solace in my passion," he added.
Kiprob later introduced his friend, Bethuel Kipsang, who had gone through a similar journey of tarmacking for a job. Kipsang graduated from the Rift Valley Institute of Science and Technology (RVIST) having majored in Agriculture.
Two more members joined the 'Ideal Interiors and Furniture' team. They are Timothy Kigen, a third year student studying Procurement at Eldoret Polytechnic and Evans Kiplagat, a Form Four student from Kimumu Secondary Day School.
According to Kiprob, the two joined after they showed interest in learning the art of interiors and he only allows them to be at the workshop during the holidays.
"I encourage them to study and offer support where I can. However, I usually ask them to join us at the workshop when they are free so that they cannot interact with bad company," he said.
In a good month, they make a profit ranging between Sh55,000 and Sh70,000. And their clients are happy with their work, which is evidenced by the number of repeat clients and referrals they get.
Their only challenge so far is dealing with late payments from clients.
"Some clients take long to pay due to their procurement procedures which leaves us desperate. Sometimes, we have to eat into our savings," he said.
Looking back, Kiprob has nothing to regret, now that a hobby he started to beat boredom is helping his peers. He plans to train more youth from Iten to leave the bottle and work hard.
"I plan to train more than 50 youth so that we can reduce the number of alcoholics and idlers engaging in mindless social ills," he said.