Kazi ni kazi: Campus male 'video vixen' opens up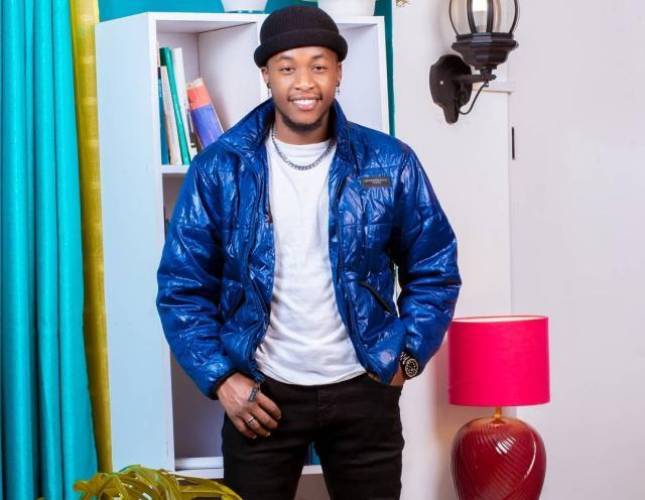 If you thought being a video vixen is a preserve for hot campus chics, then you're wrong. Fredrick Nyabuti, a male video vixen from the Rift Valley Technical Training Institute is slowly disproving the stereotype. He has made a name for himself on the screen, featuring most recently on Jovial's 2020 hit 'Pita Nawe' featuring Ssaru.
"I am passionate about modelling because it helps me clear my bills," says the 22-year-old. "I want to focus more on commercials and high fashion at a future date."
Since he started his career in 2018, the vixen says he has made at least 100,000 from his modelling gigs. On average, a video vixen (male or female) takes home Sh20,000 per gig for a major role, with minor roles attracting a fee of about Sh5,000 depending on the contractor.
But modelling is no walk in the park. Nyabuti admits that he rarely gets opportunities compared to his female counterparts.
"Male vixens are paid less than one would expect and the upcoming models rarely gets gigs since artists prefer well known models due to the marketing part of the song," he added.
Still, Nyabuti is so happy with his job that he would not mind booting the engineering career for it.
There is more to him, too. When away from the set, the male vixen who charges at least Sh10,000 for a gig has been running humanitarian projects that include blood nation drives at his college.
Apart from that, he also started an initiative that will stand to benefit persons living with disability by issuing them with wheelchairs.
Nyabuti says that the motivation to initiate this program is drawn from his primary school life when he injured his leg while playing and thus he could not walk for months.
"I was taught to give back to the society but persons who need wheelchairs tend to be so close to my heart since I know how it feels like being in one position for months without moving," the third year Mechanical Engineering student told the Nairobian.
Nyabuti works with a group of 30 members who help in distribution of the wheelchairs to the disabled in Eldoret.
He adds that: "I, however, need the papers for the professionalism and the urge to be a better role model to the upcoming male models afraid of taking this hustle like a full time job."
He thanks his family and male friends for being his main supporters in his hustle.
"My family and friends support me unconditionally since they know it is purely professionally like the course I am taking. They also understand that I am among the few doing this kind of a job at my age," he said.
Nyabuti says that he does not intend to introduce his girlfriend to the masses to avoid the pressures that comes with it.
"I am dating a beautiful lady but I prefer privacy to publicity in relationship issues to avoid the pressure from the public," he said.
Also read: https://www.standardmedia.co.ke/entertainment/features/2001344459/exposed-inside-the-exploitative-world-of-kenyan-video-vixens