Forget noisy Subaru drivers, these cool comrades are cycling down to Naivasha town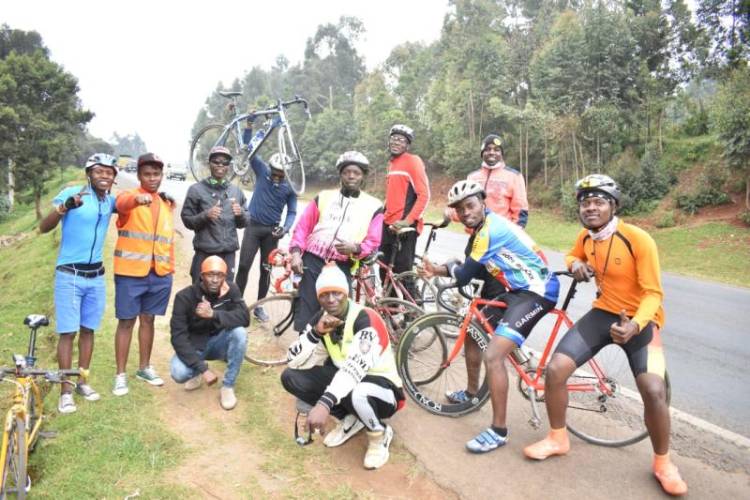 Naivasha used to be a quiet and sleepy lakeside town where locals made money selling fish to tourists and the odd family that visited on a lazy Sunday afternoon.
That was until 'Subaru Boys' discovered the hidden beauty of the dusty town. They immediately nicknamed it 'Vasha' and the once quiet getaway became a popular destination for weekend road trips, hikes atop Mount Longonot and boat rides on Lake Naivasha to see hippos and munch on fresh fish choma.
The upside of this 'Subaru' revolution is that the once sleepy town revved back to life through local tourism. However the downside is that pollution also became rampant. Plastic soda and water bottles litter the environs and favourite spots where Nairobians and other 'outsiders' spend their trips hanging out. And the beautiful Lake Naivasha is literally choking with plastic litter.
This is where Elijah Murithi comes in. Murithi, a student at the Jomo Kenyatta University of Agriculture and Technology (JKUAT) is founder of a movement whose main agenda is to reclaim the lost glory of famous towns in Kenya by putting a stop to pollution.
Murithi runs Go Green Deliveries, which is a team of 30 cyclists based in Nairobi, but who cycle to different towns in Kenya for three main reasons. First is for the thrill of it, second as a delivery business and third, to help conserve the environment.
"Cycling is our hobby and business, but we also use the opportunity to create awareness about conserving the environment," Murithi told Campus Vibe.
A student is running a delivery company that is on its mission to change the narrative about some of the 'negative' notions attached to towns in Kenya.
These cyclists, the majority are from colleges and universities in Nairobi, met through referrals and have been together since last year in January when Murithi saw it best to provide deliveries in town.
They deliver through cycling in town whenever they are not having classes.
Talking to Campus Vibe, he sai most towns in Kenya are polluted by plastic bags that end up choking the environment and he saw the need of cleaning the places.
"We have previously cycled to Mombasa, Narok, Machakos, Limuru and lately to Naivasha where we went to clean Lake Naivasha before the safari rally commenced," the Diploma in Procurement and Contract Management student said.
Through his company the team organizes cycling trips to different towns where they end up contributing to the area by cleaning the place.
For instance, in their previous trip to Naivasha, a distance of nearly 90 kilometers, the team collected plastics from the lake and packed them in the chase car that they usually hire to follow them during their trips.
They later sold the plastics in Nairobi and have saved the money to buy trees for the next tree planting at Mombasa in December.
"We have partnered with different outlets like shoes, clothes, eateries and offices to provide delivery services on their behalf. We do this during our free time to help emphasize on zero emissions," he added.
However it has not been a walk in the park for the team since they face challenges from uncaring motorists in town.
"It was until lately that we have seen the government set aside lanes when we can comfortably cycle unlike before when it was scary," he said.
The team has also managed to buy only 3 electric bicycles which is not enough for all of them.
Hide your knickers
Hanging your underwear on a public clothesline makes them public property