How MMUST student vice-president juggles studies, politics, business and acting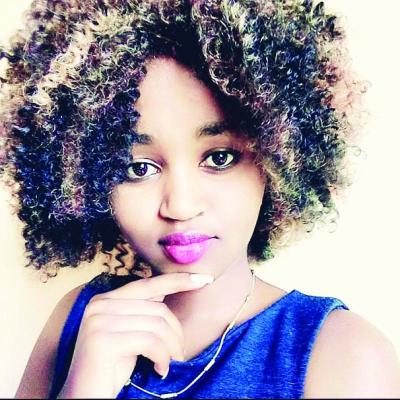 Multi-tasking is not a cup of tea for many people but for Nancy Mwendwa, she never breaks a sweat juggling many activities in a single day.
On this chilly morning, Mwendwa sips her tea hurriedly before she walks out to attend a two-hour student's leadership meeting before quickly switching to her lead role in a local film.
Later in the afternoon, she is supposed to report to a local supermarket where she works as a part-time marketer. The 21-year old, a third year student pursuing a Bachelor's degree in Education at Masinde Muliro University of Science and Technology (MMUST) is the institution's student vice president, a business lady, an actress and at the same time, a diligent student.
Mwendwa recalls when she joined campus in 2018. Her dream was to vie for an elective post and help comrades come up with solutions to their many challenges.
"As students, we have many challenges. I have always wanted to be in a position where I can help solve some of these problems. When I contested for the post earlier last month, I was aware of its responsibilities," she explains.
She is also an actress in the institution's acting group, The Urban Act Films, where she has featured in a number of projects. Before the outbreak of the Covid-19 pandemic earlier last year, Mwendwa was also a member of Golden Port Productions, where she was an actress in a number of stage plays based on set books including Kigogo, Chozi la Heri and Blossoms of Savannah. Despite all these commitments, she says that she has to spare at least two hours daily for her studies.
"Academic progression is the major thing that brought me to this university. It has always been my top priority to work hard and excel in the exams because at the end of the day, my family expects to see the value for their money that they invest in my education."
Mwendwa says she decided not to tell her parents that she was running for an elective post because she thought they would have easily talk her out of it due to the demanding responsibilities that come with it.
"I decided to keep it a secret because I thought dad would be disappointed with me. However, when I won the elections, I explained to him and he has been very supportive ever since," she notes.
On whether she is seeing someone, Mwendwa says campus dating is very strenuous and time-consuming, noting that most students engage in it just for fun without any serious future plans.
"I am not seeing anyone at the moment. I just prefer being single and doing things that matter to me most. I won't enter into a relationship that I know will end as soon as it starts," she told Campus Vibe.
Mwendwa acknowledges that men frequent her social media platforms on a daily basis with all kinds of promises, which she has never taken seriously.
"Men DM me on a daily basis, and some make crazy offers. I always ignore the messages as soon as I open them because that's not what I want as of now," she says.
The student leader laments that Covid-19 has not only halted studies for enthusiastic students but also made life harder for them.
"It has been a very desperate time for comrades who are battling various issues. On a single day, I get several calls from students who have issues and challenges that I cannot solve. It always demotivates me when a comrade brings to me a problem that I cannot help solve. It is our hope that things will get back to normal soon," she says.