Help me find justice for the painful murder of my husband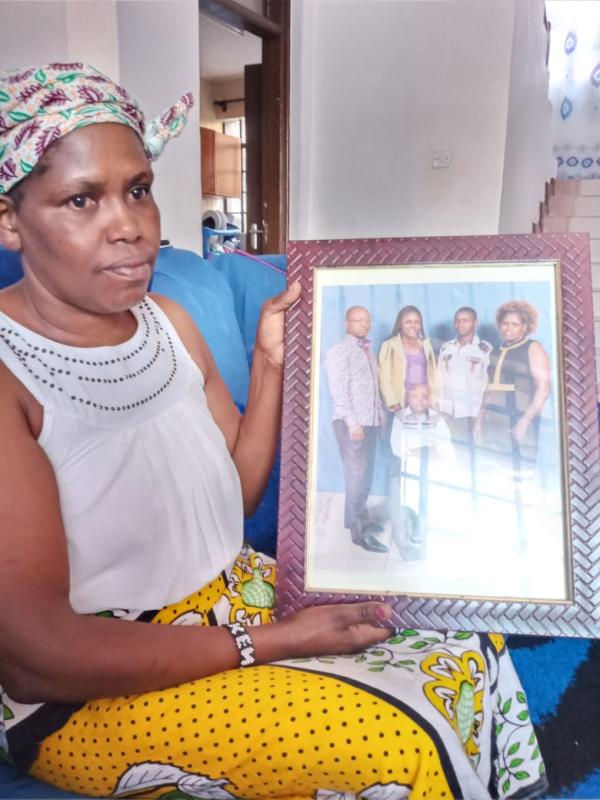 Faith Njoki blames the Covid-19 pandemic for slowing her pursuit for justice.
For the last five years, the mother of three has dutifully attended court sessions in which three men have been charged for murdering her husband, Engineer George Muraguri Gikonyo.
And as the court case was drawing to a close, the coronavirus struck, dashing Njoki's hopes of starting a new chapter. Since March, when Covid-19 was reported in Kenya, Njoki has not stepped in a courtroom after the Judiciary scaled down operations in compliance with safety measures to contain the virus. Before then, she had been on the road to the hearings at the High Court in Nyeri. Her husband was murdered on October 13, 2015.
Gikonyo, 52, was a senior engineer with the Ministry of Energy, working at Wambugu Farmers Training Centre in Nyeri. His body was found dumped near a dam along the Nyeri-Karatina highway.
Njoki no longer follows Covid-19 live updates on television after her hopes of numbers going down evaporated.
"We had all looked forward to the conclusion of the case as a family, so that the truth behind the murder of my husband can be revealed and the reasons behind his elimination established," says the woman.
Njoki and her children have resorted to prayers, wishing for resumption of open court processes.
Tears filled her eyes as she recalls the day the pandemic hit the country. It was just when the case was about to be concluded.
"I'm at a loss and don't know when the case will be concluded," said Njoki at her house in Nairobi.
The woman vividly remembers the call her husband made after office hours.
"He told me he was from a gym for the evening workout in Nyeri town. At around 8pm, after meeting with friends, my husband called again, informing me he was headed home," recalls Njoki.
About an hour later, a call came through as she watched news at her Umoja house. It was from an employee of a car track firm, reporting suspicious movement of Gikonyo's Toyota Harrier vehicle, which was cruising at 160 km/h instead of the 120 km/h legal speed limit.
Alarmed, Njoki called her husband's number, but the phone was switched off.
"I immediately sensed danger and alerted other family members, who mobilised a search mission," says the widow.
Police were also alerted and a roadblock was set up at Ruiru Toll Station after the car tracker indicated the vehicle was heading towards Nairobi. The car was intercepted and three men arrested.
Njoki was called to the scene and she positively identifying the car.
"One of the suspects was wearing my husband's jacket," she says.
Several pills were found inside the car. Upon being interrogated, the suspects led investigators to Ohwe Dam where Gikonyo's body was found with a scar on the forehead. He is suspected to have died of strangulation.
Njoki says she wants the case settled to end her suffering.
"I'm not interested in having anyone hanged or jailed. My interest is having the matter put to rest. Conclusion of the matter will clear lingering questions and suspicions regarding his death," she says.
Ten types of supermarket shoppers
Every market has its own mad man, and so is the local supermarket.  Here, you will not fail to find crazy characters from all walks of life.