Decide who should be handling dishes before moving in together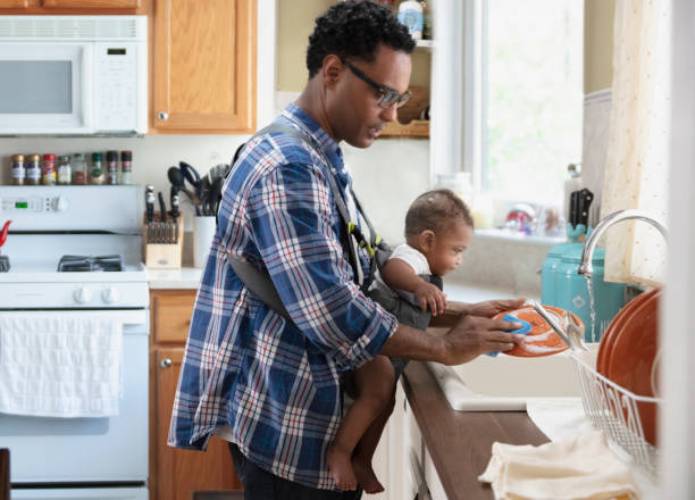 Who should do the dishes? It is so easy to get caught up in all that romantic nonsense; the thrill of first moving in together, that you forget to ask the important questions. Not who will sleep on which side of the bed. Not who will be granted dominion over the remote. Not even whether to save for curtains or retirement. The priority, before beginning the journey, should be figuring out who is going to be handling the dishes.
It may seem like a non-issue. It may seem trivial, until one person returns from work, catches sight of a mountain of plates rising from the sink and starts demanding a refund for their cows. "I did not surrender 20 heifers to your father to scrape dried ugali from my own pots"
Employed hands do not like scrubbing dishes. Hands which have been at work all day, filing reports, high-fiving bosses, spanking the water cooler to confirm the water level… those hands stiffen up when confronted with dirty sufurias.
Learned fingers are just as averse to scrubbing dishes. Fingers which have thumbed through dissertations, which have caressed graduation gowns and closed around crisp postgraduate degrees. Those fingers struggle to figure out the contours of steel wool vis-a-vis shiny utensils.
And so the debate often begins. One party feels they have been hard at work in an office all day, and that having had to deal with a mountain of files and documents, it is too much to ask them to contend with a tower of spoons and plastic bowls.
The other party then counters with the assertion that availability does not equate idleness. Just because they were not sat at a desk all day does not mean they were not working. Home is the new office, have they not heard that?
The real issue, of course, is the subconscious tendency to disparage that task as being lowly. The declaration, often unsaid, that rinsing forks is a job beneath me. The subsequent logic that making your partner do it means you think them beneath you, and their job more menial than yours. You have just closed a case worth millions of shillings, and someone wants you to go toe to toe with the pan that cooked fish?
And that's before you start asking what the feminist manifesto says about it. What does it mean for a woman to do dishes, while the man sulks at a screen somewhere in the house? Where did all the good men go, if a woman can be fighting spoons for 30 minutes while he just ambles about the house scratching his bottom? Does he not know spoons fight back when you rinse them? What else will he expect her to do? Cook for him? Feed his children?
As long as the title of 'breadwinner' is debatable, no one will be rushing to soak dishes. Back in the day, it seemed like a no-brainer that the person putting bread on the table would be spared the kitchen tasks. One person provided the food, the other person cooked it. Simple. Straightforward. But then everyone started rushing to win bread. Something about doing better what a man can do. Something about a woman's place. Which is all very well, except that the goldrush did not pause long enough to initiate a conversation on who would then be responsible for keeping the home.
If the solution seems glaring to you, then you underestimate just how quickly a degree or a great job swells the head.
Why not just take turns doing the dishes, you ask, snorting with derision. Why not have a duty rota? How about flipping a coin? Heck, you can hire a maid who will do the dishes!
Well, duty rotas are for people who don't have random Zoom meetings with billionaire investors at 6am. Flipping a coin means there is a chance you'll lose. Hiring a maid is just providing your husband with a sympathetic ear, and everyone knows how that sympathy can spread to other body parts very quickly.
So, who does the dishes?
In a household of highly-learned, very salaried folks who are always running around doing important things, who rolls up the sleeves and takes on the mountain of dishes?
It seems to me the only practical solution is to use up all the dishes, throw them out and just buy a new set every time you need to use them again. Either that, or sit your partner down before moving in with them and have a practical conversation about domestic tasks.
For the record, I'm all for the former.