How do you dream of being president when you can't get 50 votes in your ancestral village?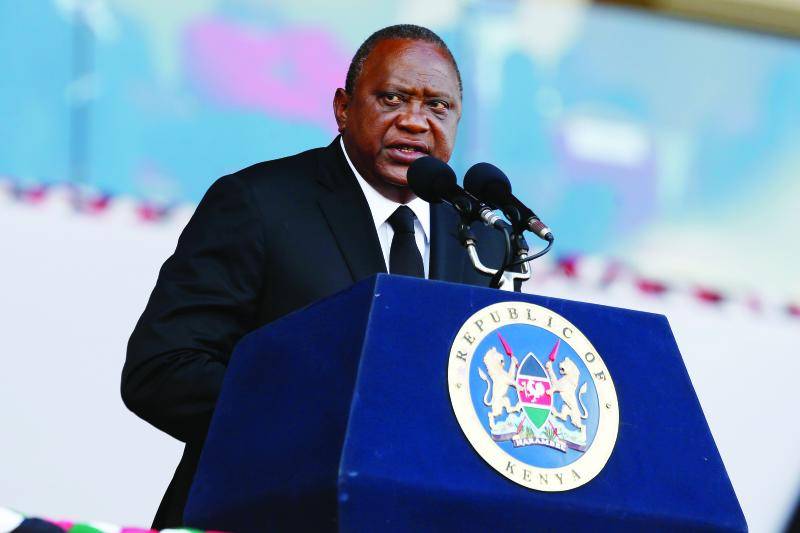 know a practical joke when I see one, especially a wicked one. Like the 40-plus Kenyans who have elected to spice up the broth with practical jokes by claiming they want to take over from President Uhuru wa Kenyatta.
They have seen the big limos in which the son of Jomo rides. They like his overflowing multiple coloured shirts. They also know how he has put on good weight over nine years and now they want to become the new C-I-Cs of the Defense Forces of the Republic. And we, here in Emanyulia, are wondering when they will stop these jokes, for a joke should not be carried too far.
You see, even here in Emanyulia, before the big football match begins, some small boys clear the field by aimlessly kicking about a homemade ball. They suddenly materialise from nowhere, kicking the round banana fibre stuff in disorderly fashion, for two minutes or so. Even as the ball thing goes beyond the touchline, they run after it, kicking it hard, all the way back to the nowhere they came from. After they are gone, the real thing begins.
These kickers of banana fibre are called 'Team Rombo'. Even when Franco Luambo Luanzo Makiadi came with his 60 tons of musical equipment to entertain us in Kisumu, some years back, some Team Rombos of guitar amused us with boring music for about three hours. When they left, the big man got on the stage and went straight for his guitar. Three strokes of the guitar strings later, we had brought down the wall of Kisumu Stadium, those of us who were still on the queue outside.
We like seeing Luambo Makiadi kinds of men and women in politics also, not just some jagajaga boring disken or disabled bands. And now there are many political diskens sending Mr. Wanyonyi Wafula wa Chebukati's head into dizzy confusion.
Chebukati and his team, otherwise known as the Independent Electoral and Boundaries Commission (IEBC) are staring at practical trouble. They have almost 60 presidential candidates to vet and place on the presidential ballot paper. Chebukati may have to print a presidential ballot booklet with a table of contents, showing on which page to find a candidate, their names, photos, and symbols. Each president and the running mate may take two pages of a good A5 format booklet. That should mean just about 112 pages.
Now you can imagine the polling day. There we are, at the polling booth, each one of us with 100 pages plus of the presidential booklet, before turning over to the other candidates. We are thumbing through and we are not seeing Akaliche, whom we wanted to vote for. Some of us don't even know how to turn to page 69. Many years of opening the hymn book have not helped us much, because when we go to church on Sunday, we only pretend to be at page 69. In point of fact, we know the song by heart. So, we just open any page and pretend to be singing from the book – including those who forgot how to read 20 years ago.
Eh, mambo yanakuja kweli, kweli, because of this practical joke by people who cannot get 50 votes in their villages. You know Mr. Chebukati cannot remove them from the competition. Hapana. Provided that they are of the right age, are registered voters, and they are Kenyan na wako na degree, it is all the way to the ballot box. The box itself must be giant enough to fit in several booklets. It must also have a mouth that can swallow a booklet. After that there will be the nightmare of checking through the pages to see who got the vote in each book. It's called vote counting. Eh!
Eh, ask any publishing editor and book printer about something called gathering and collating pages. This is how you find some pages missing from a booklet, while others are repeated. A proper nightmare lies ahead, and all just because of these practical jokes. You are going to end up with some MCA pages in the presidential booklet. Then someone is going to scream that it is a trick, intended to steal their election. Rigging! Handshake! BBI! Tialala! Ka-boom! Eh!
Also worried is a gentleman from the Gusii Highlands. This man has read all the books in the world. He is waiting for the big professors to write some new ones. His name is Dr Fred Okeng'o Matiang'i, PhD, EGH. Now this Dr. PhD, EGH has got to provide security around the clock for these people. The laws say so. Mpaka kura ikwishe. And may the Good Lord keep each of the pranksters. As the people who work in the insurance industry say, "If anything happens to even just one of them" before the election, the process will be cancelled and it has to be begun afresh.
Meanwhile, should they be dissatisfied with the election result, because someone only got 20 votes, the matter must take its lawful time in the Supreme Court. Kweli Wakenya tulifungua Pandora Box! Anyway, Mr. Wanyonyi Wafula Chebukati and Dr. PhD, EGH, this is your headache.
Mimi, let me look for popcorn.
— Barrack Muluka, PhD, is a strategic communications advisor.