No freebies: Kibaki never gave anything away for free or wasted money on frivolity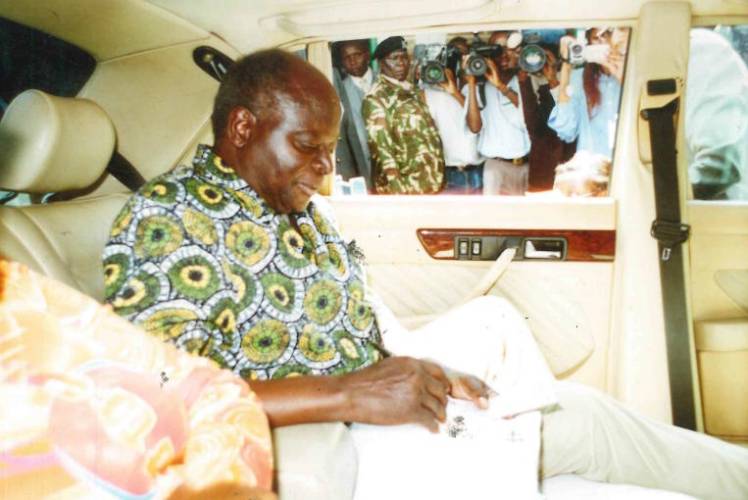 You have seen the clip of a gentleman called Sylvester Wakoli Bifwoli doing the rounds. He was, once upon a time, a mheshimiwa from Bumula, in the neighbourhood of our Emanyulia.
One day, Bifwoli went up to Mzee Mwai Kibaki, the departed elder from Othaya, near Mukurweini. The Mzee was the president of the republic then.
"Mzee, I want you to give me a few millions, for my political campaigns in Bumula. I want to continue being the big man there. If you give me money and I pass it to the great unwashed masses of Bumula, they will allow me to continue being the mheshimiwa," Bifwoli said.
Mzee Kibaki looked at him very closely. Studying his morphology for signs of absence of intelligence in the make-up. "Have you finished?" Mzee asked him. When he said yes, Mzee Kibaki looked him straight in the eye and asked him: "So when you have become what you want to become, will you be sharing your salary with me?"
Mheshimiwa Bifwoli Wakoli, the cheerful man from Bumula, saw the light. He told Mzee that they would not be sharing the salary. He went back to Bumula to try and see if the Bumulans would allow him to remain a mheshimiwa for free. They refused.
You see, like everybody else, the people of Bumula do not like giving away things for free. However, like everybody else in the country, they love free things. They especially love free money, food, alcohol and allied freebies, especially in the election season. But they cannot give you a free vote. And so Mheshimiwa Wakoli Bifwoli's journey as a mhesh came to a sudden end.
But Mzee Kibaki was a different kind of Kenyan. He did not believe in giving people like Bifwoli Wakoli freebies. Nor did he believe that people you want to represent and work for as their mheshimiwa should be given money and food that they have not worked for. Throughout his own uheshimiwa that lasted more than half a century, Kibaki never gave out freebies. His motto was simple: "If you think I will be a good leader, a good mhesh, then just vote for me. But if it is about freebies, utatembea."
And the people kept voting for him. They voted for him in Donholm, in Nairobi. Then Donholm was split into two. They called one part Embakasi and the other one Bahati. He became the mhesh for Bahati even without giving out a coin. But when he got to the big house called the Legislative Council, or "Legico," he did a sterling job. There were no fellows hanging around him looking for freebies because they knew there would be none.
This man, Emilio Stanley Mwai, the son of Kibaki, of Gatuyaini Village in Othaya started becoming a very famous man. He went back to Othaya and, again, they made him a mhesh for free. In Parliament and in Kanu meetings, he was blasting away big grammar from Makerere, in Uganda.
He was talking of things called GDP, per capita, national exchequer, and such giant things. But he was also very calm, collected. Even when he was not happy, he remained cool. Eastlanders – Jericho, Ololo and Bahati boys – called him "a cool mohine."
You remember that screeching siren of a man called Joseph Thompson, or Joseph Somebody, of Murang'a? You remember how he started screeching when he became a Kanu boss? You remember how he used to scream and say things like "Categorical! Obligatory! Imperative!" Now the man from Othaya would never do such things, even when he was angry. He might just laugh a little and say: "Huyu mtu ni pumbavu kabisa, oh yes!"
He would not threaten, and talk with droplets of mucoidal liquid flying from his mouth. Sometimes he would not even tell you that he thought you were "jinga kabisa"... He would just look at you and smile in a manner that suggests that he thinks you are a wet poop ya kuku.
But this thing about money, the gentle Mzee from Othaya thought that it should not be wasted on frivolities. "Silver springs," he used to say. If you take good care of your silver, it will spring. Having spent very many years in Uganda and England learning about the behaviour of silver, he taught his children not to fool around with silver.
That was why he would not bother about people who wanted him to give them free silvers so that they could say he was a nice guy. He was not alone in this philosophy. Another Mzee called Nelson Madiba used to behave the same way. Both Wazees never believed in giving tips to waiters, security guards na wengineo.
You know how some guys do some work that is fully paid for? After you have paid, they hang around in a manner likely to suggest that there is something you still haven't done. They begin telling you things like, "Mzee yenyewe kuna baridi sana"... Then they yawn until the yawning become infectious. If you are still daft, they tell you: "Si utoe kakitu, tutolee jasho?"
Like the Bifwoli man, "they just want it like that." So one of them may just go to Bifwoli to tell him, "Mheshimiwa my problem is that my wife has just given birth. We have a brand new baby."
And Mzee Kibaki asks: "How is that a problem? You should be celebrating? Is the baby unwell?"
Bifwoli answers: "No, we don't have money to pay for the maternity fees. Now the hospital has refused to release the mother and the baby. If you give us the money, we will pay. Then they can come out. Also, you add kidogo for some food for the mother. You know women need to eat well after giving birth."
"Really?" Mzee Kibaki thinks, taking a long and hard look at the gentleman before him, until everything else around is blurred and frozen. "Really," he thinks to himself: "For nine months this thing has been coming. And now this chap is here, telling me to pay the maternity fees in order for his wife and child to be released? Is his head really right? And was I there when... Anyway, forget that thought. His head is just not right."
For us here in Emanyulia, the big lesson from Mzee Kibaki is to shun free things.