Friend zones are deep seated sexual desires waiting to explode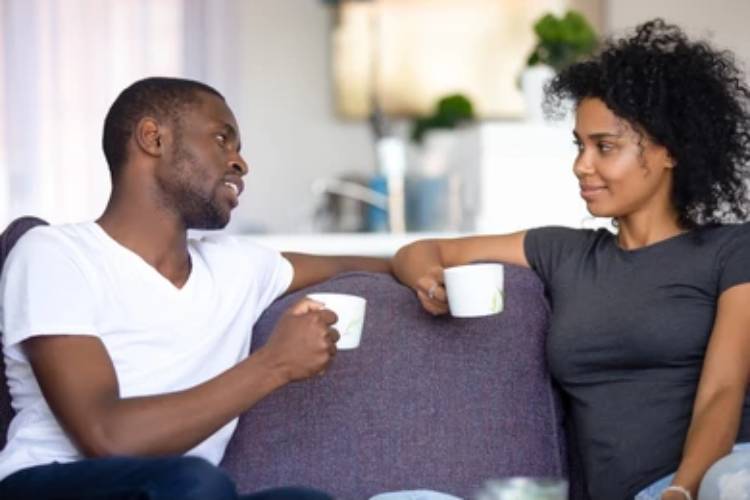 Two people you can't advise; a woman in love and a man with money, so they say. But have you ever tried advising a man who has fallen head over heels for a woman? Those men don't hear. They literally insert beads in their ears so they can't be told anything. Even if the flags are as red as they come, and the coffee in the room could be smelt from outside, or the big smelly rat, they can't. A man in total love is difficult to advise or tell anything about his relationship.
It is why most men move in with women and take husband roles immediately even when they're still in the boyfriend zone. Just because a man should be responsible enough and portray his ability to be a loving husband and eventual father to his bundles of joy doesn't mean he should give husband benefits to a girlfriend. This is how easily they're beaten with proper character development and then later on heap blame on any woman they meet.
Women can never be understood. She can be with you, living with you, cooking and washing your dirty jeans but her heart is somewhere else, someplace she can't even explain. She can stay with you for convenience, status or financial stability as she watches out for her main man. Even when it appears to you and your people that she has laid down her heart for you, she could wake up tomorrow and her heart is miles away.
Red flag number one is when you have dated this lady for quite a long time, years, like even five, but she wants no children. Well, not that she doesn't want kids, but doesn't want to have kids with you. See, any woman who desires to have children of her own, wouldn't think twice when she finally gets the man who she thinks is fit to be a father to her bundles of joy. But this one chews P2s like her life depends on it. Or, she has a long-term family control method that keeps her ovaries safe from pregnancy shenanigans. She might give an excuse for waiting for financial stability, but you'll wait and keep waiting. That one, run brother. Run for your life.
If your woman fully depends on you financially even on small things, she's not for keeps. A woman who sees potential in a man works hard for her own little cash and wouldn't leave all the bills to him. But this one always needs money, is extravagant, and is not keen on saving. She pegs her life on material things and doesn't care what you think of her. She wouldn't mind draining you to your very last coin.
Any girl in love is excited when she is dating or seeing some guy whom she knows is the one, and will always want to introduce him to her close friends and family, regardless of how long they've dated. She wouldn't mind her man meeting her besties, would talk about them to him and suggest dates. She would want to meet her man's buddies too. But if she talks of a small circle of three friends who are introverts and don't like meeting people or tells you she prefers her relationship private, you must be worried. Months of not seeing your potential in-laws is long enough to have moved on and even had kids in the moving process.
Red flag number four. Girl plays too nice to you and everyone around you for so long but doesn't want commitment or if you propose marriage, she pops with an excuse of not being financially stable to start a family. And especially if there's good money that she enjoys here and there, she will stay but still be single looking for her husband, when with you! It's called dating for convenience and financial stability.
Onto number five. This one has quite a good number of friends of the opposite gender, hangs out with them and one or two are her best of the best. She has a Brayo who checks on her every other time but whenever you try to ask about the closeness she'd brand you a jealous and insecure lover.
When you two have a hiccup in your relationship she pours her heart to this male bestie who even takes her out for booze and choma to calm her down. Listen, one of those besties is your assistant. No, you're his assistant. That friend is her potential husband, she's just trying to weigh the situation and move things to the next better level. Any woman with too many close male friends while in a relationship is a red flag.
A woman will be in a situationship with a man she knows so well she won't marry eventually, doing all the doables complete with PDAs but still going on her knees in his presence to silently pray for a life partner, a man of their dreams.
As you play husband material to the love of your life and act Romeo to your Juliet, watch out for premium tears and character development.