How not to write stories of people with disability: Crippled, invalid is negative and demeaning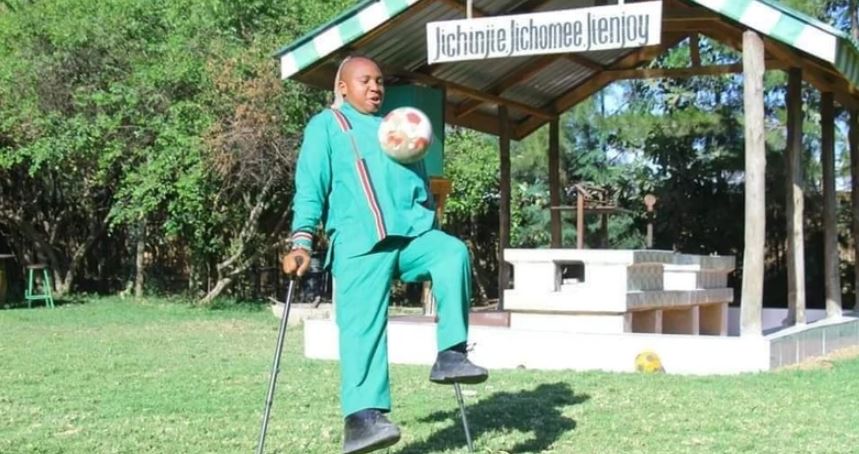 I realised, as a young journalist at the Kenya Broadcasting Corporation (KBC), that there was a dearth in reporting issues surrounding persons with disabilities. My desire to bring the rights of people with disabilities to the limelight saw me start the first television disability show in Kenya, dubbed, Abled Differently, to create a healthy conversation on disabilities. I thought I was saving the world, but that is where my first encounter on how not to report disability started!
The phrase "Abled Differently" was itself inappropriate, and every terminology we used, any word we threw around turned out to be offensive. As I got more grounded, I had to create disability interviewing guidelines from scratch and constantly remind my team to use inclusive language. I found myself rewriting and editing my stories over and over.
I had to find the balance, spending hours on a daily basis engaging with persons with disabilities and understanding their language, a journey that took years to master. I created a rapport with disability organisations in Kenya and although they were skeptical at first about a television disability programme, they agreed to lend their expertise to the show.
Years later, Abled Differently became an award-winning television show, which touched millions of lives and helped me become a better journalist.
Despite my struggles, I realised that my disability reporting journey could be considered that of privilege. Most African journalists are not as lucky as I have been, and many remain unaware of the proper usage of terms regarding disability. Reporters have used words like "defective" and "handicapped" when reporting about disability. Other terms characterise persons with disabilities as victims or pitiable, thereby reinforcing negative stereotypes.
The importance of disability reporting by the media helps in promoting positive, inclusive images of women and men with disabilities and stimulating a climate of non-discrimination and equal opportunity in all levels of the economy and society for disabled persons. Disability awareness also reduces stereotypical mindset, it also provides opportunities for all to create an inclusive society.
So, how should we, as journalists, not report disability?
Firstly, framing success stories of people with disabilities as inspirational is counterproductive because it portrays persons with disabilities as abnormal people achieving normal goals.
In his article on disability-friendly language, Senior Inclusion Technical Adviser at Sightsavers, Shikuku Obosi, singles out three aspects of language, which can discriminate. Firstly, language may give unnecessary extra visibility to a factor such as sex, ethnic origin or disability. Secondly, it may define people in stereotypical ways, rather than illustrating the range of skills they possess. Finally, language used to describe a group may be discriminatory if it is imposed on the group rather than selected by them.
Paul Chadwick, writing in The Guardian, argues that journalists need more than goodwill when writing about disability. He says physical or mental illness or the disability status of the subject should be avoided unless it is genuinely relevant to the story.
Equally, saying "persons living with disabilities" is off. They are persons with disabilities. "Living" is best used for those living with a condition that is treatable or manageable medically, e.g. diabetes or HIV. Disability is not a disease that needs to be healed.
Words such as "crazy", "loony", "mad", "psycho", "nuts" or, "deranged" don't sit right when referring to persons with mental illness. They are derogatory and discriminatory and do not advance the agenda of persons with disabilities and reinforce the traditional model of curses and evil spirits.
"Able bodied" or "normal" when referring to persons without disabilities is also not cool, because it suggests that people with disabilities are abnormal.
People with disabilities don't have special needs, either. Special needs is a category that encompasses different types of people like the elderly, refugees and other minority groups. Not that special needs translate to disability anyway.
Saying "impairment" when, for example, referring to the deaf may supposedly be a more polite term than deaf, but the deaf community finds it offensive as it defines them in terms of what they lack and labels them as broken machinery. Simply say, deaf.
And what of "handicapped"? People with disabilities are not "handicapped," unless there are physical or attitudinal barriers that make it difficult for them to participate in everyday activities.
Because a person is not a condition or a disease, avoid referring to someone with a disability by his or her disability alone. For example, don't say someone is an "epileptic" or "albino". Instead, say he or she has post-polio syndrome, or cerebral palsy, or epilepsy.
Perhaps most offensive is referring to people with disabilities as "cripples" or "crippled." This is negative and demeaning language, as is "invalid" which means, quite literally, "not valid". People who use wheelchairs are wheelchair users, not "wheelchair-bound" because they do not sleep in their wheelchairs; they merely use them as assistive devices.
Then there are clichés that we should steer clear of too. Like "unfortunate," "pitiful," "poor," "dumb," "crip," "deformed," "retard," "blind as a bat" or other patronising and demeaning words.
According to the World Health Organisation (WHO), over one billion people (1 in 7 people) in the world experience disability. The media, particularly in Africa, therefore needs to rethink the language and images used to portray them because language can demonstrate respect and affirmation or devalue people and entrench discrimination.
That said, disability is an evolving concept, which means journalists should constantly update themselves with emerging changes in terminologies. Above all, people with disabilities have names. Let us call them by their names, not their form of disability.
– Jackline Lidubwi is the Internews Project Lead for Integrating Disability Rights into Journalist Training in Africa. [email protected]