How literature is burning our books, immolating our elders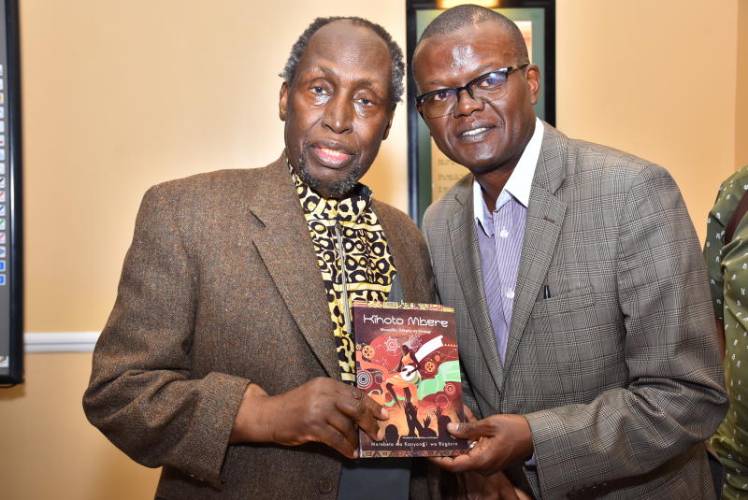 We have burned our books, even our flag.
Recently, news flickered that the University of Nairobi is 'restructuring', removing Literature as a discrete subject, subsuming it under a wider department of 'Linguistics, Languages and Literature'.
Some history, so that we can comprehend the self-harming violence of this…
The British Empire controlled not only by force, but also by complicity. It achieved this through education, notably through 'ENGLISH Literature', an academic discipline (an appropriate term!) that in English universities flourished during Empire's zenith.
English Literature in an increasingly post-Christian Britain had come to replace Religion, and its prescribed Canon of Classics were really alternative 'Books of the Bible', selected because they were considered to be the creations of establishment 'geniuses'. If properly taught, they would keep the lower orders of Britain 'improved and in check'.
Across Empire, English Literature was imposed and the intention was similar: to control 'native' minds just as working class minds in Britain needed to be pacified into an appreciation of the superiority of British Establishment Authors, and to create a small 'indigenous elite' who might become cultured (read, 'indoctrinated') enough to support colonialism. Colonialism slyly inculcated into 'natives' the convenient myth that English Literature containing English Values was 'Universal', enabling the nonsense that, for instance, Jane Austen's relative silence regarding sugar-plantation slavery was something all humans should accept and applaud!
England produced Literature; Empire merely consumed it, and it did so according to the coloniser's interpretative standards.
By 1968, little had changed at the UoN's 'English Department'. Enter three scholars, Ngugi wa Thiong'o, Henry Owuor-Anyumba, and Taban Lo Liyong who in an innocent-looking departmental 'Memo' sparked a change that had implications for Literary Studies across the world. This Memo is still considered an iconic text, one of the founding documents of postcolonial consciousness.
To summarise the Memo, it argued that in independent Kenya, the orature and literature to be studied should firstly be Kenyan, then continentally African, and then International. By doing so, it would decentre 'Literature' from the British metropolis and recentre it where it was being studied and increasingly produced, Kenya – all this while still admiring foreign literature's value, where relevant.
The Memo's sucker-punch? This: 'That the English Department be abolished'. Since then, we have known it as the 'Literature Department'. 'English' was rightly dropped.
The UoN's Lit Dept has suffered in the following years, battered by national regimes, staffed by older academics whose approach to literature has been anti-social, and enveloped in a man-eat-man capitalist environment that undervalues creative cultural production, heritage and the economically unquantifiable. The Lit Dept has, then, arguably languished under 'its own' on the departmental level, the institutional administrative level, and the political level.
Nevertheless, 1968 is not just ancient history. Across the formerly colonised world, departments offering Literature now fall into two broad categories. Firstly, we have those that continue studying Western texts, or that still interpret texts according to arrogant Western paradigms. These countries are those that fully denigrate their own pre-colonial traditions, and which look like minor States of America in a world that increasingly understands the dangers of aspects of American-led culture. Secondly, we have those departments that either symbolically or in terms of productive output are at the heart of their post-Independence nations' recovery or hybridisation of destroyed culture.
This second category comprises the progressive departments, and the UoN's Lit Dept falls squarely into this category, even today, even though it might have suffered over time. Perhaps, its suffering at the hands of various regimes is indeed testament to its continuing importance in a Kenya where we're still debating, imagining who we are. Any department considered a threat by historically oppressive regimes is okay in my book. In a postcolonial world where many still bow to the cultural egotism of the West, the UoN Lit Dept is a beacon.
Its formation and continuation is vital, not only within Kenya but also insofar as that Memo and its legacy still says very strongly to the Western Academy, 'You too have an obligation to decolonise yourself, study foreign texts and find new ways of reading outside your chauvinistic comfort zone'. It isn't an overstatement to argue that the huge diversity within Literature Departments in, say, Britain, on the level of gender, race, class and so on DIRECTLY stems from that Memo written by three open-minded members of the UoN, who said 'No' and argued for something new.
Indeed, the West's changing understanding, respect and humbling in terms of its cultural relationship with postcolonies stems inexorably from that powerful Memo, and no literary thinker other than the blustering racist would argue otherwise.
Kenyan literary production is thriving but constantly threatened inside and outside academia. Independent Literature Departments that support richly-rooted, articulate and, yes, profitable literary production in various languages from the streets to the towers of academe are a cornerstone of open societies. We subsume them at our peril. Linguistics and Languages are equally vital, related areas of study in our contemporary interdisciplinary world, but they are no more synonymous with creative, imaginative 'Literature' – interpreted broadly as anything 'textual' from traditional books to social media – than the study of paintbrushes is exactly synonymous with 'Fine Art'.
Further, Literature's misidentification with these two fields runs the serious risk of associating Literature with discredited forms of contextless, apolitical Literary Theory such as Practical Criticism or Stylistics. Literature really erupts from human contexts – history, social movements; not just 'language'. 'Linguistics, Languages and Literature' is just lazy alliteration.
If 'Literature' is demoted to third place in a Mishmash Department, we burn our flag, we loath ourselves and we've dropped 'Kenyan' as we once dropped 'English', saying to our young and to the world beyond, 'We have no pride in our cultural production, we doubt our ability to theorise or interpret, and we're happy if the West thinks itself superior'. And if this has all occurred because of public university reforms dictated by the IMF, then what? We have gone backwards, rolling back 1968 (even 1963) and everything since, and have conceded: 'The West Has Won'.
— Stephen Derwent Partington is an author, poet and literature teacher