Don't drag kids into your messy divorce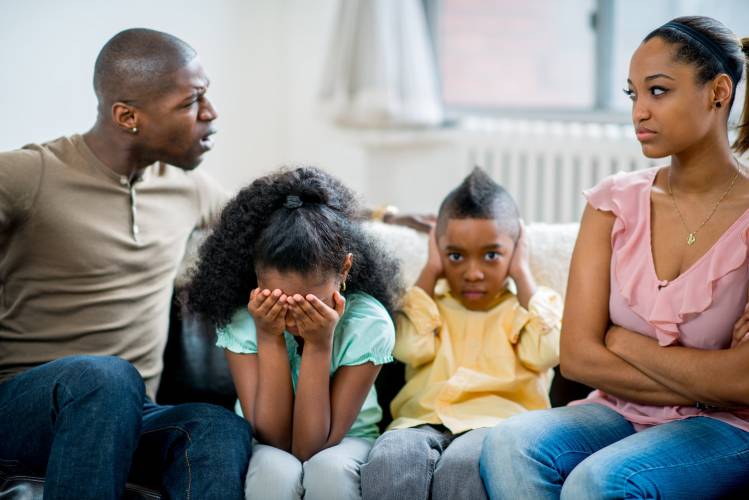 So here is the thing, we know love is a beautiful thing but we also know that love ends. Sad as it is that is a fact. Marriage between two people can collapse when love fades and that is totally ok too. But what is not acceptable is the endless fights that ensue thereafter.
We have all been in love at one particular time and we have an idea how hard it is to let go of someone your heart was deeply connected to. The breakup comes with a lot of questions and feelings of betrayal especially for the party that did not see it coming. It is okay to be angry and it is fine to take time and grieve for your loss but my problem is the trauma that your innocent 'products of love' often get exposed to as you fix your mess.
Divorce is hard on children as it is; their entire world changes and they have to deal with separation anxiety among other social issues as the epicenter crumbles. The least you can do is make the transition smooth for them by assuring them of your love and support - taking every deliberate step to remove them from the center of your conflict.
You want to punish your partner because you can't stand to see them happy? By all means, go ahead but do not use the children as your bait. Children are not toys that you will toss away once you are done with them. You are screwing them emotionally and psychologically — for life.
No matter the differences, separated partners have to strike an amiable balance on the best way to raise their children. This will involve talking to the child about the imminent separation and the changes they will have to go through. It is also important that the child's teachers are put on board so that they are able to monitor any changes in behaviour and offer much-needed support.
Children do not need to know the nitty-gritty of what went wrong or who of the two parents was at fault, instead both parents should present a united front in preparing their children for the impending change. The harshness of the impact of divorce will be buffered if both parents reassure the children of their collective love. Most importantly, it is imperative to reiterate to the children that the divorce was not their fault as most children tend to blame themselves when their parents' marriages fail.
No matter the grievances you hold against your partner, remember to the children he/she is a parent and not a partner. And while they may have been horrible as a partner they may still make a good parent to the children. Even in cases where one parent is denied custody, it is important that the custodial parent encourages communication between the child and the non-custodial parent. This will be beneficial in helping the children adapt to their new situation.
Conflict in divorce is inevitable, but where children are involved, parents must ensure that the children are shielded from unnecessary drama.
Why should men pay your rent, girls?
I'm not saying it's wrong for the man to chip in but it shouldn't be a primary demand neither should your relationship be pegged on what he can spend.