Why is the man to blame when a woman cries ?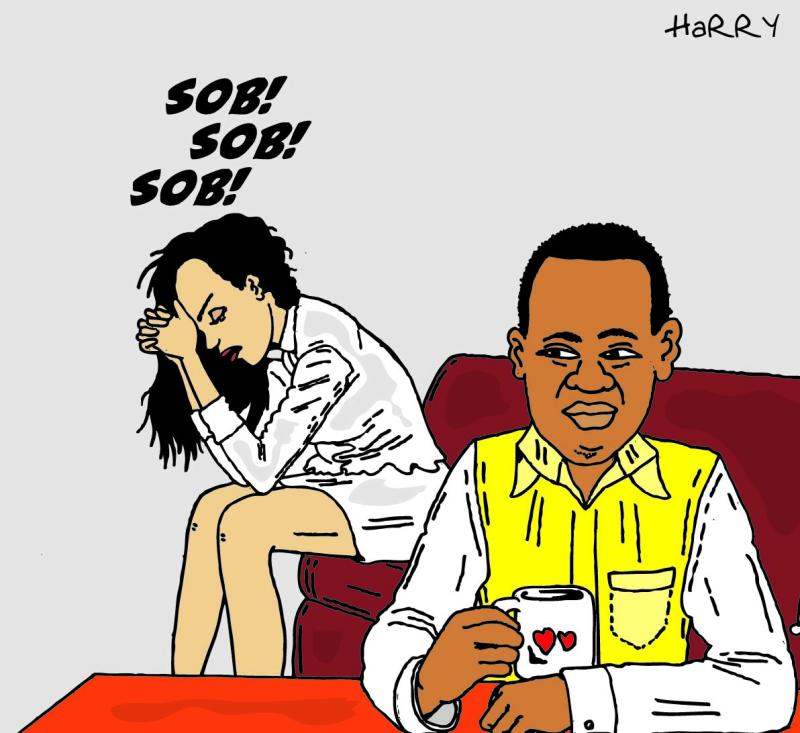 It's tough being a man, aki. Kwanza with this rona killer. Come to think of it, even corona has a feminine ring to it, like Caroline or Rhoda, or something. And It's working on men like a nonsense! But I digress.
So, picture this, you are in a restaurant (actually I am the one in the restaurant). Seated across from the most beautiful thing God laid hands on during creation.
You look into each others' eyes and get lost in some wayward, adolescent, butterfly-in-the -stomach infatuated love craze. Her absent-minded smile and debonair deportment have you so wrapped-up in the moment, you want to swat the waiter buzzing over you like a pesky, pesty fly. She's your Juliet. And you will Romeo to the ends of the world for her.
Then her phone rings. It's another man on the other end. You can hear his guttural voice rasping through her phone's speaker. And in seconds, she wilts, collapsing into herself like a flower in the heat of a desert. All the life and bubbly chatter that had you planning out the evening evaporates into thin air like a faint fart in a storm. What now? You wonder cluelessly. Not the tear works, please.
Too late! She's besides herself, heaving in emotional desolation, as rivulets of uncontrollable tears erode her impeccable makeup into a ragged landscape of messy ridges and valleys on an otherwise faultless profile. And just like that, another man ruined my perfectly,laid-out plan for the evening. No, she's not cheating on me, that man is her boss, taking her to the woodshed for some perceived failure in work delivery. Damn, this working from home thing.
But the clincher is the wait staff's reaction. As fate may have it, they are all women. Here I am , totally at sea at how to console a distraught, bawling woman in public. And seeing her dabbing her now melted-candle like face with her knuckles, I decide to make a beeline for the car parked outside for some Kleenex. As I manoeuvre my way through an obstacle course of ill-placed furniture in the eatery, I can feel the scorn-laden glare of the waiters boring through my back.
In their minds, I imagine, I am to blame for causing the damsel's distress. The man is always to blame. Which is actually true in this case. Only that I am not that man. But hey, I am the one sitting across from a crying woman.
Eventually, Juliet lightens up. And Romeo, yours truly, gets a break. The waiter comes over with the bill and gingerly places it on the table next to my phone.
The expectant expression on her face is telling. But hell, no! I'm not tipping an accusatory waitress. Not today.
@omondipaul