Glowing tributes flow for legend of silver screen Jacob 'Jacko' Rabong'o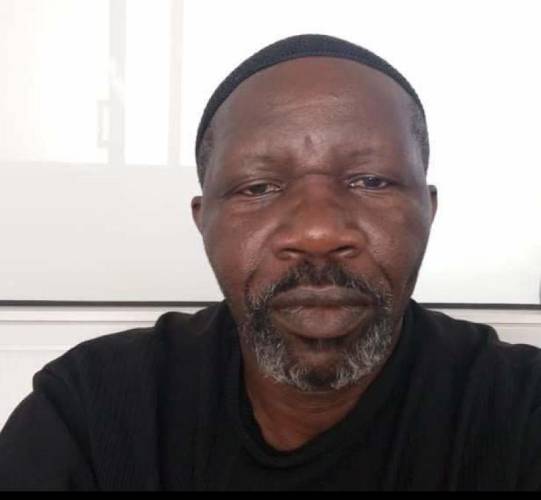 Kenyan artistes continue to pay glowing tributes to the fallen legend of stage and silver screen Jacob 'Jacko' Otieno Rabong'o even as they plan to have a memorial at the Kenya National Theatre this Saturday.
A consummate storyteller and a sage of the Kenyan creative industry, Jacko died on Sunday after a long illness, bringing to a sudden end a chequered career in acting, directing, production and mentorship to many generations of artistes.
Jacko will be remembered for his undying love for perfection, inclusion, knack for details and calmness that ushered the most of stubborn artistes on set. If there's one person who gave it all for Kenyan theatre and film, it was Jacko who bore the ungrateful, disenfranchising and depriving nature that the Kenyan arts has become.
He graduated from Kenya Polytechnic with an electrical engineering and worked at the Ministry of Public Works.
Jacko joined theatre as a mature adult who was working with the Kenyatta National Hospital on secondment by the Ministry of Public Works. Those who grew up at St Luke's Anglican Church recall him as a man who took to music at the church with gusto and dedication.
He registered the Friends Theatre Limited where he and compatriots like Dan Oronje and Rufus Eshuchi made a mark on the Kenyan theatre scene, including at the Kenya National Theatre, Phoenix Players Theatre, French Cultural and Cooperation Centre (FCC as it was known then) as well as Miujiza Players. Jacko only engaged in theatre in his free time.
News of his death has created shockwaves across the theatre and film fraternity and left untold pain in its wake. The 'Mwiba' project he has been involved in will be premiered posthumously. Jacko's last public appearance on the performance space was at MNET's award-winning TV series Selina directed by Carolyne Odongo who is his protégé.
"Jacob Otieno has been very instrumental in the technical department of the Kenya Cultural Centre and particularly the Kenya National Theatre. He has inspired and mentored many. The creative industry has lost an icon," mourned Dr Josephta Mukobe, the Principal Secretary of Arts and Culture.
"Jacob, you gave precious insights and teachings in this industry. You honoured me as an actor and directed me in a memorable one-woman play, A woman Alone by Dario Fo," mourned Odongo, who added that Jacob was also called 'Sir Jacob' when he taught at the diploma college for theatre, the now defunct AFTTTI.
He had honed his directing and production skills in France through a scholarship by the French government.
"I remember when I was wading through the waters of M.A. at the University of Nairobi and you supplied me quite a few gems that the Jomo Kenyatta Memorial Library didn't have. It's strange that only today, I notice that I didn't even acknowledge you in the document I wrote in partial fulfillment of what gave me powers to read and create," said Amadi wa Atsiaya in his tribute to the fallen hero of Kenyan theatre.
Kathryn Kago described Jacko as a man who carried "quiet" energy: "This man was a sage. He was focused like a laser and had a stage presence like no other."
Mwalimu Riuks described Jacko as a legend who was a master of his trade and an empowering director: "He directed me in my last theatre performance, When did You Last See Your Trouser by Festival of Creative Arts."
Health communications specialist Rufus Eshuchi remembered Jacko as a director who read the script and understood exactly what he wanted and never compromised on quality.
"You were a perfectionist and understood exactly what you wanted, never entertaining mediocrity even if it meant firing a member of the cast the day before the show and taking up the role yourself," Eshuchi mourned.
Eshuchi recalls nostalgically how he and Jacko stayed late in the night designing and putting up the set and how they crisscrossed the city looking for strategic locations at night to put up posters long before the age of internet and smartphones.
Money was scarce and few, if any, would support creative arts and Jacko and his friends were forced to dig deep into their pockets to put up a show, including at times going to shylocks with the hope of recouping the money through ticket sales.
Then there was the Special Branch and security apparatus who never sat pretty with creative at a time the government was hard on alternative voices and free speech. Jacko experienced his share of the crackdown.
Like on this fateful night when the boys from Nyayo House torture chambers visited Jacko and his production crew individually in the thick of the night to find out who was funding their production, Fate of the Cockroach - and what the title and the play actually meant.
Jacko will be remembered for pioneering one-man-plays in Kenya, including one on former American football player O.J Simpson. Eliud Abuto, the director of Festival of Creative Arts, has urged artistes ton turn up this Saturday October 23 for an evening candle vigil starting at 4pm at the Kenya National Theatre.

When President Uhuru Kenyatta attended the reopening of the Kenya National Theatre after a Sh100 million rehabilitation, it was Jacko who showed the president the new technical fittings, including lights and sound and how they would enhance production at the facility.