Singer Sarafino: Living in a refugee camp prepared me for life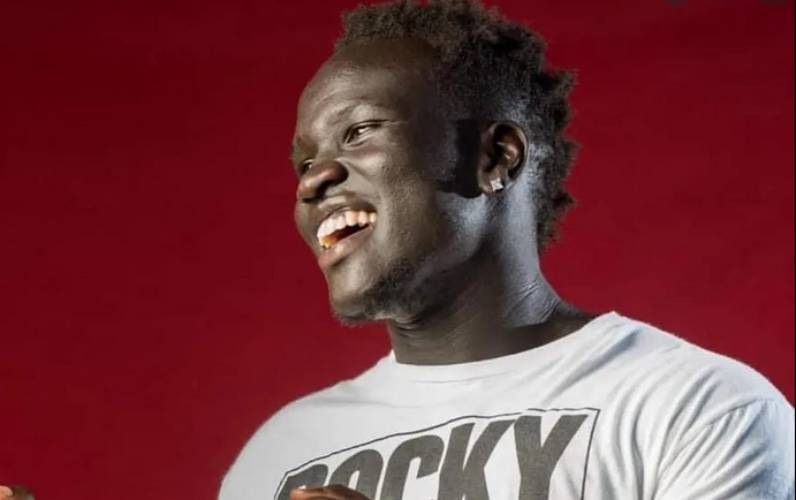 Born and raised in a refugee camp, Augustine Sarafino dreams of going back to Sudan and using his musical talent to save and develop his country. He tells ESTHER DIANAH how his days in Kakuma Refugee Camp taught him about gratitude.
Give us a little background about yourself.
I was born in Kakuma refugee camp and lived in Nairobi until I was six-years-old. My parents fled my ancestral home following a war that broke out in Sudan. I am currently in the United States. I am Sudanese but I consider Kenya my home because it occupies a dear place in my heart.
What kind of a person were you growing up?
As a child, I used to get into a lot of trouble. For some reason, I had a lot of energy and I kept jumping from one problem to another. Adults assumed I was hard-headed. Truth is, I was very playful. A part of me was confusing - how I could jump around and talk out then on occasions I just wanted to hide from everything. I think I was a mix of an introvert and an extrovert.
Did you always want to be a music artist?
I never dreamt of becoming an artist when I was young. Funny how the dream of veterinary medicine took a swift turn to music! I also wanted to play professional American football.
How is the music industry in Sudan?
Music is not difficult in Sudan. There are so many talented Sudanese artists. I think what makes the ,music industry there lag behind is lack of opportunities. Compared to other parts of the world where music and creativity are embraced, Sudanese artists do not get a lot of such opportunities.
Could you describe your style of music?
My music is very versatile. I make music based on how I feel at that given moment. I make songs from hard rap to melodic rap to Afro pop and R&B.
What was the biggest challenge for you while launching your career?
As an upcoming artist, the biggest challenge I faced was figuring out how to properly market my music. Going into an industry where you don't know the right channel of selling yourself is quite a hustle.
Do you see yourself going back to Sudan?
I definitely have plans of going back to Sudan to help develop the country in whatever ways I can. It would be great to give people opportunities to better themselves and I want to help in that.
What inspired you to do music?
The way music evokes emotion inspired my love for it. I am not an emotional person and not very in tune with my feelings but music brings that out. I feel like great music can alter your mood and it also gives me a way to express the things I struggle to speak about.
What is your take on artistes and lack of originality?
Artists today have the copycat mentality: they either want to copy another artist's persona, flow or style. Most of us lack originality because people feel like they have to be what others are or what others want them to be instead of being themselves.
Do you sing in the shower?
Of course, I do! At least everyone I know does. Most of the time, I do a lot of R&B jams and Afro pop songs. One of my favourite shower songs is Infinity by Omah Lay.
What is it like being an independent artiste?
I am not signed to any record label at the moment. I am still an independent artist so I enjoy a lot of freedom in creating whatever I want. Knowing that I own all my material is great, but being signed to a label is not completely out of the question.
What are some of the valuable lessons you learnt growing up in a refugee camp?
Growing up in a refugee camp taught me that you have to appreciate the little things in life. We used to share the smallest meals and just appreciate everything we had. I apply that to everything in my life. I count small victories in life and I appreciate everything I have and I never worry about what I don't have. There is always someone in the world who has it worse than you.
Where do you see yourself in the next few years?
I see myself as an international artist because I know my music can touch the masses. I don't consider myself a local artist or even an America-based artist. I talk about my struggles and everything I went through in my music. Anyone going through the same things can relate and find joy in the hope of a better tomorrow.
You play American football... Tell us more about that.
American football is the greatest sport to me. I dreamt about it and now I am doing it. There is no better feeling than scoring a touchdown in front of a packed stadium. I cannot explain... it has always been an outlet for me to release my worries and problems.
How would you rate the Kenyan music industry?
The Kenyan music industry is underrated: there are great artists whom I think are some of the best in the world. I would definitely love to do a collaboration with Bey T - she is great.