'Famous' Kisumu artisan to President Uhuru Kenyatta: Come for your sculptures at no cost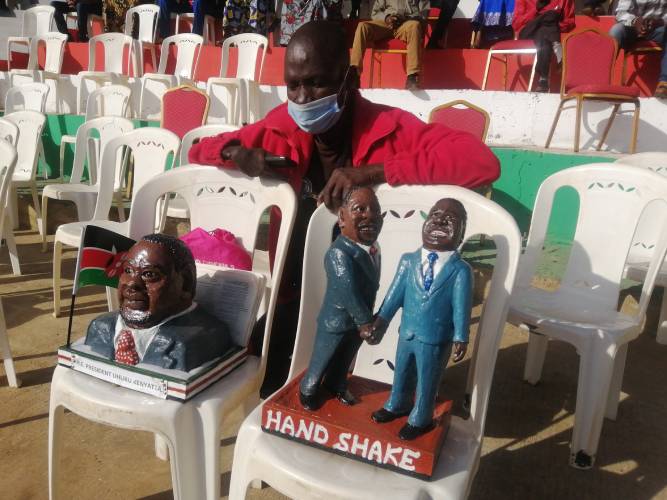 Samuel Otieno, the sculptor who molded caricatures of key African heads of state, and who shot to prominence earlier in the year, is hoping President Uhuru's visit to Kisumu ends with him collecting his caricature.
The Madaraka Day celebrations are just about to commence, and Samuel is seated strategically at the front in a section overlooking the newly-launched Jomo Kenyatta International stadium grounds. The artist proudly displays his art, springing up to pose with the sculptures for any interested passersby.
One bears the likeness of former Prime Minister Raila Odinga. The other features former Prime Minister Raila Odinga and President Uhuru Kenyatta during the iconic handshake moment.
"It is his," Samuel says. "I made it for him as a gift, and I hope he finds some time and comes for it."
Like the hundreds of people who flocked the stadium on Madaraka Day, the artist is excited about the visit by the Head of State.
"We have never seen him, so it's good that he has visited us. These celebrations alone have provided an opportunity for so many artists like me. We hope to see more of the same in the coming months."
But Samuel's appeal is also a personal one. Since he made such an impact at the Kit Mikaye talent showcase back in 2020, and since he went viral thanks to his caricatures, things have not been as rosy as he expected.
"Nobody followed up, nobody reached out. After my story was published in the paper, I was excited about lifting myself up, finally improving my life using my talent. But only the governor even left me 'something'.
"That's why I'm displaying them like this. I want the President and Raila to see them and come for them. It is a gift."