Nigerian artist brings drawings to life with hyperrealistic art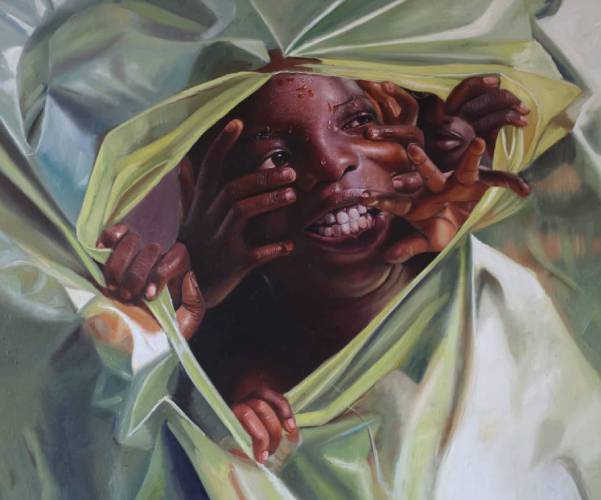 Nigerian hyper realistic artist, SILAS ONOJA got inspired by neighbourhood drawing competitions involving his peers. He speaks about his journey in the world of art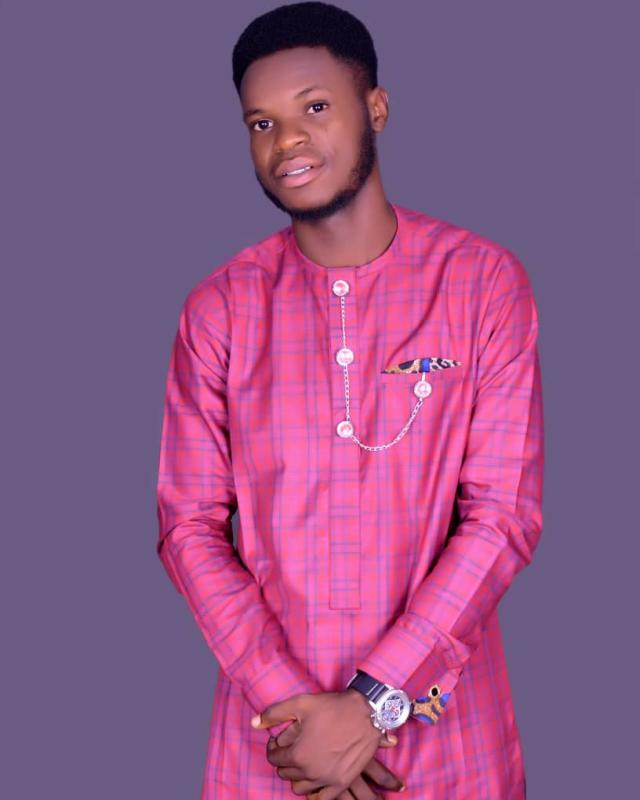 Why are art pieces expensive?
No matter how you look at it, art is priceless, it has so much value and it cannot be equated to money. It is expensive because it is unique. There is no figure that can be attached to art.
Are you satisfied with yourself and what you are doing?
I am happy with what I am doing but I am not fully satisfied with my work because I believe there is a lot more to do and improve. I won't be satisfied until I reach my goals.
As an artist, when are you most creative?
It varies, but the best time I tend to be creative is when I am either quiet or upset or anxious about something. The anxiety pushes me to create something great, as a way to push me out of the cage.
What is it about artists that is peculiar?
Artists are unique because they are able to communicate to people through art. Artists can read minds and address it through art and they have an impact on people's lives. Their work is critical and it does affect their emotions.
Tell us about your art.
My art work is called hyperrealism. I do hyper realistic paintings. I like bringing life in my subjects, I do my paintings with an intention of capturing feelings and bringing in feelings in my paintings.
When did you start working on art and looking back, how has the journey been?
(Laughs!) I am responding to questions from the Kenyan media! That is great enough because I never imagined I would be doing this today. Generally, the journey has been successful for me, it has been great. I thank God for my story - coming from grass to grace.
Your paintings portray people breaking free from plastic films, what is the message behind it?
The message is simple, freedom. More importantly, mental freedom. Most of us here in Africa have been enslaved by what we were taught by people before us, the slavery has affected our mentality which affects us even when we grow. The painting is talking about emancipating oneself from mental slavery, getting out of the slavery and exploring new things and new goals.
What inspired you to produce such creative work?
I guess it is my environment. I get to see a lot of people, who walk up to you to tell you their beliefs and ideologies which may not be true. The beliefs were passed down to them by the generations before. For me, I saw the need to break off from that belief, follow a different path and loosen up our mind from primitive thinking and embrace life as it is.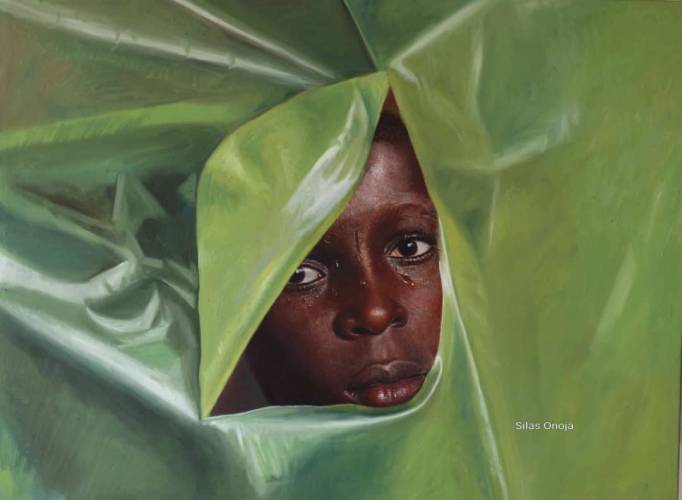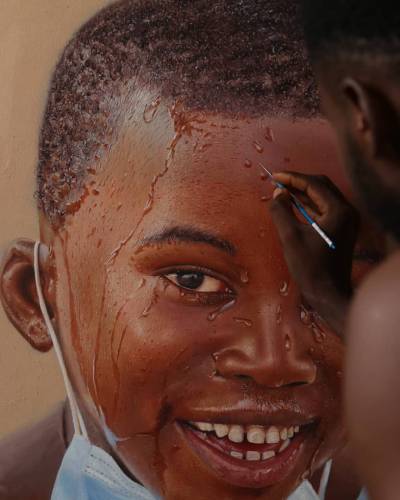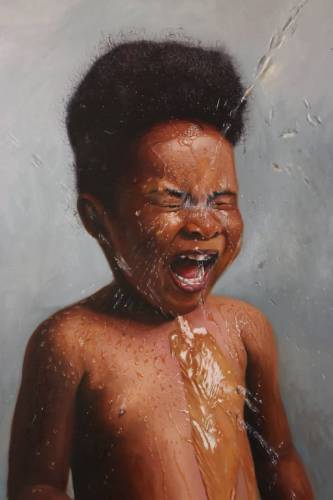 Did you ever dream to receive international recognition from your paintings?
Not really. I never looked up to get this high when I started. I was painting to make myself happy because I enjoyed it. I did it for fun.
Which is the most treasured piece from your paintings?
I cannot be particular about any specific piece because in every new piece, I try to be better than I was on the previous one. My new pieces are usually catchier than the previous ones. I treasure all my works though.
Take us through the creative process.
I prepare my canvas first; my painting is oil on canvas. Then I do sketches of whatever I want to draw with a pencil then I do my first layer of colours. I walk off to allow it to dry. On the second layer, I let it set a bit and the final stage of detailing takes me weeks to get done with because I start with intricate parts of the body to bring out the finer details.
What kind of a child were you?
I was more of an introvert while growing up. I wasn't really outgoing but it was still fun, I had few friends who we played together. My upbringing was also strict, I was not often allowed to go out so I made the most of every opportunity.
Which one of your childhood experiences inspired you to do art?
In the area I grew up, almost everybody can draw. It was more like a competition where we came together in the morning and we could tease each other with drawing. Sometimes other kids laugh when you draw something bad. At the time, there were people better than me and I needed to push higher my work to compete favourably.
Are you in a relationship?
I am still single for now.
How has your family been a part of this journey?
My family remains my number one fan and critics. They have been supportive, encouraging and inspiring a lot, so I thank them a lot.
How is the internet an advantage or disadvantage to art?
The internet has both good and bad attributes. It has helped give artists international recognition, it promotes the art work and sends the message far and wide. However, a lot of people steal art works online and claim ownership, some make money from unsuspecting individuals. A lot of people are using it for the wrong reasons.
What challenges do you face while working?
I am a perfectionist, therefore, I take a lot of time creating a single piece. I just want to be perfect in all my creations. Getting the actual value for the work is also a challenge, getting the work to the market is hard.
Where have you exhibited your work?
I have been able to exhibit my work in Nigeria and Belgium.
What next for you after these hyper realistic pieces? What should we look out for?
There is more hyper realistic art to come so that is what you should watch out for. I have paintings I have not released yet but I will be exhibiting them soon, they are super hyper realistic, more unbelievable and people will have more reasons to doubt and marvel about it.
What is your take on the cross-border intermarriages?
I think it is very nice, it will foster unity among nations. Also, it is a way for us to share our cultures across borders, we might also share ideas that will foster development for both countries.