Lenny Juma: Working alongside Angelina Jolie in Tomb Raider II was just the bomb!
Kenyan actor and director Lenny Juma has been featured in many international movies. He talks to The Nairobian about his battle with cancer, working with Angelina Jolie, casting Lupita in Shuga and his experience in the acting industry world for over five decade.
How did your journey in acting start?
My first time in real acting was at Jericho Social Hall. Then, most young men preferred passing time playing games like badminton, boxing and table tennis and I was always tagged along. It is during these games that Rick Gitahi introduced theatre arts at the hall.
He asked me to play a role in a play called 'Incorruptible Judge'. Later, I met a South African refugee called George Menoe, who was a teacher at the National Theatre Drama School. He taught acting, stage management and stage movement. It was him who introduced me to acting. I joined the school, but unfortunately after one year, the government discontinued funding to the school.
We then formed Inter African Theatre Group led by Menoe and we would go to different schools to do set book plays. We were based at the National Theatre and international film companies that came to Kenya would visit the National Theatre to look for actors and that is how we made it to act in international films in the 70's. In 1973, the Inter Africa Theatre group was invited to perform in Japan, on cultural exchange courtesy of a Japanese theatre group, which we had hosted at the National Theatre in 1971.
We went to Japan and performed in 1973. We continued visiting Japan and we would act for six months and the rest of the year we were back in Kenya. This continued until 1982. All together, we managed to take more than 200 youths from Kenya to perform in Japan. We performed at expos held in Japan and performed in all events held in Japan by the Kenyan Embassy.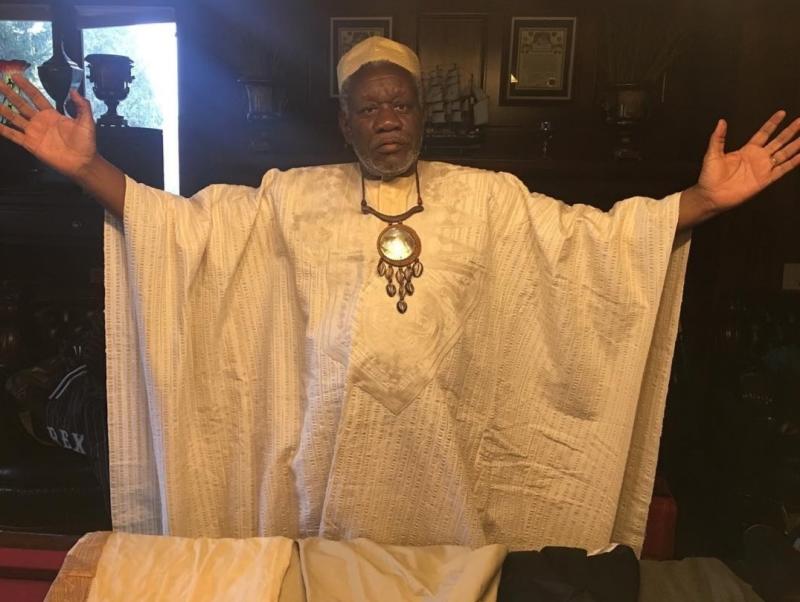 Your experience in acting locally and international is enormous, what have you learned from it?
On set of any film, you learn to have patience, disciplined and be responsible because once you pull on your costumes and props, you must take care of them. It takes a long time to shoot one scene and you must be prepared to stay on set for a minimum of 12 hours until you are called to do your scene.
Your most memorable moment on an international set?
It was working alongside Angelina Jolie in the film Tomb Raider II: The cradle of mankind. The scene from Africa was featured on the trailer and many have said it was the best scene in the film.
Which role do people remember you in films and what reason do they give you?
The most popular film people remember me for is "Mountain of the Moon" where my role was to act as the Jamadari leader for the caravan of people traversing across Africa with Dr Livingstone the explorer. People say it reminds them of history.
Kenyans love your role on Tomb Raider, how did you get it?
I got the role in Tomb Raider II without auditioning because I was casting for extras for the movie. When I took pictures to the movie director to see the casting I had done, he asked me if I was an actor and the rest is history.
How did you land your job as a casting director?
I landed my first casting job in 1982 when Njeri Karago wanted someone to cast for one of her films, "The Eye of The Witness". During those days, the main casting role was done by a white lady called Sarah Wither and I could only assist her. However, the late Konga Mbandu and another gentleman called Earnest used to do casting for extras. It is in casting that I have excelled well in the industry as compared to being an actor. As a casting director, I beat many peers in Africa and worked with several actors.
For example, I casted with Lupita Nyongo as Ayira in the TV series Shuga. I declared her the most beautiful actress for the role even though the production office failed to agree with me. However, the world has proven me right.
Others who I have casted are Oliver Litondo in "The First Grader" as Maruge, Sidede Onyulo as Owour in "Nowhere In Africa", which went on to win an Oscar for Best Foreign Picture, Evans Muthini as big man in "A Better World" which also went to win an Oscar for the Best Foreign Picture, Godfrey Odhiambo as strong man in "Africa Mon Amour", Ojwang Anyura as a nyatiti player in Benado Betoluchis movie "The Siege". The list goes on.
What mistakes do actors make during casting?
Most actors go for casting without asking questions about their role so they may prepare accordingly. Questions about dress code and looks needed can set you apart from other actors.
Your last work was on Kona TV series, will you make a comeback?
After Kona, I thought there would-be Kona II, unfortunately that did not happen. I am looking forward to Kona II if it will ever happen. I am lucky that in the United States I have already been featured in two short films 'The King of Germany' and 'Glimpse'. Hopefully, I will come back and do some local ones soon.
We lost Papa Shirandula, how was it working with him?
Papa Shirandula was a good and funny man, very disciplined on set. I will miss him.
The late Joseph Olita's role in 'The Rise and Fall of Idi Amin' is still remembered, how was your link to him?
My interaction with Olita was good. He was also my neighbour in Jericho even though we were not very close. I was to cast him in one film but the deal fell through. The rate he offered was low so we didn't sign it.
Why did you relocate to the USA?
I relocated to seek medical attention as I was diagnosed with prostate cancer.
How is your health now?
I am in remission, I thank God. I believe God has more plans for me. I was among the first people to get Covid-19 and having underlying health issues and age, I beat it by the Grace of God. I am truly blessed.
Will you be coming back to Kenya?
Yes, I will be coming home soon when the lockdown is over and job opportunities arise. Or if someone reaches out to me to return and do a film. I am ready and available.
Tell us about your family
I am happily married to a beautiful lady called Anne Waithera, who was once the face of Kenya Airways. We are blessed with six daughters, that is why I call myself a lady's man and a very lucky man to have survived this far living with seven ladies. We are also blessed with eight grandchildren and another one is on the way.
You once casted ambassador Hassan Wario, what was it about him that got him the role?
I cast him in the film because he had a bit of experience acting on stage at the National theatre. I cannot remember which role he played as it was a long time ago.
What your secret to the longevity of your acting career?
I would say its about being disciplined, patience and interacting well with crew and actors. It is important to be disciplined in this career, many temptations arise like drugs and alcohol. So, you must remain focused and disciplined it is important for your survival and longevity in this industry.
Kenya actors love 'drinking their money,' what your word of advice?
Wacheni pombe an kuvuta bangi. Give priority to things you need in the future because as an actor you do not know when your next job will come and so it is important to save for a rainy day. Live within your means and not your status. Excessive drinking and drug abuse will only push you the course away from your goals.
Having been in the Kenyan Film industry for five decades, what do you want implemented?
The question of implementation is a hard one until we have the strong crew and Actors Guild with the support from the government because the major problem is the rate card -for both international and local films, and TV stations, for better remuneration of actors and crew.
And the taxman should be lenient as jobs are not always forthcoming and one can spend six months out of a job. If we pay taxes when we are half the year, they should reimburse the actors.