Bridgerton: The Duke of Hastings giving Kenyan women sleepless nights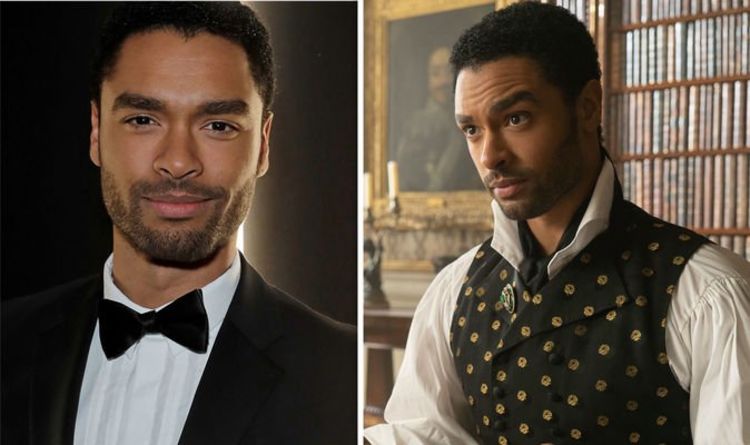 There's a new Hollywood hunk in town, shaping dreams and screen fantasies of women.
Screen eye candies like Idris Elba, Denzel Washington or Michael B. Jordan have come and gone but none matches the effect Zimbabwean - English actor Bridgerton's breakout star Regé-Jean Page (pronounced as reggae) has on Kenya's Wambui, Adhis, Nzisa and Cheptoo.
Page does not only look good in person, but has also received numerous thumbs up for his latest acting role in the hit TV series on Netflix Bridgerton, where he plays Simon Basset, the Duke of Hastings and the husband of Duchess Daphne Bridgerton acted by 25-year-old Phoebe Dynevor.
Bridgerton is a TV drama series based on Julia Quinn's novels set in the competitive world of Regency London. The series is co-written by Chris Van Dusen and Julia Quinn and produced by Shonda Rhymes and Chris Van Dusen
Going by the heated online activity, The Duke of Hastings is guilty of stealing many hearts. Take a look.
"Always wondered how women can have almost 10 kids and be okay with it. Enter The Duke of Hastings...question answered lol," said one woman on Facebook.
"Where did they find the Duke?? He is a tall glass of sinful nectar. I'm in love," another declared.
In a very long post, a social media influencer, The Village Girl makes a long post, drawing the attention of her followers to the Bridgerton series currently on Netflix. She touches on the decor, the use of the Queen's language but quickly narrows down to Page's sex appeal.
"This duke of Hastings! I swear he will make us all lose our religion," a lady made a comment below the post.
To amplify the other, a fan said, "We thank him for also giving us instructions on how to reach the peak of Mt Kilimanjaro. He must be an awesome mountain climber."
All these metaphors to express their desire and satisfaction. Another called Page a national treasure.
It is to be noted that the Duke resisted ejaculating inside his Duchess Daphne Bridgerton, to avoid getting her pregnant as he had vowed to his dying father never to raise an heir to the Hastings name.
Consequently, Kenyan women have branded him, 'the Duke of pullout!' saying his pull out game is top notch. A fan commented: "Women on these streets have complained that he 'comes' too quickly" this also raised the rants a note higher.
Women from all walks of life are smitten, including celebrated media personality Caroline Mutoko who made a post about American TV period drama series produced by Shonda Rhimes.
"I've watched this entire series twice. Once for the fashion, decor and the thirst trap that is The Duke of Hastings. Second time, for the story and dialogue. Waah! Wacha tuu" she said.
Fans flocked her page to respond.
"The Duke of Hastings though the real snack he was a serious but welcome distraction," a lady commented.
Thanks to Page, women who can't have enough have confessed to going back for more.
"Well, If I was to speak frankly, I have watched it twice, one episode in particular. Oh for when the Duke licks that spoon, my female ancestors and I feel things. Ungodly things. Mannerless things. Unladylike things. And are we ashamed? Absolutely not!" a woman wrote.
Away from Kenyan craze, 31-Year-old Page has also become fan favourite to replace Daniel Craig as James Bond.
Fans think he has the swag for James Bond and amid the social Buzz over the James Bond jitter, Page heightened speculations by tweeting the James Bond style: Regency, royalty. Shaken and stirred. #Bridgerton, of course this also raised the buzz.
Some people think he is too young compared to Idris Elba who is more fit for the role. One tweeted saying, that he has a promising career and, "wouldn't the James Bond franchise tie him down 360 making him miss out other opportunities?" He added that Jean Page is too good to be known just as 'the former James Bond.'
According to an article published by the Entertainment Weekly, Page does not seem to think he'll be suiting up for the Bond role soon.
"If you're a Brit, and you do something of any kind of renown that people regard well, then people start saying the 'B' word. It's like a merit badge. You get the 'B' word merit badge."
"I'm very, very glad to have the badge," he added. "I'm glad to be in such wonderful company of people who have the badge. But it's a badge." He said during the Tonight Show on Friday.
Bridgerton is not Page's first role in a Shondaland production. In 2018 he played the role of Leonard Knox, an Assistant US Attorney in the ABC legal drama For The People. He has also played Chicken George in the 2016 miniseries Roots.
In the Bridgerton, Simon Basset is an eligible bachelor eyed by many but the Duke has vowed not to marry in a town where enthusiastic mothers are eager to marry off their daughters before the season of betrothal is gone. Then he meets Duchess Daphne Bridgerton and the rest is history.
Page is the second youngest of four children and is tight-lipped on his love life. It's unclear if he is currently dating anyone.