Shujaa Silvo: My life changed the day I performed for the late President Moi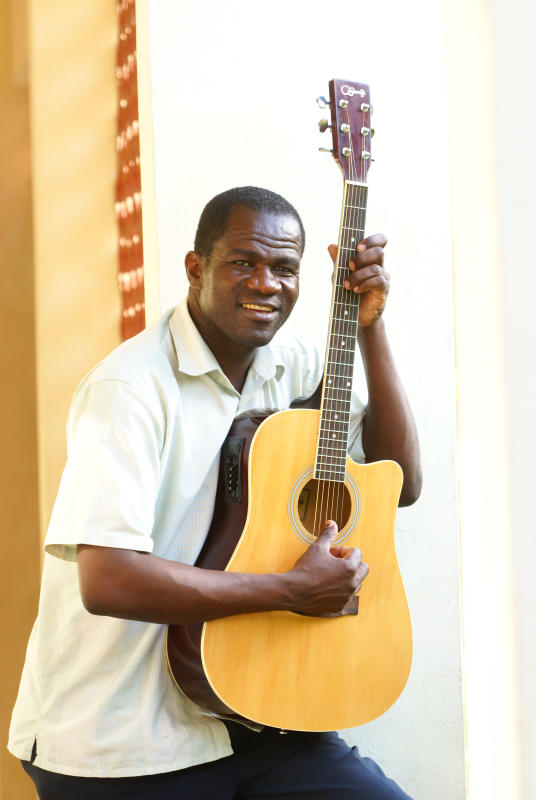 Sylvester Otieno aka Shujaa Silvo highlights the winding journey of his musical career.
When did you venture into music?
My first public performance was with St Cecilia Nangina Girls high school. Both the late President Daniel arap Moi and the then Vice Chancellor of Kenyatta University, the late Prof George Eshiwani were impressed with my performance. I was taken to the university's Cultural Centre, which had just been started in 2000. It was later closed and moved to the department of music and dance in 2006.
But it all started while in standard three. I hatched my dreams thanks to my maternal grandfather the late Mzee Onjoma Kanungo. I started singing and playing his traditional musical instruments and home-made guitar.
Apart from your grandfather, who else inspired you?
There are a number of people including Dr Gabriel Musungu of Technical University of Kenya, the late Sam Ochieng Ma'Okeyo, Dr Henry Wanjala, George Mwiruki, the late Boniface Mghanga, Thomas Wesonga and Ssp. John Wambura. I also derived inspiration from the master pieces of Haydn, Handel, Mozart and Beethoven.
What do you now do at Kenyatta University?
I am a senior music instructor and composer, coordinator and also the university staff choir director. I'm also the chairman of Kenyatta University annual cultural week gospel extravaganza and perform with the university as lead guitarist and vocalist.
Which kind of music do you compose and what drives you?
My repertoire cuts across all genres of popular music. They range from gospel, secular, patriotic, social and cultural depending on the occasion. I am driven by the excitement to re-contextualise existing musical material for use and the need to do something new that would bring me out as a musician with purpose.
How do you get your melodies?
I pick them from what is happening around the world. I'm always able to reflect on current affairs and come up with a message that depicts the situation. I do listen to music a lot and have no doubt it has the potential to change my world.
How does music affect you and the world around you?
Music boosts my confidence. It continues to shape my cultural, moral, emotional, spiritual and artistic perception. My daughter Rael Nafula is a soprano singer, cornet player and music student at Nangina Girls High and is steadily following in my footsteps.

How did Chombo cha Amani turn out to be your signature tune?
I did it after the post-election violence and got the inspirational words from St Francis' prayer. Kenya needed it most.
What is your day like?
My day is full of activities and can sometimes be quite unpredictable. My day starts at 5am with a word of prayer, then short guitar warm up session and editing of music. I get into office by 8am to attend to students music lessons and from noon I train the staff choir. In the afternoon we rehearse with students choir and band. Some days, I attend university meetings before I focus on composing songs from 9pm to midnight.
Apart from teaching, what else do you do?
I participate in various music festivals either as a facilitator or adjudicator. I also coordinate parastatals, ministries and county choirs, train youth in talent camps and offer music consultancy. In addition, I'm a member of Catholic Liturgical Music Association of Kenya.
Tell us more about Talanta Afrika and Youth Initiative.
I founded the groups in 2013 for young talented musicians pursuing career and opportunities in the entertainment industry. The main aim is to nurture and promote their talents.
We have partnered with other stakeholders including the Permanent Presidential Music Commission, music training institutions and Nairobi County Government to achieve our goals.
How do you tap the talents?
I work with these institutions to identify and promote raw talents through auditions. Some join universities to pursue music, others benefit from donations of equipment to start bands.
What are your other achievements?
I have contributed chapters in local and international journals of music such as the Festival of Christians Arts in Kenya, East African Journal of Music, World of Music New Series vol. 3. I was awarded Order of the Burning Spear during the 2019 Mashujaa Day for promoting peace and cohesion through music. I have also been a commissar in the Kenya Music Festival for several years.

How do you rank the Kenyan music industry?
Lack of a structured and centralised body to regulate the production, sales and consumption of music is ruining the industry. We need to re-think the quality and purpose of the music we produce for the market. Music that can stand the test of time by embracing modern technology and mechanism to market and distribute it.
Does music pay in Kenya?
Music pays in Kenya just like sports but one must be cautious when signing the deals. Writing or composing a song is all money.
Words of wisdom for upcoming artists?
Run your own race. God has created pathways for each one of us to succeed in our own right. Uphold integrity, quality and standards and develop your own style and identity. Know your creativity and improve your weaknesses.