Premium
Ten things you should know about the Boston Marathon
Sports
By Kenyatta Otieno | Apr 24th 2023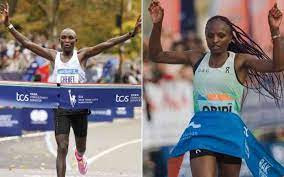 Marathon world record holder Eliud Kipchoge came in sixth as his compatriot Evans Chebet won the men's race at this year's Boston Marathon. Hellen Obiri won her first marathon as she came in first in the women's race. Kipchoge had targeted to add Boston to his list of four marathons he has won. He has not been able to conquer Ney York marathon too.
1. World's oldest marathon
Boston Marathon is the world's oldest marathon established in 1887 by Boston Athletic Association to "encourage all manly sports and promote physical culture". It is traditionally held on the third Monday of April which is Patriots' Day in America. About half a million people show up to watch 30,000 elite and non-professional runners every year.
2. No records can be made or broken in Boston
In as much as the course is not ratified by IAAF which I will explain later, so no records can be made or broken in Boston, it is the most lucrative marathon. Dubai Marathon comes second and Ney York City Race third in terms of winners' cash payout.
3. Winners walk away with USD150,000 each
Staff sacked for leaking details to husband seeks over Sh44m

Amos Kipruto harbours lofty dreams in Berlin

Kipchoge: Why athletics and reading run parallel

Tributes flow for fallen marathon legend Chebet
The winners walk away with USD150,000 each. The runners-up take home half of the winners count while a third-place finish is USD40,000. Robert Kipkoech Cheruiyot has pocketed about USD500,000 from his four wins in 2003, 2006, 2007, and 2008.
4. Kenyans have won 23 of the 33 men's races
Ibrahim Hussein was the first Kenya to win the Boston Marathon in 1988. Since then Kenyans have won 23 of the 33 men's races staged. Robert Cheruiyot has won four races for Kenya while Ethiopians have claimed six of the ten races Kenyans did not win in that period. The first Kenyan woman to win the race was Catherine Ndereba in the 2000 edition. Since then, Kenyan women have won 15 of the 23 races with Ndereba winning it a record four times. We can thus conclude that Boston Marathon is a Kenyan affair.
5. How to qualify
To qualify for the Boston Marathon, every runner must complete a standard marathon in less than three hours 18 months prior to Boston Marathon. The race and course must also be certified by a national governing body affiliated with IAAF. Unlike other marathons, celebrity runners must meet this stringent qualifying rule. The exemption is if they run for charity but they must cross the finishing line in six hours or less.
6. The marathon was a men's affair until 1967
Kathrine Switzer became the first woman to run the race "officially". Bobbi Gibb ran the 1966 to 1968 races as an unregistered or bandit runner. It is Kathrine Switzer who registered as "K.V. Switzer" and took her place as runner number 261 who caught the attention of the public. An official spotted her midway through the race and tried to pull her off the course. Her boyfriend who was by her side pushed the official away and Switzer kept running. Switzer and number 261 gained legendary status in the race. It set off the conversation for the women's race which was officially launched in 1972.
7. The greatest cheat
In the 1980 edition, Rosie Ruiz appeared from nowhere about one and a half kilometers to the finish line to win the women's title. People immediately became suspicious because of her fresh look; nobody crosses the tape in the marathon looking fresh and energetic. After some cross-checking with other runners, Ruiz was stripped of her medal. The win was given to Canadian Jacqueline Gareau.
Stay informed. Subscribe to our newsletter
8. Special course
Boston Marathon is not part of the World Series marathons because of its course. The course drops in altitude by about 140 metres from start to finish. The start is also further to the west from the finish line which allows a tailwind to aid runners. The course is also hilly unlike the London Marathon course which is flat hence the reason why many records have been broken in London. These conditions disqualify the course from the criteria set for ratification by IAAF.
9. Geoffrey Mutai's record
At the 2011 edition, Geoffrey Mutai of Kenya won the men's race with a time of 2:03:02. This was the fastest-ever marathon time at the time but was later surpassed by Eliud Kipchoge's 2:01:39 in 2018 in Berlin. However, due to the reasons listed above, Mutai's record was not ratified as an official world record.
10. Bomb attack
In the 2013 edition, while the marathon was in progress about three hours after the winner had crossed the finishing line, two homemade bombs exploded about 200 meters apart on Boylston Street. The race was halted as the bomb claimed three spectators with over 200 injured.