Premium
Why children stopped their 82-year-old father from marrying second wife
SCANDALS
By Renson Mnyamwezi | Sep 18th 2023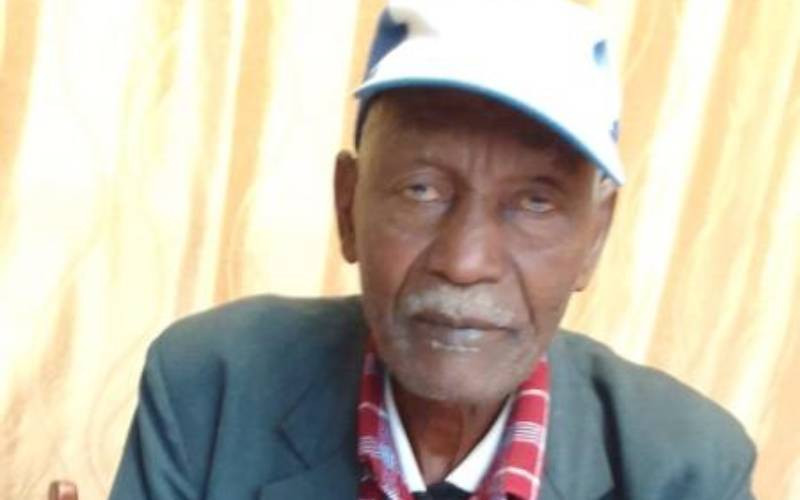 Retired Chief Dickson Mwasaru Mwanyumba decided it was time to remarry as he needed a soul mate and a helping hand in old age after mourning his wife. But little did the 82-year-old love-struck octogenarian, know that this would turn into a nuptial minefield.
The move has proved not to be a walk in the park due to family obstacles he least expected would arise, least of all from the children he sired with his deceased wife, Blandina Walowe. Mwanyumba is a former Mwangea Sub Location Assistant Chief in Voi, Taita-Taveta, who used to be called upon to arbitrate on various disputes, including marriage.
Now, the shoe is on the other foot, and the once powerful government bureaucrat is the one asking for help to solemnize a union with his new heartthrob. His bid to have a church wedding with the woman of his dreams, Purity Mbala Manjala, has hit headwinds.
His eight children have ganged up against him and thrown a spanner in the works by openly opposing his plans to be united in the bonds of holy matrimony, citing inheritance considerations.
Their wedding was scheduled to take place in a Church in Voi last year, but it flopped after his children scuttled the plan, claiming their father had not consulted them over his decision to remarry.
They dismissed the purported wedding as a sham and a ploy by their father to disinherit them.
Wedding called-off after bride requests for more time

Inside story of wealthy Kenyan in US court over plot to kill his wife

Court dismisses man's plea for a second DNA to confirm paternity

Religion defied, child born out of wedlock is granted inheritance
The man, who once called the shots during his heydays as an administration police officer and later an assistant chief, has to contend with the double tragedy of bereavement and his children's resistance to his decision to marry the love of his life to reestablish a new social support system.
Speaking on behalf of his siblings Nicodemus Mwikamba Mwasaru vowed never to allow the family patriarch to solemnize his second marriage since doing so would place their inheritance at stake because their stepmother has children from a previous relationship.
The man has tried everything to overcome the opposition and reassure his children that he means well by even sharing his will with them as the beneficiaries, but they are hearing none of it.
This is despite the fact that the former administrator has the blessings of the fiancée's parents to regularise their marriage in Church after holding a traditional wedding.
As the row escalates between Mwanyumba and his children, Mwasaru confirms that they have stopped the wedding, blaming his father for failing to involve them in the new marriage plan.
We do not recognize the marriage
"It is true that we blocked the wedding ceremony because our father secretly remarried without involving us as children of the first wife," he says. "Our dad did not tell us that he wanted to marry a second wife, and hence, we do not recognize the marriage," he adds.
Mwasaru claims that the woman and her children were only interested in taking over the family property.
He said they cannot sit back, and watch being dispossessed of what is rightfully theirs by virtue of being their father's biological children warning the other family to keep off as they had no right over the property.
Stay informed. Subscribe to our newsletter
"There is no way our stepmother and her three children, who were not sired by our father will get any inheritance since they do not deserve to get anything," Mwasaru warned.
A bank slip seen by The Nairobian shows that the retiree had already paid Sh600 as a notice fee at the Registrar's offices on April 26, 2022, but nothing has materialized following the disagreement between him and the children.
"Our stepmother was married by our father with her three children, and she does not qualify for any inheritance. In fact, she has planted seeds of discord in the family, and we are no longer in peace," he says.
He accused their stepmother of being a gold-digger who wants to disinherit them yet she never in any way participated in the creation of the family wealth.
"The eight of us have decided not to allow the wedding to proceed because this will be akin to signing our own death warrant. It will be tantamount to allowing our stepmother to reap where she did not sow," declared Mwasaru.
Following the turn of events, Mwanyumba fears that if he is not allowed to legalize his marriage, his wife will suffer in future as she will not get any inheritance.
"I am afraid my wife will be disinherited, if I die before solemnizing our union, and this will be unfair considering she is my spouse by right," he says.
At the centre of the controversy is the octogenarian's wealth comprised of various residential plots and farmsin Taita-Taveta and Mombasa counties, among others.
The former administrator's predicament has also been compounded by what he alleges to be bureaucratic hurdles at the county Registrar of Marriages office at the Deputy County Commissioner's offices in Voi town.
A a bank slip seen by The Nairobian shows that the retiree had already paid Sh600 as notice fee at the Registrar's offices on April 26, 2022, but nothing has materialised following the disagreement between him and the children.
"My planned wedding ceremony to legalize my marriage has now been overtaken by events, and I will be forced to start the process afresh,"he stated.
He claims there is no section in law that can stop his bid to legalise his marriage.