Premium
Samidoh's wife, Edday Nderitu: I am not ready for polygamy
SCANDALS
By Kennedy K Gachuhi | Feb 24th 2023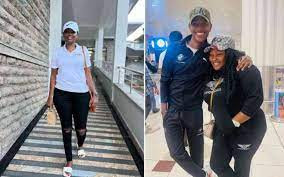 Celebrated Benga musician Samuel Muchoki alias Samidoh has found himself in yet another storm after his wife declared that she was not ready to continue sharing her man with another woman.
Edday Nderitu took to her social media accounts with a visibly decisive message to her husband after fresh photos of him and his baby mama nominated senator Karen Nyamu surfaced online.
Samidoh and Nyamu were photographed arriving together at the funeral service of Nancy Muthoni Maina, sister to the country's second lady Pastor Dorcas Gachagua.
During the service, Samidoh and Nyamu sat next to each other in the VIP section of the tent and could be seen occasionally conversing in low tones.
Their conversation could be mistaken for that of a policeman who is supposed to be a law keeper and a lawyer, whom they are in real life respectively, consulting each other over a serious matter.
In other instances, they gave their best smiles as Samidoh gave a cheeky sneer causing Nyamu to break into laughter as a hawk-eyed photographer whose finger was swift enough on the shutter release button to capture the moments.
Both had a chance to do what they do best on the mic before the mourners.
While Samidoh didn't share any pictures of themselves, Nyamu shared a series of photographs among others taken during the event which spread like wildfire on social media.
A section of Kenyans backed her while others pointed fingers at her as a home wrecker which as usual she had a ready response.
"Huo ni ujinga wenu. Kwani mimi si mwanamke na watoto wangu si watoro? (That is your stupidity. Am I not a woman and are my children not like any other children?) The real evil woman is not me," Nyamu responded.
This did not augur well with Samidoh's 'goat wife'-Edday who took to social media expressing her dissatisfaction with how the policeman cum musician treated her and their marriage.
"It has been exactly 15 years of marriage full of ups and down. It was a humble beginning where little was enough for us. The last three years it has been nothing but pain," Edday wrote.
It is during the three years that the nominated senator popped up and publicly showed that she and Samidoh had a thing and before long, they welcomed their first child.
Edday's post was accompanied by two pictures; one of their high school times in uniform and another couple of goals photo in which they are donning black tracksuits depicting their journey together in life.
She went ahead to express her disgust at how the celebrated musician had subjected her to cyberbullying and embarrassment but she kept the hope of rescuing their marriage.
"I have remained faithful to you regardless of the disrespect, humiliation, and being trolled on social media. You've made me look dumb and took my silence for granted," she added.
Edday continued to explain how she had stood with him before his fame and helped him nurture his talent but with all this, Samidoh had not reciprocated her expectations.
Zero respect and humiliation
"One thing I have said to you and am saying here again, I will not raise my kids in a polygamy family, especially with a woman who is older than me by more than 10 years," Edday wrote in reference to Samidoh's affair with Senator Nyamu.
She went on to describe Nyamu as "A woman who has no morals and zero respect for my family. Kiura kia ngaba (a land frog) as you (Samidoh) put it."
For the first time, Edday who has in the past fearlessly fought for her marriage cut an image of a woman who had reached a breaking point.
"I have asked God every day to give me strength to pray for you but today I have nothing to tell God about you. You have drag and put me and my kids in an ocean of pain. May you remember this day," she concluded.
This is not the first time that Edday and Nyamu have shown their differences publicly.
In December 2022, the two women engaged in a fistfight at a club in Dubai where Samidoh was performing. Samidoh was quick to whisk his wife out of the venue.
Nyamu would later post on social media that she was done with Samidoh who also responded with a bitter description of the senator and her behaviour. Nyamu's UDA party has instituted disciplinary proceedings against her.
During another funeral in January this year, Gachagua had ordered Samidoh to control his women or else he would be disciplined.
"Don't take your family matters abroad. You need to control your people. You are causing us some embarrassment. We will discipline you-we will not allow you to go overseas or will limit you to going there alone," Gachagua said as the mourners cheered.