Premium
From the bootstraps: Politicians Moi built from scratch
Politics
By Eric Nyakagwa | Jul 19th 2023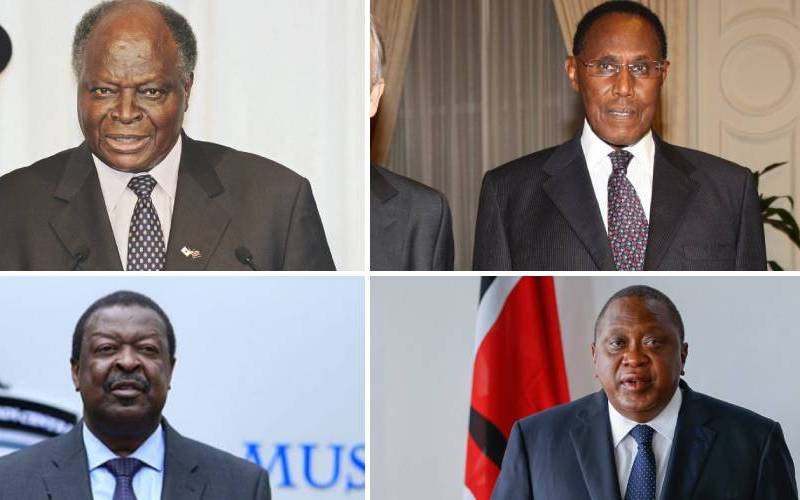 Many are the Kenyans the late retired President Daniel Arap Moi picked from obscurity and transformed their political fame and financial fortunes. The formula he used was not apparent, but Intelligence might have played a part in picking a mechanic, lecturer, prison warder, dancer, or farmer and seeing to it that they entered parliament or headed a government body.
What about Uhuru Kenyatta, who was not even a politician, but whom he chose as his preferred successor from the blues? We can go on to include the late Kuria Kanyingi, a mechanic who had senior stints at the Motor Inspectorate Department on his way to serving as Limuru MP in between making a name as Kenya's most famous Mr. Moneybags.
Others were small-time business people who flourished beyond their wildest dreams during his 24-year rule.
Surveyed closely, the men-they were mostly men-he built from nowhere and were cogs in his political wheel. One was either a reward from old family connections, like Uhuru Kenyatta and Mudavadi, others were to maintain tribal loyalty like Khaniri's, while others were groomed to serve as tribal kingpins like Mulu Mutisya-whose good word about Kalonzo Musyoka to Moi changed his life.
These kingpins were regional. The coast had Shariff Nassir, Central had Joseph Kamotho, and Rift Valley had Ezekiel Barng'etuny, and Kariuki Chotara.
Others were rewards for loyalty
Current crises in education now affecting all economic sectors

For democracy to thrive, a vote audit must reveal 'true' winner

Moi Primary School Kabarak parent moves to court over KCPE results

Let's use our brains to improve national politics, relationships
Like Hezekiah Oyugi, who was the most powerful political operative from Luo Nyanza. At the height of the August 1, 1982 coup masterminded mostly by Luos in the airforce, Oyugi, then serving in the provincial administration in the Rift Valley stuck by him. So did Mahmoud Mohammed who helped the crushed the coup and was elevated to General and Chief of Staff of the Defense Forces.
Other pickings were simply baffling. Or how else did the 'Professor of Politics' single out Prof George Saitito from the lecture halls at the University of Nairobi en route to appointing him Vice President?
Chances also played a part. Kanyingi, for instance, met Moi by chance when he repaired his car along the Nairobi-Nakuru highway. He was shortly appointed deputy director of motor vehicles besides serving as a political attack dog and point man and a maestro of generous harambee contributions. He often topped his contribution with Sh100,000 from Moi.
Uhuru actually acknowledged that were it not for Moi's prodding, he would not have ventured into politics following a defeat when he vied for the Gatundu South parliamentary seat in 1997. Uhuru lost the seat in dramatic fashion after his opponent Moses Muhia faked a kidnapping, which earned him protest votes at his expense.
It so devastated Uhuru he withdrew from the public limelight for two years before making a comeback when Moi appointed him chairman of the Kenya Tourist Board in 1999. This was part of the orientation the former president had crafted for Uhuru before he reintroduced him into politics by way of a nomination to Parliament in 2001 taking the seat occupied by the late Mark Too, the other politician Moi groomed from nowhere. Uhuru was shortly appointed Minister for Local Government.
Youthful Uhuru as the preferred successor
In 2002, he shocked even some in his inner circle when Moi settled on the youthful Uhuru as his preferred successor, a push that failed when he was defeated by Mwai Kibaki, Uhuru's political trajectory continued on an upward trend and eventually, he assumed the high office in 2013.
Then there was Nicholas Biwott, his one-time personal assistant when Moi served as Veep and Minister for Home Affairs. Biwott, the self-styled 'Total Man', owed his stellar rise in political clout and financial fortunes to Moi. The two first worked together when Moi was the Home Affairs minister in Mzee Jomo Kenyatta's government, Biwott having been transferred there on Kenyatta's recommendation in 1972 from Treasury.
Biwot was a senior secretary who ventured into politics but narrowly lost the Keiyo South seat in 1974 but returned to Home Affairs as deputy under-secretary.
Stay informed. Subscribe to our newsletter
When Moi took over from Mzee Kenyatta following his death in August 1978, Biwott was promoted to deputy permanent secretary in the Office of the President. In the 1979 election, he clinched the Keiyo South seat and was subsequently appointed Minister of State in the Office of the President responsible for Cabinet affairs.
During Moi's 24-year reign, the highly influential Biwott held lucrative ministerial posts en route to amassing billion shilling businesses using the state.
Mark Too's rise was curiously interesting. Nicknamed 'Bwana Dawa' for his prowess as a power broker in Kenya and elsewhere, he first met Moi when he was a teacher in Kapsabet. Too was a herdsboy who later refused to push Moi's car when it got stuck in the mud. Moi took note.
Among the many mega political deals Too is credited with is the cooperation and merger between Kanu and Raila Odinga's NDP after the 1997 elections, which significantly tilted the political landscape in the country.
Despite his average education, Moi greatly valued his intelligence and at one time, he served as an assistant minister in the President's office. He also served as chairman of Lonrho East Africa, Kenya Sugar Authority, The Standard Group, and director of Stanchart besides diplomatic forays in the Great Lakes Region, which saw Moi detail him as his special envoy to lead the search for peace in the troubled region.
Immense contribution to the country's politics
Prof Saitoti was an associate professor and Head of the Mathematics Department at the University of Nairobi when Moi made him a nominated MP in 1983 and subsequently appointed him as Minister for Finance. In 1988, Saitoti defeated Philip Odupoy to clinch the Kajiado North parliamentary seat.
In addition to his Finance docket, he was appointed Vice President and served for a record 13 years between May 1989 and January 1998 and again between April 1999 and August 2002.
Saitoti, who died in a chopper crash in June 2012, was among those considered Moi's successors before he settled on Uhuru. He joined other defiant ministers in joining the Opposition and later served as minister for Education and Internal Security under Kibaki.
Veteran journalist Irungu Ndirangu says Moi "had immense contribution to the country's politics. Almost everybody who is or has been in politics and government with the exception of Kibaki owe their rise to Moi in one way or another."
Ndirangu, a former communications lecturer at Africa Nazarene University adds that "It is either because they knew Moi personally or because of the bond he had with their fathers. Just look at the names of those who were with him in Legco in 1956. Some of them are still ruling today either through their sons or grandchildren."