Premium
Senator Tabitha Mutinda: Why I left pharmacy for politics
Politics
By Edwin Nyarangi | Feb 18th 2023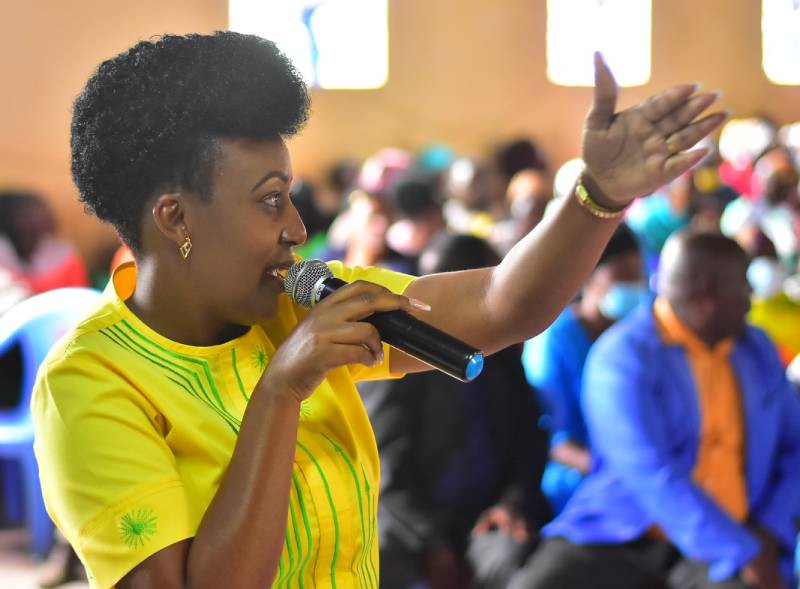 Nominated Senator TABITHA MUTINDA tells our reporter EDWIN NYARANGI about her life journey, what she thinks about President Ruto, the reason she left pharmacy for business and why she is sad that many young women are shying away from politics.
Briefly introduce yourself.
I am a wife, a mother, a daughter, a pharmacist, an entrepreneur, a politician, and an open-minded and hardworking person.
Tell us about your life journey...
I was born in Athi River in Machakos County where I attended St Paul's Primary School up to class seven before my family relocated to Kitui County where I sat for my Kenya Certificate of Primary Education (KCPE) at Matinyani DEB Primary School. I then proceeded to St Anne High School in Embu for my secondary education. Later, I joined Kabete Technical Training College where I studied Pharmacy. I have a Master's in Business Administration from The University of Nairobi and currently undertaking PhD studies in Business Administration at the same university.
Did you envision yourself joining politics?
As a pharmacist, I had the opportunity to serve the people and I saw their needs, as a mother, as a woman, I see needs, yet we don't have enough young women who have the mettle, and the skin, the desire and focus to lead in a fairly patriarchal environment. That is how I found myself in politics and I plan to make the best out of it.
Initially, you had set your eyes on the Nairobi Woman Representative seat
I knew full well that I would have to square it out with one of my competitors Millicent Omanga at the time a nominated senator and I was ready for the challenge before things changed. As the 2022 campaigns intensified, UDA summoned its candidates for various seats with a view to agreeing on a consensus as to who would fly the party flag on election day so as to maximise chances of winning. While acknowledging our efforts on the campaign trail, the party decided to zone certain seats for certain candidates, and that is how Omanga ended up being the UDA candidate for the Woman Representative seat in Nairobi.
You were at some point considered for the Nairobi Deputy Governorship position?
Numerous discussions and deliberations were held afterward and, at some point, my name was flouted as a possible candidate for the Nairobi deputy governor's seat which means I would have become Governor Johnson Sakaja's running mate. However, due to some regional balancing act to secure a win, I was prevailed upon by the UDA party to drop my bid and was assured of being fronted for the nominated senator slot which I accepted. That is how Njoroge Muchiri became Sakaja's running mate in the last General Election and the pair went ahead to be elected to be in charge of Nairobi County.
Fare thee well Gideon Mutiso, a true patriot who rose above tribe

10 reasons why Housing Fund is unconstitutional

Politicians have killed patriotism through consistent finger-pointing

Kenya will survive this test, but some people must eat humble pie
What role do you play in the Senate?
I serve in four committees, which include the Senate Business Committee (SBC) Committee that sets the business and order of the House. I am the Vice Chairperson of the Finance and Budget Committee besides serving in the Agricultural Committee and the China-Pakistan Economic Corridor (CPEC) Committee. I am also an active member of the Kenya Women Senators Association (KEWOSA) where I work closely with other women parliamentarians to champion the interests of women across the country.
What do you expect to achieve during your tenure?
My main assignment in the Senate is to legislate and support women's agenda; the two-thirds gender rule whereby we have more women in leadership. That way, in the future, it ceases being about women's leadership but just leadership. I am passionate about the two-thirds gender rule and the steps, the ruling Kenya Kwanza Coalition has made towards actualising it, we kicked off the process when we signed the Women's Charter while campaigning last year.
Who is your role model in politics?
Our women – who served before us the likes of Zipporah Kittony, Beth Mugo, Charity Ngilu, Phoebe Asiyo and many others did the marvellous job of lighting the path – it is now our duty as young women to walk on that path and keep the fire burning. These women have inspired a generation, they have inspired me.
What does the future hold for you?
Let us just say that I am currently focused on discharging my duties as a Nominated Senator. That said I am consciously aware that this journey has just begun, and there is a lot of work to be done out there. I have rolled up my sleeves ready for the challenge ahead.
Stay informed. Subscribe to our newsletter
Why did you change from pharmacy to entrepreneurship?
My passion changed to business with time, and that is how I enrolled for a Bachelor of Commerce degree now I am a PhD candidate in the same field and I have no regrets about it. Besides being trained in Pharmacy and Entrepreneurship, I am also now deeply involved in politics and would relish in other roles in life in the future.
Nominated seats are often considered gifts. What is your take?
On the contrary, nominated positions are quite tasking because we are not tied to any particular constituency. Our representation actually cuts across the country. In my case, for example, I represent that woman in Turkana, Kisumu, and, indeed, all the women in the country. As I said, I am on four committees in the Senate, which keeps me very busy.
Any future political ambitions?
I will cross that bridge when I get there. You know, we need more women to come out, join and support our political cause, for the sake of women, and for the sake of the whole country because we steer families and it is our responsibility to make our country better. There is always work to be done. I still believe that service to the people should be the currency of interaction in our political space.
What you can say about President William Ruto?
I thank President William Ruto for including women in as many leadership positions as possible. He encourages women to believe in themselves and in what they are capable of achieving. That is why he has several women in positions of authority.
What have you done so far in the Senate?
My Agricultural Bill on extension services has been printed in the Kenya Gazette, awaiting the First Reading in the House. This is something I am looking forward to when the House reconvenes. I also believe that it is my duty to work with my colleagues to ensure that counties give women what they deserve as per the county laws, as well as ensure that the Kenya Kwanza manifesto, as we had promised to the electorate, is implemented.
What is your wish in life?
I plan to be a role model to the younger generation of women, to motivate them to rise and take leadership roles in society. I am glad that this platform gives me an opportunity to serve the people. The journey has been real.