Premium
Legio Maria 'Prophet': I did not rape the girls, but I had an affair with their mother
NEWS
By Yvonne Chepkwony | May 22nd 2023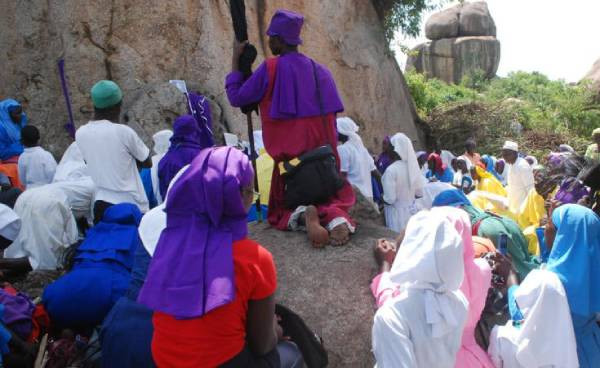 A court in Nakuru County has begun hearing a bizarre case where Jacob Wekesa, a self-acclaimed Legio Maria prophet, is accused of raping two sisters to cure their barrenness.
'Prophet' Wekesa has denied the charges against him for an incident that allegedly took place at the girls' home in Njoro sub-county during a visit.
He allegedly committed the offense on January 5, 2023, at Golf Estate in Njoro.
While defending himself before Resident Magistrate Edward Oboge, Wekesa said he was a guest at home and was offered a place to stay next to the boys' room.
He stated that it was impossible to do what he is accused of because he could not see the girls' room. He denied sleeping with the girls, insisting that he had powers something that was envied by his opponent who wanted to tarnish his name.
Wekesa told the court that he, however, had an affair with the host's wife, who wanted to taste his sweetness and to be healed from a disease she claimed she suffered from.
Reforms leave coffee farmers and exporters with bad taste in mouth

New Zealand athlete arrested in Iten over unlicensed gun, sexual assault

Death and rape at Marsabit gold mine spark fear among residents

Jury finds Trump liable for sexual abuse, awards accuser $5M
"I can confirm that I did not rape the girls, but I had an affair with their mother who wanted to taste more of me, claiming to want a cure," he said.
Initially, the girls had told the court that Wekesa visited them claiming to be a prophet, and that he was blind and needed help.
The alleged prophet told the family that he wanted to visit Father Muli's place. After receiving help from the family he went to Muli's place. At Muli's place, he was chased away from the family, something they are yet to establish, and brought back to the family where he was designated a room in one of the rental houses the family owns.
Spiritual eyes
In the evening the man called one of the girls to his room and told her that he had spiritual eyes and that he could see her barrenness.
"He told me that he would see my barrenness and cure it, I have a swelling on my waist. After two days of staying in our home, he called me again to his room insisting that he would pray for it. That was at around 11," the girl said.
The prophet ordered the woman to switch off the lights and remove her clothes and jump on the bed for him to massage the swelling on her waist reminding her that it was impossible for her to have a child.
"He pulled me closer, only to notice him inside me. I tried to scream but in vain as he warned against it, claiming that if I tell anyone I will see for myself what will happen which made me frightened," she added.
Stay informed. Subscribe to our newsletter
Her sister had undergone a similar ordeal. Their parents noticed something weird about the girls and upon interrogation, established that Wekesa had slept with the sisters.
They were taken to the hospital where it was established that penetration had taken place and the girls had been infected. Wekesa was apprehended and taken to the police station. The case is coming up for judgment on June 6.