Premium
How four hungry children unmasked Shakahola Massacre
NEWS
By Marion Kithi | May 23rd 2023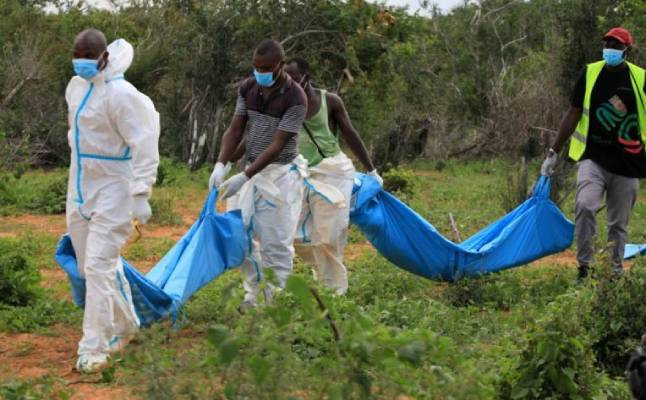 "Please show us mercy. Save us. We are dying of hunger and thirst."
This was the cry of four emaciated children who escaped from Shakahola forest in March this year.
The four children aged between 10 and 15 arrived at a village elder's homestead in Shakalaka trading centre about 12km from the Shakahola extensive farm tired and bruised as they walked through the forest in their attempt to escape from the forced cult fast.
In this new discovery, Shakahola village elder Changawa Mangi says the children had lost weight and told him they had been locked in by their parents and forced to fast while those who defied instructions were killed.
"I gave them food and water and offered them refuge at my place for some time," the elder said.
Mangi, however, says since the authorities were not aware of the cult activities in the forest, they decided to take time and investigate the children's allegations.
Gachagua puts Mt Kenya leaders on notice as supremacy war rages

PS Omollo: Shakahola operation to end soon

DPP seeks six more months to detain Paul Makenzi over Shakahola deaths

Court holds 66 Makenzi followers for 30 more days to allow probe
"When they narrated the story to me, I took the matter to the area chief but he told me we should first investigate the matter since the children might be making up stories.
"We thought maybe the children were just pretending and they were too lazy to work in the forest. That's why they had run away and we were afraid of giving the wrong information to the police," Mangi said.
It is after this incident that the chief and the village elder started to trail the activities at Paul Mackenzie's farm. "We collaborated with youths who were grazing in the forest and after a week they told us they had seen many people who looked weak and that's when we decided to report the matter to the police," he said, adding that later on, the four children were taken to a rescue centre in Malindi.
Women and children first
As the second phase of exhumation continues, dozens of bodies have been exhumed and children were the most affected since they were the first to fast and die, followed by women and then men. Mackenzie told his followers that in the Kingdom of God, children were given first priority and that is why they were to die and go to heaven.
Also, in his other teachings, Mackenzie explained that children should not be an obstacle in advancing the gospel.
"God has created you to spread his word. Children should not be an obstacle to this. If you can't preach because you are considering providing for your kids, they better starve to death. Let them die. We will bury them."
The number of bodies exhumed from the Shakahola forest has surpassed 211.
Stay informed. Subscribe to our newsletter
The homicide team led by Homicide director Martin Nyaguto has been digging the mass graves in the expansive Shakahola forest hoping to exhume all the victims and identify them to allow their families to bury them with dignity.
After the first phase of exhumations, the morgue holds 112 bodies that have not been identified. Pathologists and forensic experts, desperate to return remains to loved ones, are working tirelessly to find out who they are so their bodies can be laid to rest.
Many families waiting in agony for news about their loved ones have continued to give DNA samples.
This is after chief government pathologist Johansen Oduor said the bodies exhumed in the first phase were badly decomposed and would be difficult to identify.
The process begins inside the morgue, where pathologists extract tissue samples from the dead. Because of the bodies' advanced state of decomposition, often a piece of bone is the only option. The samples are then delivered to a laboratory where analysts work to build DNA profiles.
Dignity
"I'm hoping to get the bodies of my sister and my three nephews," said Priscar Zawadi who has been camping at the Malindi sub-county hospital mortuary for two weeks.
"We just want to bury our loved ones with dignity," she says.
Her sister had been missing for a year since she relocated to Shakahola with her family in pursuit of her faith.
Zawadi clung to fading hope that she might have been rescued alive and taken to the rescue centre but she found out that she was not among the survivors.
On Monday she joined others who had come to wait outside a tent set up at Malindi sub-county hospital mortuary where pathologists and forensic investigators swab a queue of desperate relatives for their DNA to see if any of them have relatives lying in the morgue.
"The only solace our family can reach for now is giving our sister and her children a decent burial."
Zawadi is among the 93 relatives who have shown up at the morgue to take the DNA test. Most relatives are grappling with terrible grief. But hundreds more are dealing with a loss compounded by the agony of uncertainty.
Some are searching for parents, a spouse or siblings who went missing in Shakahola and when the news of the cult deaths broke they decided to camp in Malindi town. However, many have not been able to find the remains of their loved ones.
Coast region Red Cross manager Hassan Musa highlighted the torment of those with missing relatives.
"610 people have been registered missing by their families. The families are desperate to know where they are, if they are alive, and how they can get them back," said Musa.