Premium
Condom Queen: University students, and young people are having lots of unprotected sex
HEALTH
By Gardy Chacha | Sep 15th 2023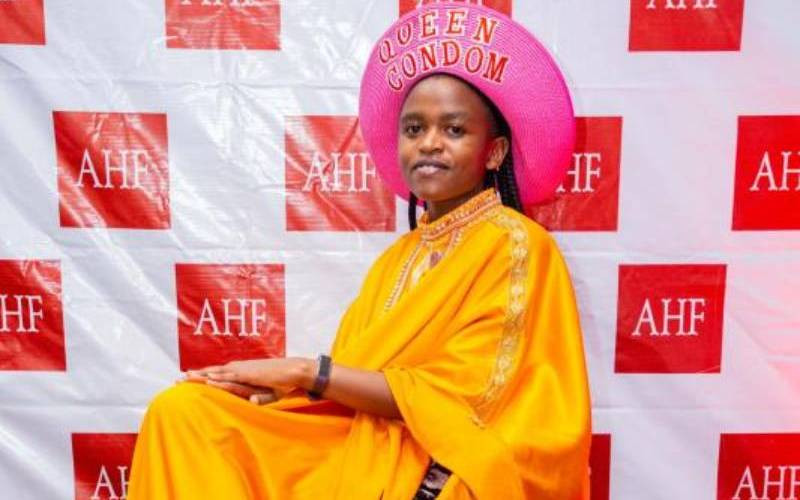 The Maisha conference took place in the last days of August in Mombasa. On the sidelines, we met SHARON NGIMA, the Queen of Condoms, interacting with many of the delegates. She spoke to GARDY CHACHA on why she is passionate about condoms.
That's a lovely ensemble you have over there: Condom earrings!
It's part of the job. How else do I drive the point home? The message should be clear: Condoms are here to help us live healthier lives.
When did you become the Queen of Condoms?
The King of Condoms – Stanley Ngara – crowned me back in 2021; on World Aids Day.

How did you meet the King of Condoms?
I was at the same event with him. I attended the event as part of the Kenyatta University Students Aids Control Organisation.
You are still a university student?
I have completed my studies. I am waiting for graduation.

As a Condom Queen, who do you work for?
I am currently volunteering with Aids Healthcare Foundation (AHF) Kenya. I am a peer educator. I am passionate about helping young people (my peers) practice safe sex.
PEPFAR: Comprehensive sexuality education key for better health outcomes

About time?

Bank bosses face sanctions for forex manipulation in probe

'For colored girls': Five Kenyan actresses to feature in performances addressing SGBV
But aren't young people abstaining?
The reason I joined the Students Aids organization in university was because of what I saw. Most young people are clueless; especially those in their first year.
They have raw (unprotected) sex and get STIs. University students – and young people generally – are having lots of sex. What concerned me the most was that the majority of the sex was unprotected sex.
From your estimation, out of every 10 young people, how many are having sex?
Nine.
Really!?
Young people may act innocent in the eyes of their parents. The truth is that we are having sex. Young people love sex. It is like food to them.

Why do you believe condoms are the solution?
Condoms protect you from three main things; unwanted pregnancy, sexually transmitted infections, and HIV/Aids. Because we all know that young people are having sex, my advice to every one of them is 'condomise'. This is not to discourage anyone who wants to abstain. Actually, if you can abstain, please, by all means, do that. If you can't, use a condom.

Why wait until you are infected?
ARVs are much more expensive than condoms. Also, ARVs are to be taken for the rest of one's life. Why risk all that when a simple condom can do the trick?

You look young: this title 'Condom Queen' doesn't make you feel uneasy?
I am so passionate about what I am doing. I have accepted and owned it up. The rest is just noise.
The folks back home are supportive?
My family knows about my advocacy work and they have been supportive. Close friends too have been supportive.

You will be graduating soon... What did you study?
I will be graduating with a Bachelor of Education (English and Literature). Ideally, I should be a teacher for high school students.
How long do you see yourself as the Condom Queen?
I can't tell. I intend to continue advocating for safe sex throughout my life.

Even if you get to work as a teacher?
In fact, I believe my advocacy work will come in handy if I follow through in my teaching career. I will be teaching high school students because that is the time young people start exploring and having sex. It will be the right place for me to be. I would advocate for comprehensive sex education to be integrated in the school syllabus.

Stay informed. Subscribe to our newsletter
You are also a mental health advocate; why?
Mental health and sex go hand in hand. When you talk about sex, it means there is a potential of someone being in a romantic relationship. And relationships are difficult to navigate – especially for young people. There are heartbreaks. Young people go into depression because of relationships.
What can parents do to protect their teenagers from early sex?
It is high time parents stopped treating this topic as taboo. It is better for your child to go out into the world with the right knowledge on sex rather than learn by themselves.
What's your role as the Condom Queen?
I mainly advocate for young people to use condoms. But should things go wrong, they should get Post-exposure prophylaxis (PEP).
What's your message; coming from the Maisha conference?
The government should consider removing the tax on condoms that is hampering their availability.
To young people, have safe sex if you cannot abstain.