Premium
Investigation: City hospital without a lab, issuing test results
HEALTH
By Dennish Ochieng | Jun 2nd 2023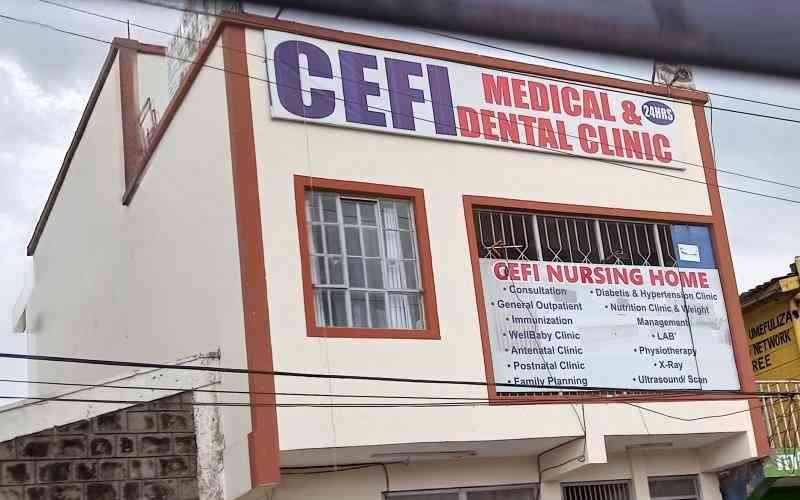 Jeremy Mutika helplessly watched as his sister died. Yet, she was in what they took to be a normal health facility but one in which help was not forthcoming when it was needed.
Little did they know that Cefi Nursing Home in Buruburu, Nairobi did not even have the basics of a medical facility - no trained doctor, no nurse, and no functional laboratory.
"She was struggling to breathe and for about 30 minutes, I walked downstairs four to five times to call the doctor and he promised to come but he did not, then after a short while, she couldn't breathe anymore. I held her and prayed for her," Mutika told The Nairobian.
Regina Musenya,39, was laid to rest last Saturday in Kasunguni village in Kitui County, but before her painful death, she was in dire need of palliative care, rushed to Cefi Nursing Home, which is located near her home, her samples taken for a full haemogram test, but died days later when her blood sample was still cooling in a tinny fridge at the facility.
Before her death, Regina and her relatives were given printed results with the hospital's letterhead stating that the test was done and that 'there was no growth.'
A Dr Ouma appended his signature with the hospital's rubber stamp to make the document official. Surprisingly, the result given to the family showed that the test was done for urine, which in actual sense was not requested for.
Mixed up tests results
An investigation by The Nairobian found out that after pressure from Regina's relatives to have official results given to them, the hospital owner-cum-consulting 'doctor' Nicholus Gor Ouma cooked results and sent one of his staff a document via WhatsApp to print at a nearby cyber. It was Regina's results. Mutika was dissatisfied with the conduct of the proprietor of Cefi Nursing Home for admitting a renal patient when he knew he could not handle her and refused to refer her despite their plea until she passed on.
"My sister's blood sample was taken but the document given to us shows results for urine, which in the actual sense was not collected nor requested by the hospital. It's so confusing," Mutika said.
Mutika adds that when Regina was almost dying, she was gasping for oxygen and one of the workers at the hospital fixed a small machine looking like a vacuum cleaner to supply her with oxygen. Our investigation found out malpractices in private and even public hospitals are on the rise. There are no serious checks and inspections from the regulatory bodies leaving quacks and unlicensed individuals to run the show in the treatment and mismanagement of patients.
Our informer privy to the operations of Cefi Nursing Home narrated how 'Dr' Ouma has been masterminding mismanagement of patients at the facility located along Mumias Road in Buruburu when in the actual sense he is not even a medical doctor.
For six years, the 'hospital' has moved to four locations in Eastlands. It was started in Huruma in 2016 with the name of Casanova Clinic, then moved to Kariobangi's Mutarakwa Lane where it rebranded to Cefi Medical and Dental Clinic, moved for the third time to Outering Road into a three-bedroom house with the same identity and now in Buruburu as Cefi Nursing Home.
Nursing homes are classified in category 3B, but Cefi Nursing Home lacks everything to make it to that category because it does not even have one nurse, let alone an ambulance and they do not accept NHIF as a mode of payment. All mobile money payments are sent to Ouma's number.
The insider narrated to The Nairobian how for the longest time possible, samples from patients were taken inside what looks like a deserted laboratory located on the first floor, and then patients asked to go downstairs and wait for their results 'to be cooked.'
EACC goes after Uhuru men over botched Sh6 billion Telkom sale

Keep an eye on China pneumonia outbreak

Global warming puts hospitals at risk of shutting down summit

Four dead, 15 injured in Eastleigh building collapse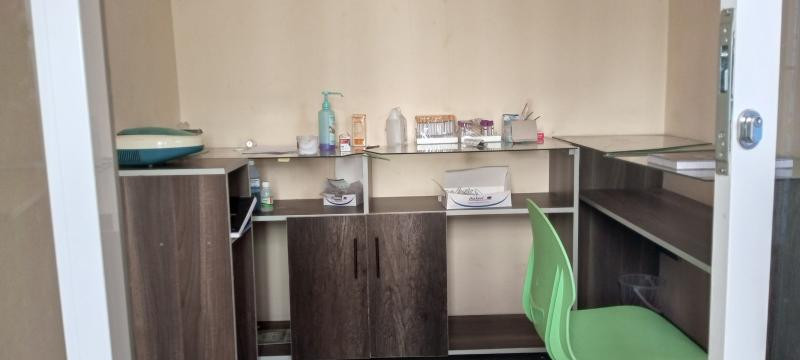 The lab has only test tubes, needles, and syringes
All the drawers and cabinets in the room are flung open and any keen eye will miss seeing even basic equipment in any lab like a microscope.
"There's no laboratory in that hospital. What the hospital does is after taking the samples of a patient, they're told to go downstairs to the reception to wait for the results. But 'Dr' Ouma had told us to stay with samples for 10 minutes then take to him the blank sheet containing the details of the patient so that he cooks the result," said the source.
Apart from Regina's case, the hospital has been conducting several procedures that the operator is not licensed to perform like dental checkups, minor surgeries, and deliveries.
Erick Sammy, one of the parents whose wife delivered at the facility over one year ago when it was still located at Mutarakwa Lane, has not been issued with birth notification to date despite several trips he has made to the hospital.
"I have visited the hospital severally for the past year for birth notification but the child is now one year and two months old without a birth certificate. I got tired and now looking for an alternative," said Sammy. Another patient named Agnes who had gone to the facility for a dental checkup and was attended to by Ouma returned to the facility with her dental filling wrapped in a serviette after it fell off the same day.
"I was in great pain and that doctor told me I needed urgent filling. I accepted and paid Sh3,500. After the procedure, he instructed me not to eat for six hours but later on in the day, I was served chips in town only for the filling to come out," said Agnes.
After visiting the hospital severally for attention, she decided to go to another hospital where her tooth was filled.
"That doctor has been avoiding me and I paid him. I know what I will do to get my money back because he did not solve my problem," she added.