Premium
Too drunk to perform: How alcohol is killing the fire in Kenya's bedrooms
Capital Feature
By Mercy Kahenda | Sep 20th 2023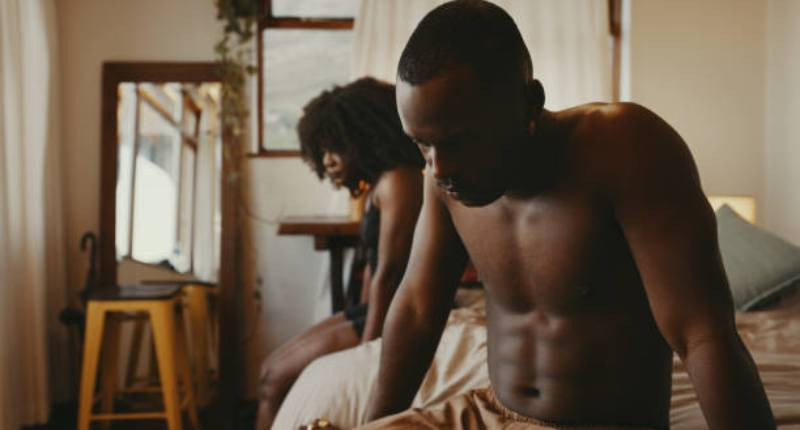 'Transformer haifanyi kazi' (men are not sexually active). This day by day has been a cry of most women in the Central region alleging to spend long lonely cold nights, as their men are not able to satisfy them sexually.
Irene Wanyoike from Kiambu says a number of women are no longer able to give birth, thanks to drug and substance abuse that has left their men 'zombies'.
"Our men have abandoned their bedroom roles because they have no energy.
It is sad that because of their underperformance, we are not able to give birth," Wanyoike says, adding that enrolment in nursery schools remains low.
Just like Wanyoike, Mary Wanjiku from Kianga village in Gatundu, Kiambu County is furious about the re-emergence of illicit brews, regardless of the already existing challenge.
A number of men, she says sleep in the ditches and trenches where they are rained on, leaving their wives and children lonely back at home.
NACADA gets law backing in fight against alcohol abuse

PEPFAR: Comprehensive sexuality education key for better health outcomes

Eliud Mathu property fights: Curse of Kenya's founding fathers

Police, county staff to inspect all bars ahead of festivities
"It is worrying that men spend their productive working hours in drinking dens, never to get back home. It is so annoying because we have to look and take them back home," says Wanyoike.
"Women are lonely because, after their reckless drinking behaviours, they cannot 'perform'. What is the essence of marriage, if a woman cannot be satisfied sexually, and give birth to children?" Poses the mother of two.
EXCESSIVE DRINKING
Wanjiku notes that because of excessive drinking, men are unable to cater to the financial needs of their families. Some resort to selling family property to buy alcohol. "It annoys to have women feed men, yet they do not provide. These men are troublesome!" adds Wanjiku, who appears to be in despair.
She talks of an encounter of frustrated women who have attracted the attention of leaders in the region. The leaders have bounced into action to 'save' the men.
Deputy President Rigathe Gachagua has camped in the region, meeting local administrators and leaders in a move meant to fight the menace.
In April this year, Gachagua launched a campaign against illicit liquor and substances in the region, saying he had received numerous complaints from women decrying to government's support. "Kumeharibika (it is ugly). I am left speechless whenever I meet women who open up about what alcohol has done to their men," Gachagua said in a recent leaders' forum in central.
"Our men are 'finished'. It is worrying that instead of them (men) sleeping on the bed, they sleep on the floor, as women sleep on the bed alone,"
Also, the deputy president has on several occasions raised an uproar on low admissions at ECD attributing the circumstance to drugs and substance use.
Stay informed. Subscribe to our newsletter
"In our schools, classrooms are empty. We do not have children because ethanol consumed is mixed and finishes all systems of our men. All batteries are down. Even if they are charged, it is unfortunate they cannot pick. Our women are crying, and this is so true that people do not tell the truth. But I am a truthful man, so I must say the truth," emphasized the deputy president.
Alcohol sold and consumed in the region is second generation, according to a new report by the National Authority for Campaign Against Alcohol and Drug Abuse (Nacada), which is harmful to consumers.
The central region is ranked highest in the prevalence of potable spirits at 4.1 per cent, followed by Coast at 3.2 per cent and Rift Valley at 3.1 per cent.
Central region is also ranked second in the highest prevalence of manufacturing legal alcohol at 10 per cent, Nairobi leads at 10.3 per cent whereas Eastern is ranked third at 8.4 per cent.
But overall, the Western region has the highest prevalence of current use of alcohol at 23.8 per cent, followed by the Coast at 13.9 per cent and Central at 12.8 per cent.
To end the menace, the deputy president has continuously called on local administrators including village elders, chiefs, and commissioners to conduct a regular crackdown on illegal bars and manufacturing dens in the region. Further, he has pleaded with elected leaders in the region to spear change of policies as the electorates will hold them accountable on how they deal with drug and substance use.
Kirinyanga Woman Representative Beatrice Njeri maintains that the fight against the menace shall succeed.
"Tuapigana na pombe, wapende wasipende (we shall fight illicit be it they want it or not)," Nyeri said in a recent church service. Nacada Chairperson Dr Stephen Mairori threatened to name barons trafficking drugs and substances in the country. "Those who bring generation alcohol and other drugs...we know who they are," said Mairori.
But he remained optimistic that with good political will by President Willian Ruto and his deputy, the fight against drug and substance use will be a success. According to the data, the Western region has the highest prevalence of current use of chang'aa at 11.4 per cent, followed by Nyanza at 6.3 per cent and 3.6 per cent in Rift Valley.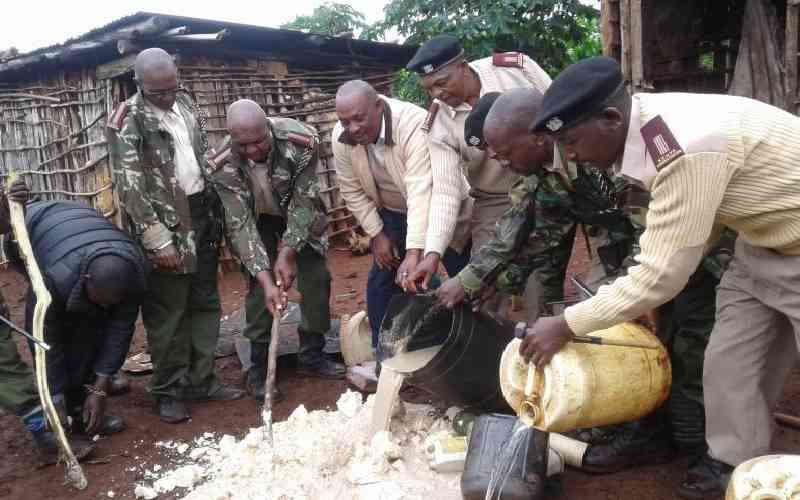 Additionally, the Western region had the highest prevalence of current use of traditional liquor at 12.9 per cent, followed by Coast at 7.4 per cent and Nyanza at 2.2 per cent. But unlike men in Central, men in Western regions who consume liquor are seemingly strong. Bernard Were, a local in Shianda, Mumias says he has been drinking for the past 15 years for leisure.
Despite consuming local chang'aa and busaa, he says he satisfies his wife, with whom they have sired six children.
"I walk to the neighbourhood to drink my glass of chang'aa but I am sexually active. My wife is happy, and she is all smiles when I get back home in the evening," says Were.
"I have never experienced adverse effects of drinking traditional brew apart from a hangover if taken in excess. I enjoy my glass as leisure, after a tiresome working day on my farm".
Prof Koigi Kamau from the University of Nairobi says alcohol makes one say things that can't be said when sober.
He explains that alcohol also affects sexuality and reproductive health more so among men. "Alcohol increases the desire but reduces performance," says the fertility expert, adding that when too much alcohol is consumed, for example drinking every day, then the desire for sex 'goes off.'
Prolonged use of alcohol causes erectile dysfunction among other diseases. "Individuals with erectile dysfunction avoid sex because they cannot perform. It is a vicious cycle," he says.
"Alcohol reduces sexual efficiency, this is the biggest problem."