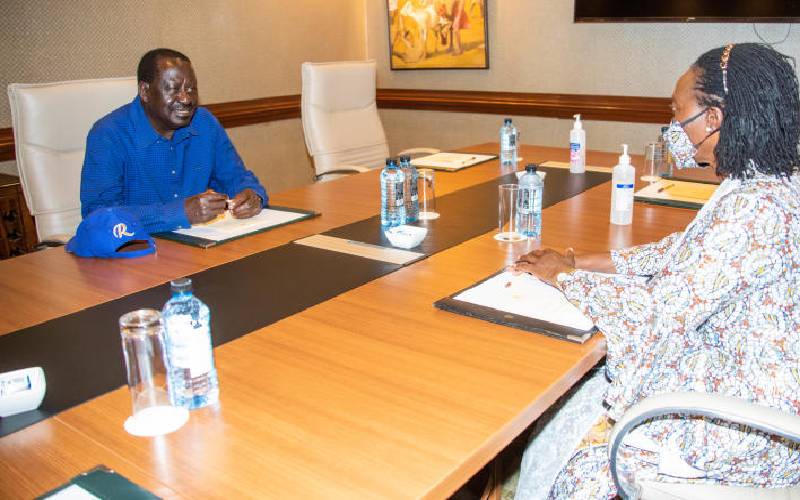 Dear Raila Odinga, I hope this finds you well and in high campaign spirits. I am writing to tell you something bad. But I will begin with something good. Her name is Martha Karua.
There is no better, worthy or more qualified running mate for you. Against Karua, all other contenders pale in comparison. Where she is an earth-mover, they are spades, where she has been a pillar, they are have been quivering columns.
We see that you have been considering others like Kalonzo Musyoka and Peter Kenneth. But Baba, allow me to make a case against these two by testing them against three measures: the past, the present and the future.
As you like to tell us, "a generation which ignores history has no past and no future". In this case, the specific point in history we must not ignore is around October and November of the year 1991. While Martha was fighting tooth and nail to have Section 2A of the Constitution repealed, Kalonzo was a ruling party sycophant fighting fang and claw to retain it.
As for Peter Kenneth, we will leave him out of this one. He was a good 26-year-old then, he was probably spending his time at a small upstairs college on Kimathi Street doing a banking and insurance course so he could be promoted to branch manager of a local bank. So between Karua and Kalonzo, the lady undoubtedly and by far passes the first measure.
The second measure is playing out as we speak. It is said that one's true colours reveal themselves when pressure hits the surface. You as presidential candidate have felt the stress of selecting a running mate. As you were feeling the heat, so were the candidates for the position. Karua, Kalonzo, Kenneth and other competitors unconsciously showed their colours, with Kalonzo's red-hot pride shining the brightest. Baba, have you ever heard of a job seeker wanting the job but threatening not to go to the interview because it is 'beneath him', and then after the interview, openly threatening to be the competition if he is not selected? Baba, just imagine: if he is like this unemployed, what about when he actually gets the position?
This brings me to the third and final measure: the future. Baba, your relationship with your future Deputy President lies in the interpretation and actualization of Article 147 of the Constitution. This is the bad thing I was talking about.
As we have witnessed with the current Executive, it takes a certain temperament to be DP. This position requires a discerning person because a DP in Kenya has authority, but has little power. To put it bluntly, the DP's role is to do what the president tells her to do.
The writer is a political analyst and a PhD student