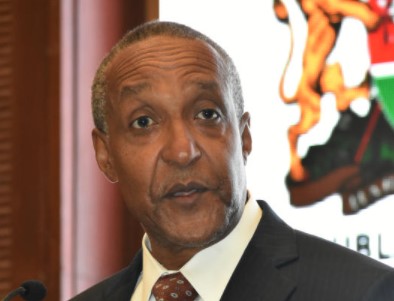 The Ministry of Foreign Affairs has brokered a deal with European Union (EU) member states to allow Kenyans living in Ukraine free passage into their countries.
The deal follows negotiations by Foreign Affairs Principal Secretary Amb Macharia Kamau, with EU country envoys in Nairobi on Friday.
About 201 Kenyans in Ukraine. Eighteen reside in the country permanently while one hundred and three are students.
Earlier, the Ministry maintained that Kenyans living in Ukraine should make their own arrangements to leave the country.
The Ministry of Foreign Affairs of Kenya through its mission in Vienna reported that all Kenyan citizens in the country are safe.
Foreign Affairs Principal Secretary Amb. Macharia Kamau, in a statement Friday, said "Kenyans have been advised to make an assessment as to their circumstances and to take necessary precaution and or make arrangements to leave as they deem fit in light of their own circumstances."
"Some Kenyans, however, have been stuck at border points, particularly with Poland, and because of visa restrictions they have not been able to cross over," Kamau added.
According to the ambassador, the Ministry is in touch with all the neighboring countries of Ukraine within the European Union (EU) to seek their accommodation and to allow Kenyans to transit through their countries should they wish to return home.
The western part of Ukraine is relatively safe as there is very little military activity going on there.
Kamau has asked Kenyans to seek safety. "Kenyans are encouraged to harbor there as they wait for the situation to settle down and or as they make their plans to come home."
Kenya does not have an embassy in Kyiv, but an Embassy/Permanent Mission in Vienna, Austria.
The Permanent Mission of the Republic of Kenya in Vienna issued a statement on Thursday, cautioning Kenyans in Ukraine: "Following the escalating tensions and the attack on Ukrainian territory by the Russian Federation on February 24, 2022, all Kenyans living or studying in Ukraine are hereby advised to urgently consider leaving Ukraine and stay away until further notice."
Ukraine says that more than 100 people have been killed so far in Russia's invasion, with fighting widespread across the country. Russian forces are reportedly advancing towards the capital, Kyiv.
Russia's President Vladimir Putin ordered wide-ranging attacks in Ukraine on Thursday, hitting multiple cities and bases with airstrikes, and attacking by land and sea.