Polo: Stage set for Moi Cup in Gilgil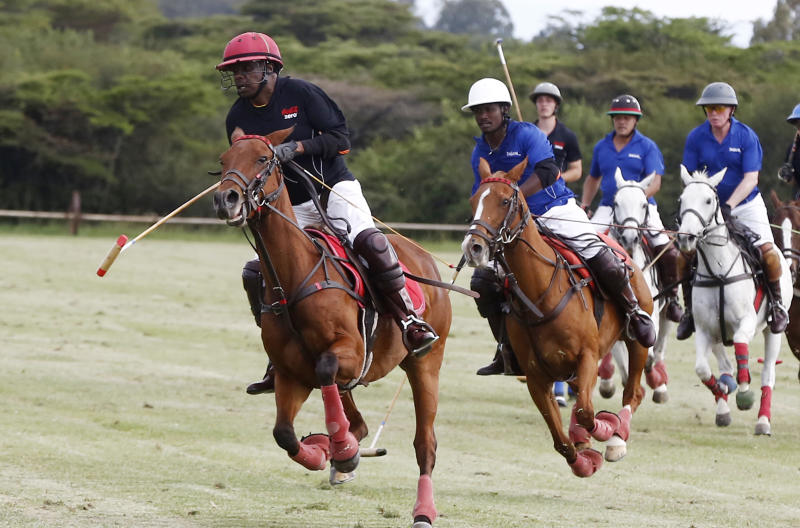 Handicaps 2.5 Raphael Nzomo and Jules Camm will lead seven teams in the handicap 4 Moi Cup Polo Championships at Manyatta Polo Club in Gilgil today.
Four teams will compete in the Main Cup while three teams will do duty in the Junior Open ahead of next week's championships, which will mark the end of Kenya Polo Association Calendar of events.
Nzomo, who leads the Safaricom team of Harry Stichbury (1), Fred Kambo (0) and Izzy Stichbury (0.5), will face Wine Box in their opening fixture in the three-match round-robin series.
Handicap 1.5 Ben Stonewigg will lead the Wine Box side that is composed of William Millar (1.0), Georgina Millar (0.5) and Natasha Tisiminieszky (0.5).
Camm (Jules) is in the Amiran team of Nzomo siblings of handicap 1.0 Jadini, handicap 0.0 Hiromi and handicap 0.5 Cheza Millar.
Amiran open their chapter with a match against Sanlam at 4:30pm.
Three teams in Safaricom, The Wine Box and Amiran are handicap 4 save for Sanlam, who are handicap 3.5 and will start all their matches at the advantage of half a fraction of a goal from their weak handicap.
Sanlam team of Harry Griffiths (1.5), Megan Griffiths (1.0), Amani Nzomo (0.5) and Phylippa Gulden (0.5) face Amiran in their opening match today at 4:30pm.
Four matches will be played this afternoon in the Junior Open.
Dion Wines take on Hesketh Wines in their opening match ahead of their (Dion) second match against Rutini Wines.
Rutini Wines face Hesketh Wines in their second match that will be the curtain raiser ahead of Moi Cup final pitting Sanlam against Amiran.