Tong Il Moo Do Federation hopeful of winning Soya title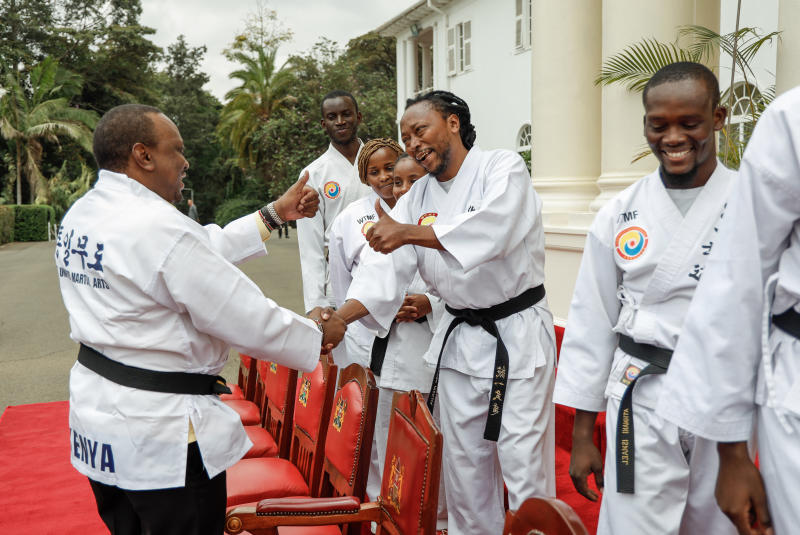 They are among four federations fighting for top spot on Friday night's gala.
Kenya Tong-Il Moo-Do Federation is among four sports associations battling for honours at the Safaricom Sports Personality of the year Awards (Soya) gala on Friday night.
"I am optimistic that our achievements as a federation will be an added advantage. I believe our day of recognition as the best sports federation of the year has come," said Federation's President Clarence Mwakio.
The fete will be held at Fort Jesus Museum in Mombasa.
Last month, Kenya team retained the Mombasa Open international championships title.
The federation settled for the second position behind Philippines at the 2019 World Masterships Martial Arts championship in South Korea after they bagged nine medals; two gold, two silver and five bronze. Among the gold medalists were Gordon Ochieng in men over 90kgs and Lona Apiyo Abiero in women under 65kgs.
Rose Wacheke claimed silver in women over 65kgs with Collins Ndunda Muriungi, Samson Mambo Garama and Andrew Wanje Ziro winning silver in team event. The federation has also been able to acquire modern training facilities that has helped the athletes standards match with international standards. Tong-IL Moo-Do Kenya have the best martial arts sparring equipment, which helps develop the sport.
Kenya Tong-Il Moo-Do Federation battles Kenya Sports Federation of the Deaf (KSFD), Athletics Kenya and Kenya Motor Sports Federation.
KSFD have launched new deaf sports disciplines such as rugby, tennis, badminton and cycling which have attracted active sportsmen and women. The federation also sent a team to the World Deaf Swimming Championships in Brazil in August last year and later hosted the first Africa Deaf Athletics Championships with 12 African countries taking part. Kenya topped the competition with 54 medals (20 gold, 16 silver and 18 bronze).
KMSF successfully pushed for the return of Safari Rally back to the World Rally Championships series in 2020. The federation hosted the candidate rally last year that sealed the return to WRC series. Athletics Kenya took teams to the World Cross Country Championships held on March 30 in Denmark, Africa Under-20 and Under-18 Championships held April 16-20 in Abidjan, Cote D'Ivoire and African Games held from August 19-30 in Rabat, Morocco.
Kenya claimed eight medals; two gold three silver and three bronze, finishing second behind Ethiopia at the World Cross where Hellen Obiri and Beatrice Chebet claimed victories in women 10km and Junior women 6km races respectively. The country topped the medal standings in the Under-20 event with 26 medals; 12 gold, nine silver and five bronze but finished second behind South Africa in the Under-18 competition with 18 medals; five gold, seven silver and six bronze.
At the African Games, Kenya won 20 medals; 10 gold, seven silver and three bronze to finish second in athletics behind Nigeria, who bagged 10 gold, seven silver and six bronze medals.