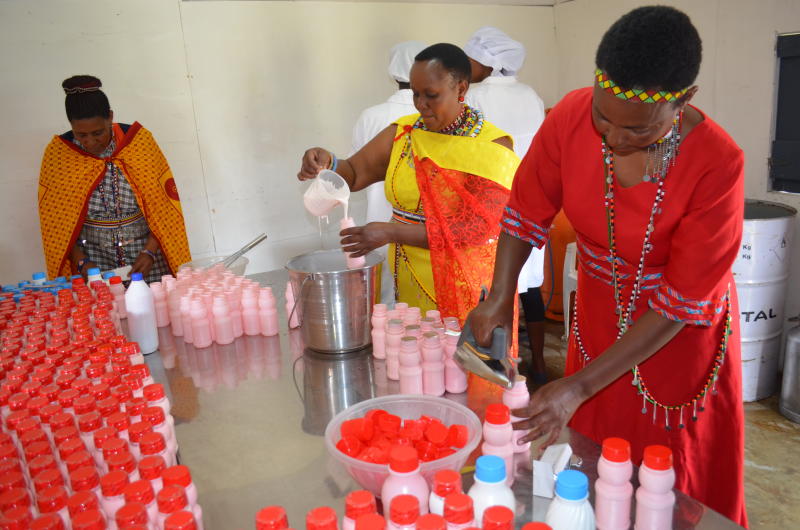 The Maasai community are known for keeping huge herds of cattle with the activity being mostly a men's affair.
But a group of 20 Maasai women in Narok are now changing the narrative having dived into commercial yoghurt making.
The initiative started two years ago as a table banking unit and morphed into an agri-business unit.
The group, Odupa Women Enterprise Society focused on small-scale dairy farming and started with two dairy cows.
Having realised the milk their 13 cows were producing was excess, they decided to seek alternative ways of milking more cash from their yields.
Soul searching
"In our search for answers, we got to learn that the county government was sponsoring women to learn how to make yoghurt at the Jomo Kenyatta University of Agriculture and Technology (JKUAT). I applied and was chosen to go to," says Julia Koikai, the founder of the initiative.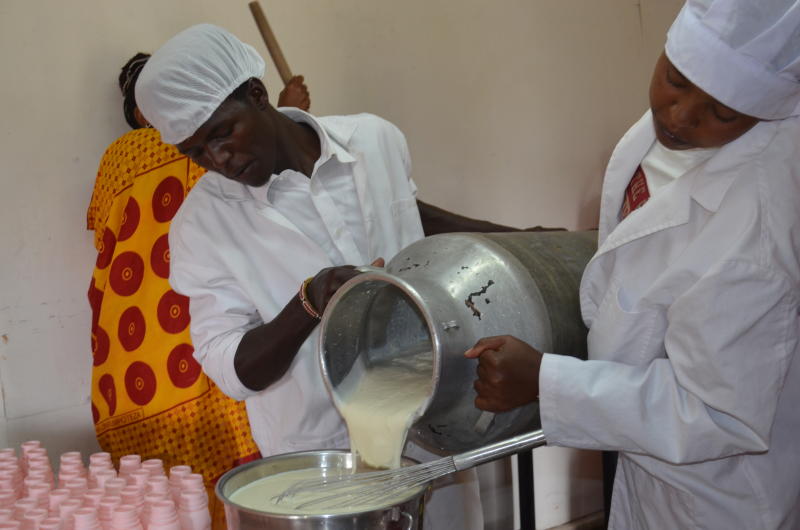 Ms Koikai went through the Fermented Food For Life (EFFL) project, where she learnt simple yoghurt processing techniques which she introduced to her group.
To test the waters, they started the commercial yoghurt project at Koikai's home at Olepolos, Narok South after taking a Sh500,000 loan for buying the processing equipment.
Bottle by bottle, they made the yoghurt and the reception was encouraging.
"We started by selling to our friends, family and neighbours and they liked it. With time, we started getting more orders," recalls the team leader.
Now, they are processing more than 200 litres of raw milk into probiotic yoghurt which earns them more than Sh45,000 net income weekly and almost Sh200,000 in a month.
Mrs Koikai, who resigned from her job at the Masai Mara Game Reserve says this was the best decision.
To set a good foundation for their project, the women went for the best Friesian breeds from Githunguri Dairies (Kiambu) and Naivasha, as opposed to banking on the traditional breeds.
Quality yoghurt starts from quality raw milk, says Koikai.
But what makes quality milk?
According to Food and Agricultural Organisation, good-quality raw milk has to be free of debris and sediment; free of of flavours and abnormal colour and odour; low in bacterial count and free of chemicals (antibiotics, detergents).
Quality breed
Christine Nkoitoi, a member of the group says the secret to quality milk lies in the quality of feeds, water and minerals, something the group takes seriously.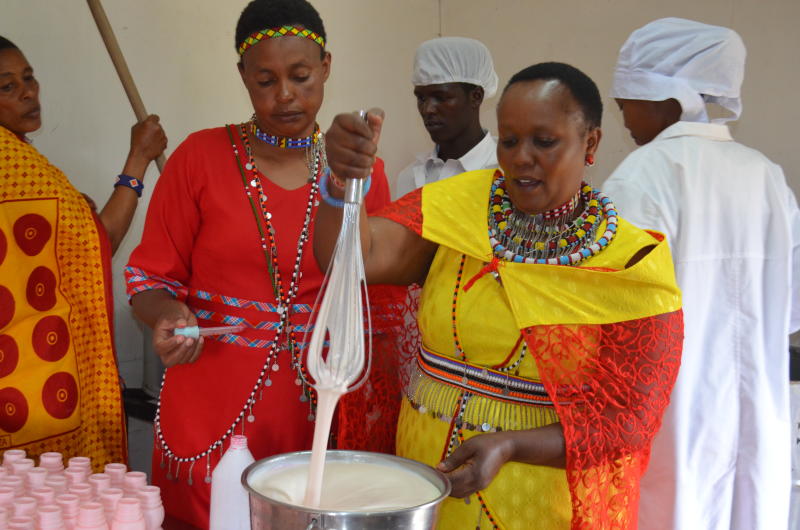 "We are doing zero-grazing unit of 13 dairy cows. We work closely with dairy/livestock experts who have been guiding us on the best practice. We follow their advice to the letter and have seen the fruits," Mrs Nkoitoi says
Mrs Nkoitoi who resigned from her teaching job at Ole Ntutu Arid Zone Primary to concentrate on the yoghurt project says the returns from the two-year old project are worth the sacrifice.
Disease management in the herd is also critical.
The group have learnt how to manage foot rot, mastitis and tick control and de-worming.
"To keep mastitis at bay, we clean cow structures every day and ensure it is dry. We ensure the milking process is done in a hygienic environment using clean milking materials," she explains.
For tick control, the women ensure they keep grass and weeds trimmed and remove wood piles to reduce breeding ground for tick hosts.
Proccessing
So how do they process the yogurt?
To make quality yoghurt, there are several stages, Ms Koikai explains.
First, is testing the milk using a lactometer which measures the purity and richness of milk.
After establishing that the milk is of good quality, pasteurisation is done in a stainless steel sufuria. Pasteurisation is a process in which packaged and non-packaged foods (such as milk) is treated with mild heat (<100 °C) to eliminate pathogens and extend shelf-life.
Flavours
"The milk is pasteurised to 90 decrees while being stirred before being adding sugar at 45 decrees and stirring to 90 decrees again. After process, the Fiti culture (Lactobacillus Rhamnosus) is added and left to 'incubate' for 12 hours," she explains.
After 12 hours, the flavours such as vanilla or strawberry are added before being packaged in 250ML, 500ML, one litre and five litre containers ready for the market.
KEBS Mark of quality
Because they have met all quality standards, they been given the Kenya Bureau of Standards mark of quality, which in turn boosts customer confidence.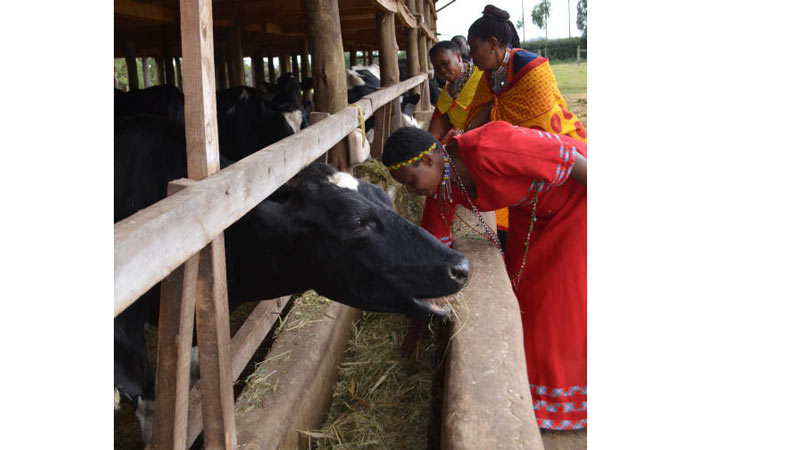 The group has secured market for their yoghurt within and outside the county.
"...we package one litre of yoghurt into four bottles of 250ML which we sell each at Sh50 making a total of Sh200 per litre as opposed to Sh27 being paid to farmers selling raw milk," Mrs Nkoitoi says.
Among their target markets include Narok town, Ololung'a trading centre, Mulot and neigbouring Bomet County.
The group is also eyeing the lucrative Nairobi market.
Profit sharing
Ans how do they share the profits?
"... for now, we are not giving dividends because we are saving to expand the project. We plan to establish a cottage indutry and stock it with equipment like coolers. We also want to buy land," Koikai says.
Despite the success, the group faces its fair share of challenges such as lack of necessary facilities to enable them go fully commercial in their venture.
"As you have seen, everything we are doing is manual. If only we could get incubators, pasteuriser, and milk coolers and sealing machines we could be processing over 1,000 litres of probiotic yoghurt per day," Mrs Koikai points.
Since the yoghurt is preservative-free, it can go bad after a month in an unrefrigerated area.
To overcome this hurdle, the group has asked the Narok County government to support local dairy farmers though opening of cottage milk processing plants.