USA, North and South Korea benefit from Pyeongchang Olympics as peace talks begin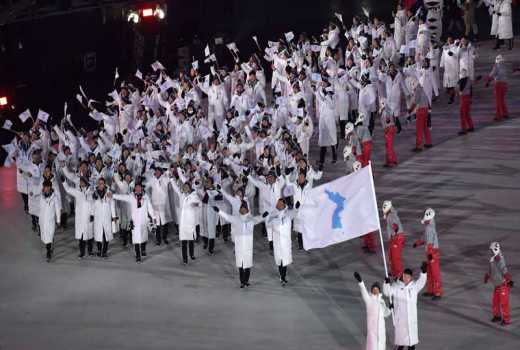 Dressed in white coats and waving white placards to the crowds, they matched in lines as the people cheered a rare spectacle that was being achieved by the world of sport. Perhaps, it may have not been just another curtain raising event, but a show of unity.
Sports world was staging a campaign on peace building efforts to surmount the attempts earlier made by diplomatic circles in South Korean soil. Pyeongchang had organized a joint ceremony for South and North Korean athletes to match during the opening ceremony of the Pyeongchang Winter Olympics 2018. North Korea has sent 500 people to South Korea to grace the Olympics.
Not only was the show of unity reserved for a parade but it transcended that. The two countries that have had thawed relations were jointly represented by one women's ice hockey team.
This is why the Pyeongchnag President Lee Hee-beom is a happy man even after the curtain fell on the tournament.
While speaking at the closing ceremony of the Pyeongchang Games, Hee-beom lauded the move and noted them as the milestones of the tournament.
"…with North Korea and South Korea entering together at the Opening Ceremony and forming a unified team of the two Koreas, I think that this mode of peace is now going beyond the Games," he told the media.
He could not hide his pride and he added afterwards:
"We hope that this can spread peace on the Korean peninsula and Northeast Asia, and also around the world. This process that has been seen recently is reflecting my hopes on that point so I feel very proud and I feel it is a positive note."
The gesture by the athletes has received a major boost as the controversial North Korean President Kim Jong-un responded with a hint that he will press the button for reconciliation with their neighbours South Korea.
This has perhaps set the mood for talks between two countries and Kim and his counterpart, South Korean leader Moon Jae-in are reported to be planning a meeting in Panmunjom in North Korea, next month.
US President Donald Trump being coy but hopeful on the recent development reacted by saying that his government is willing to support the peace talks.
According to sports website, Inside the games, Trump tweeted as follows:
"Possible progress being made in talks with North Korea. For the first time in many years, a serious effort is being made by all parties concerned. The world is watching and waiting."