Black Soldier Fly: Insect that can turn farm waste into rich animal feed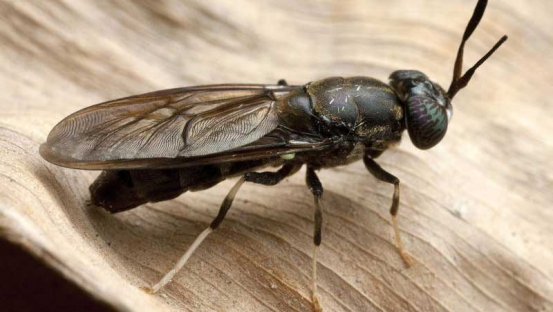 There is some good news for livestock farmers. A top international research centre in Kenya has been conducting a study on an insect that may change the fortunes of fish and poultry farmers by significantly reducing the cost of feeds.
This study involves the use of larvae of an insect known as Black Soldier Fly (BSF) which would potentially substitute ingredients used as sources of protein and energy in feeds.
Mr Njonjo, one of my clients and an ardent reader of Smart Harvest, came across an article that mentioned how use of BSF larvae presented an incredible opportunity for supporting small scale poultry and fish farmers in developing countries.
Njonjo wrote me an email and wanted to know if production of the larvae was a viable undertaking and to get more information on the insect.
How it happens
The black soldier fly is an insect known for its ability in decomposing of organic matter. The black soldier fly larva (BSFL) can convert manure and organic feed into nutritional meal for animals.
The fly resembles a skinny black wasp. The adult fly does not sting nor 'buzz' and is difficult to notice since it does not fly into houses or where human beings are gathered.
The fly is actually not considered a pest since it does not transmit any disease and nor cause annoyance to humans or animals. In fact, the adult fly is beneficial in that it acts as a deterrent to the common house fly and by so doing it significantly reduces their number.
Not a pest
To our animals especially fish and poultry - the larvae stage of the insect is a hidden treasure.
The larva is one of the most promising sources of important nutrients for poultry and fish. The larvae contains up to 42 per cent protein content, 35 per cent fat as well as essential amino acids and minerals.
These include methionine, lysine, alanine and many more.
Good sources of protein
In some countries, use of the BSFL has substituted use of soybean meal and fish meal (omena) in production of poultry feeds.
They are therefore good sources of energy, protein, vitamins and minerals which are essential for growth and egg production in chicken.
Life cycle
The BSF has a short life cycle and this makes the production economical and viable.
Long-term and large scale production is also possible due to their nature of frequent re-production.
The adult female fly lays about 500 eggs per lay. Eggs are laid in dry areas or in decaying organic matter or manure. Decaying matter may include rotting fruits, vegetables or meat scrapes. Manure from cattle, rabbits or poultry can be used too.
This means farmers can also use the manure produced from their kukus to produce the larvae.
In large scale production of the larvae, the adult flies are caged or put in a container where the eggs can be collected and placed where the organic matter is.
Food insects
The eggs hatch into larvae in about four to five days. The larval stage of the fly is the consumer of the organic matter. The larvae are able to digest the organic matter and in two weeks the larvae have reached their maturity.
They measure approximately three centimetres in length. The larvae can be dried and stored for long and be used as poultry feed in future.
BSF production is more affordable and economical as compared to production of other "food- insects" since inputs only include organic waste.
Other insects that have been used as poultry feed include the mealworms and the Japanese beetles. In the case of mealworms, special feed has to be purchased for growth of the worms while for the Japanese beetles use of pheromones (chemical substance produced to attract the insects) is indicated.
In both of the above cases the farmer has to spend money to produce the insects unlike in the case of black soldier flies.
- The writer is a veterinary surgeon and runs Nature Kuku, a farm in Naivasha that produces kuku kienyeji breed and trains small holder farmers.
You can reach him on [email protected]