When and why did tea growers become bitter?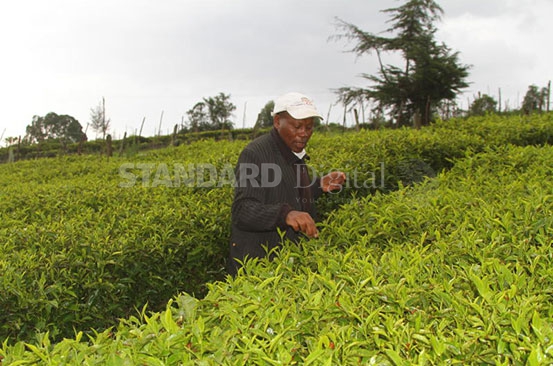 Tea is major cash crop in Kenya and for a long time it was the leading foreign exchange earner. Today, the tea sector is grappling with numerous burning challenges, but majority of farmers won't give up on it. Poor prices, low bonuses and poor infrastructure aside, the farmers are frustrated to the point of mulling over uprooting the crop. But will they? What choices do they have?
Timothy Sawe, a tea farmer from Emitik village, Olenguruoni in Kuresoi South Constituency, who has grown the crop from 1983 says they feel like the Kenya Tea Development Agency (KTDA) has abandoned them.
"When the defunct Kenya Tea Development Authority was under the Ministry of Agriculture they used to send extension services to farmers. The officers used to conduct farm visits training farmers on weeding, fertiliser application and pruning. But this is no longer happening under KTDA," laments the farmer.
However, KTDA says the agency is no longer using the model of extension services. "This model of extension officers was changed a long time ago. We realised the structure was not effective in reaching out to farmers. It was observed that when officers visited farmers, most of the time they were not in the farms. We are now using a new model called Farmer Field School," says Paul Mbadi KTDA's Farmer Field School Manager.
Using the new model, the agency recruits 20-30 farmers in an area, who are enrolled in a one year crop husbandry course and afterwards they are expected to share the knowledge with fellow farmers.
Reap the benefits
"There is a Farmer Field School farmer in most buying centres. So the farmer in Kuresoi should visit the nearest buying centre and make inquiries. If there is none, plans are underway to start one by July," says Mbadi.
Tough as the going maybe, Sawe says he will not uproot his crop. "Uprooting the crop is not a solution. It is the worst decision. Tea is the only crop that can earn a farmer good money. I have tried other crops like irish potato and carrots but the market is flooded," says the former high school principal.
Mr Sawe was inspired into tea production by former President Daniel Moi, who was launching a tea project in the area accompanied by KTDA officers, in the late 1970s.
The 63-year-old farmer recalls that several interested farmers approached Moi who advised them to form a group for better returns.
"We formed a group and KTDA trained us on tea production," recalls Sawe.
Later, they applied for cuttings that were supplied from KTDA nursery in Nyeri at Sh430 per acre. Each farmer nurtured the cuttings into seedlings in their own prepared nurseries. The father of eight transplanted 3,600 trees on his one acre that has since been increasing gradually to 5 acres holding 24,400 tea bushes.
"I planted 4,800 cuttings in my nursery but only managed to nurture 3,600 that I transplanted to my farm. And to prove I was fully into my new venture, I begun developing my own seedlings," says Sawe.
Though the crop began producing leaves for harvesting five months after planting, it reached its optimal production stage after five years and the retired teacher was happy to reap the benefits.
During optimal production stage, he was able to harvest an average of 300 kilograms of tea monthly and at one point earned a bonus of Sh25,000.
Back then, he says KTDA was buying tea leaves at Sh3, an amount he says was low compared to cost of production. Later, KTDA increased prices of a kilogramme to Sh4.50, Sh7.50, Sh9 and Sh11 before its current price of Sh14 per kilo. Another challenge farmers faced back then, was the poor road network since they had to deliver the crop to Kapkoros Tea Factory in Bomet, which is 60km from Olenguruoni.
"There was only one tractor that used to deliver tea that could at times arrive at the factory when its quality was poor," he recalls.
Weather variability is another challenge in growing of tea more so hailstorm that destroys quality of leaves. During hailstorms, farmers sometimes go for approximately three months without plucking tea, which is mostly experienced in June.
Sawe is hopeful of better times ahead now that things have started looking up which is reflected with the rise in prices at the Mombasa auction.