Raila, politicians aren't leaving Azimio because they are happy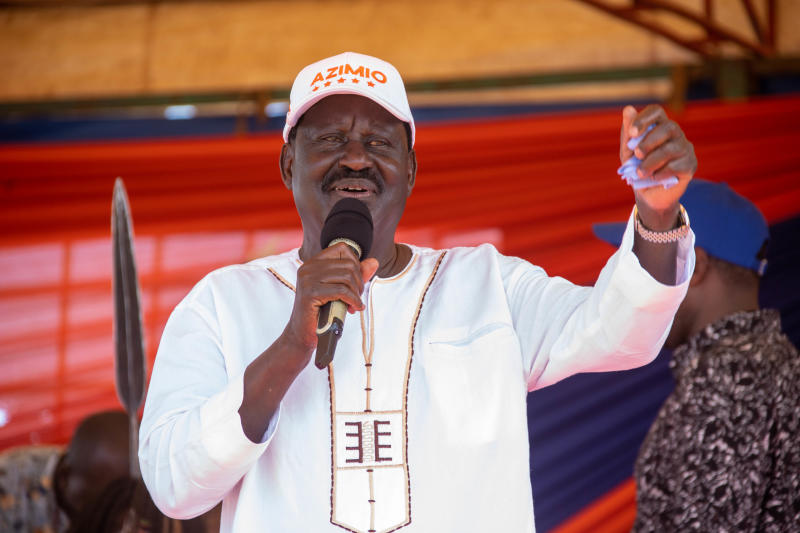 Today, I say Azimio must take all the oracles of the political heavens seriously or wait for the hyenas that will eat them come August. The upcoming elections are a contest and not a play—Azimio should not give excuses that politicians are being bought by Kenya Kwanza to leave Azimio. And if politicians are being bought, is Azimio too poor that it can't pay them to stay? But since this might not be true, come, let us reason together.
Like in the military, political coalitions should be built on mutual trust and confidence. But, the decamping of Alfred Mutua's Maendeleo Chap Chap and Amazon Kingi's the Pamoja African Alliance (PAA) to Kenya Kwanza Alliance should worry Raila Odinga and his superstructure.
Of course, we can soothe our egos and say these are minor parties without votes. That's another languid excuse traded whenever politicians leave for Kenya Kwanza. And if it is true they have no votes, what about perception? Mark you, no one vote should be wasted, not even one if Raila is serious about winning.
It is in the public domain that members of Azimio complain of opaqueness in the coalitio; they have complained of zero consultation on crucial matters, strategic coercion, signing documents they have no copies and that they have been duped into making commitments foreign to them. It all started with 'Sonkoree' supposedly signing off the whole county—in the order of Michael Henchard in Thomas Handy's The Mayor of Casterbridge, who sold off his wife and child in a fit of drunkenness.
In early April, four parties within Azimio; Maendeleo Chap Chap (led by Dr Alfred Mutua), Muungano Development Movement Party (Kivutha Kibwana), Democratic Action Party-Kenya (Eseli Simiyu) and Chama Cha Uzalendo (Phillippe Sadhja) complained of knowing about Raphael Tuju's appointment as Azimio's executive director from neighbours.
Whenever a member leaves, heads should be put together, and others should roll. The truth is that in politics, self-interest outweighs everything. It is not that those decamping to Kenya Kwanza are comfortable doing so; no, they will seek vengeance. Anyone seeking revenge can support an enemy even when they know the enemy won't let them live afterwards.
As long as one's interests are taken care of, no one cares about who becomes president. That's the doctrine of politics. Azimio operates with a lie that politicians must sacrifice to see that Raila becomes president. Truth be told, no sane politician can do that. Politics doesn't work like that. Politics is about self-interests first, then others. Even Raila's wife supports him because she will be the first lady when he becomes president. His children support him, so they will live in the State House and enjoy the goodies associated with the first family if he wins. Period!
So thinking that Mutua, Kalonzo, Gideon Moi, Martha Karua, Peter Kenneth and all others have 'lamb' motivation is chasing after the wind. If you don't care for their interests, they will join the army on the other side. And if they remain under such circumstances, they will lack the motivation to fight for Azimio—they will sit back and watch as the boat sinks.
The conclusion is this—Azimio must know how to handle both superior and inferior supporters. Some want as little as appreciation. Others wish to get a platform to be heard. A few want to be consulted to feel part of the group.
Tell your incoming members the way things are and what is in store for them, and the truth will set you free. Experts tell us that trust is built on openness and communication, even in marriage. How then do we think 'political marriages' we call alliances, which are designed likewise, are different? Unless Azimio acts differently, Raila could miss the presidency. Thus says the political heavens, and it does not lie because it's not a respecter of men!
Dr Ndonye is a lecturer in the School of Music and Media at Kabarak University