Detectives retrace Jowie's movement on day woman was killed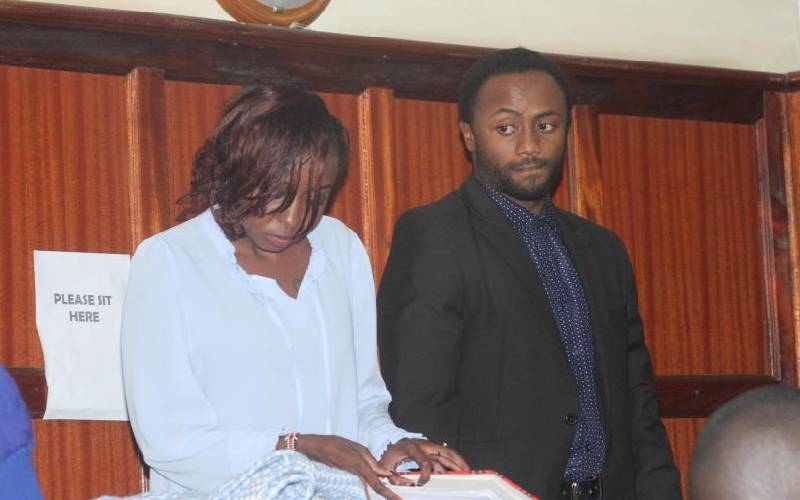 An investigator attached to Safaricom has narrated how he tracked Joseph Irungu's, alias Jowie, movements on the day he is suspected of killing businesswoman Monica Kimani.
Mr Jonathan Limo told the court an analysis of Jowie's calls data showed he communicated with Ms Kimani before she was found murdered at her house in Lamuria Gardens. The phone logs placed him in the vicinity of the house.
Mr Limo was requested by detectives from the Directorate of Criminal Investigations to fish out the call history and phone records between Ms Kimani, Jowie and his then-girlfriend Jackie Maribe.
"Two of the numbers were registered under Monica Kimani, one in the names of Joseph Irungu and the other belonged to Jackie Maribe." Mr Limo was testifying in the case in which Jowie and Ms Maribe are accused of killing Ms Kimani on the night of September 19, 2018, at her Lamuria home in Kileleshwa, Nairobi.
He told the court he was asked to analyse the history of the phone numbers, including incoming and outgoing calls between September 1 and October 8, 2018.
On Jowie's phone records and movement, Mr Limo narrated his movement on the day Ms Kimani was killed. The court was told the signals picked him up at Royal Park Estate house in Lang'ata where he lived with Ms Maribe shortly before 2pm when he started the movements.
"At 3.44pm his phone number was located at Lang'ata and about an hour later, he was at Dennis Pritt Road. He stayed around the area until 9.03pm. At 9.19pm, the phone number was detected in Kileleshwa." Mr Limo said at 11.52pm, Jowie's phone was located at the DoD headquarters before it was detected again at Madaraka Estate on Lang'ata Road a few minutes past midnight. He testified that on the fateful day, the signal picked Ms Kimani at the Jomo Kenyatta International Airport between 5pm and 6pm before she headed to her house in Kileleshwa.
He told the court the signals captured her location in her Kileleshwa house from 7pm until 11pm when they could no longer locate her whereabouts. "We were not able to locate her number because it seemed to have been switched off. There were no outgoing or incoming calls after her last call at 9.32pm. We could only see forwarded messages," Mr Limo said.
His testimony came a few months after another witness told the court Jowie was the last person with Ms Kimani before she was found murdered in her house.
Lee Omondi, a trader and friend of Ms Kimani, said he was at her house on September 19, 2018, when she arrived from South Sudan and was joined by Jowie who introduced himself as a security agent working with Interpol and also based at the Office of the President.
Mr Omondi told the court he left the two at around 10pm and that when he called Ms Kimani the next day, her phone went unanswered. The next thing he heard was that she had been murdered. The hearing continues today.