New kidnappings: Muslim leaders demand answers from DCI boss Kinoti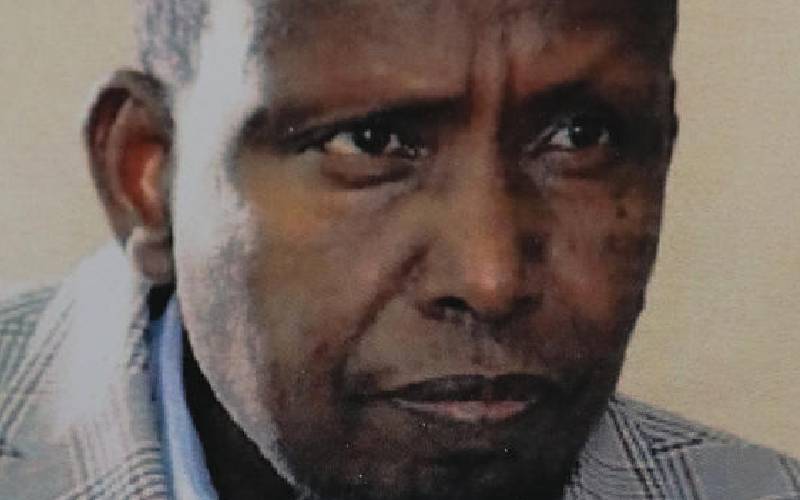 In Nairobi, the family of Dr Abdiwahab Sheikh Abdisamad, a prominent expert on the affairs of the Horn of Africa region, are waiting in agony for a word on his whereabouts.
In Lamu, Yassir Mahmoud Ahmed, a 44-year-old ambulance driver is missing after being abducted by security agents in a car with a government number plate.
In Mombasa, businessman Abdulhakim Sagar is unaccounted for since August 18, when suspected anti-terror security agents snatched him as he was heading home from the mosque.
In Garissa, 11 unknown bodies were retrieved from river Tana over the last three months, some with torture marks and ropes tied around the hands.
These alarming abductions of Muslims and others and grisly scenes of bodies washing up on rivers across the country have alarmed the Muslim community and the wider Kenyan public in recent days.
The President of the Law Society of Kenya, Nelson Havi, called the rising cases of abductions "intolerable" crimes.
"It is intolerable that these crimes cannot be prevented or the perpetrators apprehended with the high tech surveillance equipment at the disposal of the police. IG, where are you?" Havi tweeted, addressing the nation's Inspector General of Police.
Meeting DCI boss
On Friday, the Chair of the Supreme Council of Kenya Muslims, Hassan Ole Naado, and the Jamia Mosque Deputy Secretary-General, Hussein Abdinasir, led a Muslim delegation to meet with the Director Directorate of Criminal Investigations Chief, George Kinoti, and voice their concerns over the flurry of Muslim abductions by security forces in Nairobi and Mombasa.
"Mr Kinoti has committed himself and has actually said in the next few days, in the next one week, he's going to get back to us on the level of the investigation that they have been able to undertake within that period," said Naado, expressing his optimism that the SUPKEM is "going to receive (a) full, compressive report" from the DCI.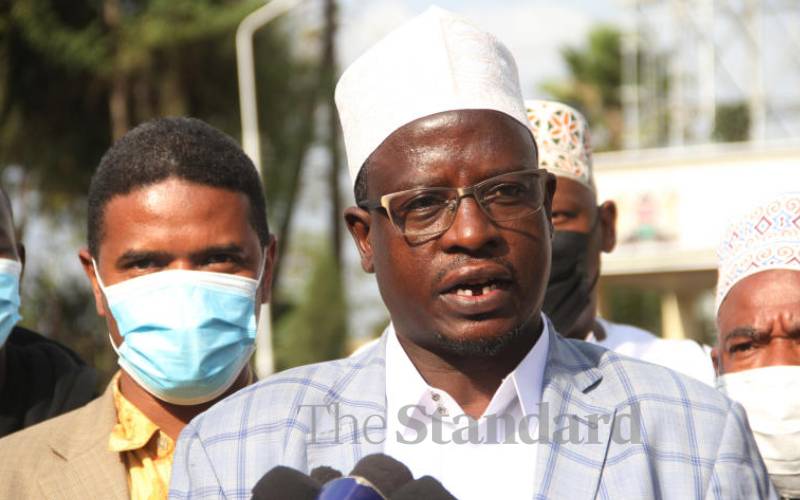 Since 2011, when Kenya invaded Somalia the cases of forced disappearances - some related to security matters, some carried out by criminals - have increased exponentially.
But the motive of these new waves of abductions remains unclear, especially the abduction of Dr. Abdisamad, whose family has been moving from one government office to another since Wednesday morning, seeking information about the whereabouts of their missing son. Abdisamad was snatched by unidentified security agents from a street in Nairobi's city center.
Abdisamad's family has so far received no concrete information about their son whom they said had no run-ins with the law before.
Witnesses, who didn't want their names revealed for fear of reprisals, told The Standard that four men, one with a handcuff, grabbed Abdisamad as he walked on the right side of Tubman Road, adjoining the City Market, and forced him, albeit after an about five-minute scuffle, into a waiting double-deck pickup truck and then sped off.
The door of the pickup truck remained open for several minutes, even after it left the scene, because Abdiwahab, a tall man, used his legs to resist the abductors' attempt to close the door, witnesses said.
When the men pounced on Abdisamad at around 10pm on Wednesday, he shouted for help and quickly a sizable crowd of curious onlookers gathered around the car, but no one had intervened to assist Abdisamad or even demanded the identity of the men in plain clothes who, according to witnesses, appeared confident of what they were doing and showed no signs of fears during their operation.
A witness told The Standard that people had concluded that the men were security agents, particularly when they saw one of them brandishing a handcuff.
Abdisamad has frequently appeared on national and international TV stations, especially on Al Jazeera, CGTN Africa, KTN and NTV, as a commentator on regional issues. His opinion pieces were also published byThe Standard and the Daily Nation, among other publications.
Born in Wajir county, Abdiwahab, a father of eight children, went to Israel, South Africa and Somalia (before the civil war in 1991) for further studies and has since earlier this year been the director of the Institute for Horn of Africa Strategic Studies.
Abdisamad has been critical of the Kenyan policy towards Somalia and Ethiopia, and has openly panned opposition groups in Somalia and the rebel group of the Tigray People's Liberation Front, which he accused of being a tool used by the West to try to recolonise the Eastern and Horn of Africa region.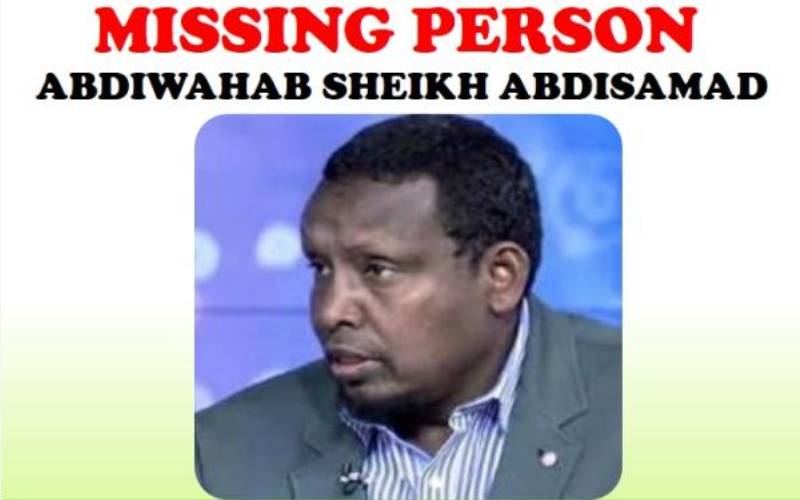 "Plucking eminent personalities from the streets of our capital city to secret destinations smacks of the behaviours of socialist dictators of Eastern Europe and Kings of the Middle East," said Farah Maalim, a former deputy parliament speaker and friend of Abdisamad.
"Ours is a democracy and my sincere advice to President Uhuru Kenyatta is to immediately release Dr Abdiwahab. Uhuru must avoid at all costs the pitfalls of a bad legacy."
Hussein Khalid, director of Haki Africa, a human rights organisation, told reporters on Friday that even when security agents were not involved in abductions, they "have a duty and responsibility to equally follow up (and) ensure those who're behind those criminal acts are brought to book."
On Saturday, Khalid said he was able to confirm at least 11 unknown bodies recovered from river Tana over the last 3 months.
"Some have torture marks and ropes tied around the hands. Also saw huge stones that were allegedly tied to the bodies," he tweeted after visiting Garissa's main hospital.
Fredrick Ojiro, a Twitter user who reacted to Khalid's sad news, said, the "[S]tate must be held responsible for both their action/ inaction on these frustrating trends of forced disappeared [sic] and criminally instigated deaths…"
In a scathing front-page editorial entitled "A brutal TERROR war," the Friday Bulletin, the weekly newspaper issued by the country's largest mosque - Jamia Mosque, Nairobi - has drawn similarities between the suffering of Muslims at the hand of security forces and African-Americans' "I-Can't-Breathe" rallying cry for justice.
"As we have repeatedly stated before, this matter needs to be addressed through concerted means whose foundation lies in the respect of the rule of law," said the editorial. "The government needs to ensure that the constitutional rights of its citizens are respected, investigate and prosecute those behind the arbitrary arrests.
"More importantly," added the the weekly Muslim newspaper's editorial, "the family of the likes of Abdulhakim Sagar, Yassir Mahmoud Ahmed, Taimur Hussein Kariuki, Khalifa Muhammad, Hemed, Salim are in agony seeking answers about their abducted loved ones and the State has a constitutional obligation to provide them with the necessary information and ensure that justice is dispensed.